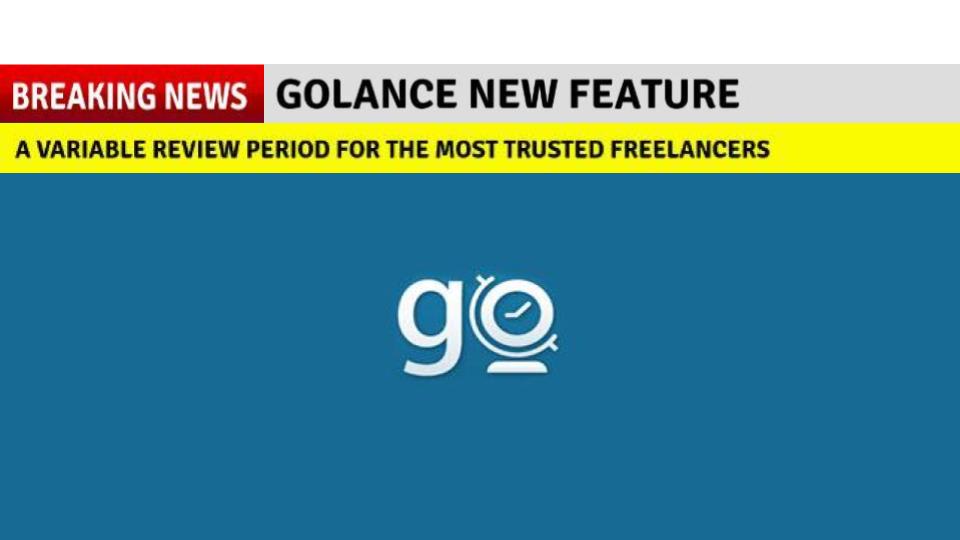 goLance Introduces A New Game-Changing Feature
goLance Inc is excited to introduce the new revolutionary feature - A Variable Review Period. This new feature is an ideal payment solution for our clients' most trusted freelancers.
Dover, DE: February 22nd, 2019 – goLance, an online marketplace with the fastest payment options for freelancers, has decided to make a step forward in strengthening the mutual trust and the quality of working relationship between clients and freelancers. Thanks to this unparalleled new feature goLance has proven its reputation of being the most flexible freelance platform once again.
A Variable Review Period is a new feature that has been added to goLance hourly projects. Now, the clients are in the full control of the review periods associated with their projects. They can change the default values of a five-day Review Period or turn off it completely for the most trusted freelancers.
This new option directly influences the freelancers by changing their payment release date. The freelancers are strongly motivated to build the trustworthy relationship with their clients that will allow them to completely eliminate a review period and get their money as quickly as the system and a preferred payment option allow it.
The first feedback results from the goLance clients have outmatched even the most optimistic expectations. One of them has assured the goLance Team that they're on the right path of revolutionizing the freelance industry:
The response has been amazing. Something like this is life-changing to our agents. Especially to those in less fortunate countries where financial stability as a whole is questionable day to day. Good news like this gives them strength and hope. We appreciate the goLance effort to make our freelancers feel appreciated. It's amazing what smart development can do to change peoples lives for the better.
The founder and CEO of goLance Inc Michael A. Brooks shared his vision of the profound impact this game-changing feature will achieve:
We have always strongly believed and supported the win-win scenarios for both our clients and freelancers. The most trusted freelancers should be rewarded for their top quality work and commitment. At the same time, the clients should benefit from the full flexibility and control over their projects' review periods.
The new Variable Review Period option can be applied and changed on a weekly basis for all hourly projects on goLance.
About goLance
Launched in June 2015, goLance aims to champion the skills and services of the world's brightest minds from small companies to large institutions, in order to accelerate the growth and enhance the success of online workers and businesses who hire online workers.
goMission: To make life better for all online workers with a flexible, fair, efficient, and transparent virtual workplace.
goVision: To always add value for our users through continuous innovation in the online work sector and unparalleled user support.
For more information, contact:
goLance Inc
Mailing address: 8 The Green St, Suite 4753, Dover, DE 19901
Phone number: +1 (888) 478-0358
Web: https://golance.com/
Email: support@golance.com
Blog: https://blog.golance.com/
Facebook: https://www.facebook.com/golanceinc/
LinkedIn: https://www.linkedin.com/company/golance
Twitter: https://twitter.com/goLanceInc
Instagram: https://www.instagram.com/golanceofficial/
Leave A Reply