How Can You Improve Your Freelance Writing Using The Online Paraphraser Tool?
Beginners and even experienced professional writers can take advantage of paraphrasing tools in multiple ways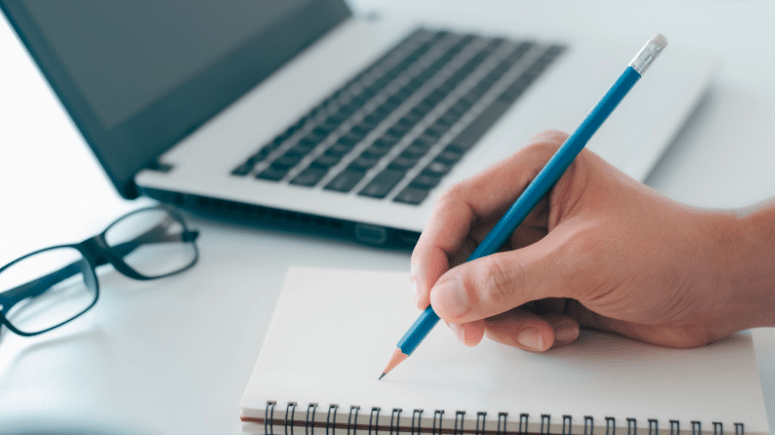 Introduction:
If you are a freelance writer, then you know how important it is to have strong writing skills.
After all, your livelihood depends on your ability to write well.
Thousands of writers online are freelancing, and it can be difficult for newcomers to make a mark as the competition is tough.
Thankfully, there are a number of tools available that can help you improve your writing skills.
One such tool is the online paraphraser tool.
The online paraphraser tool is a great way to improve your writing skills for a number of reasons.
This blog will take you through how an online paraphraser can help anyone improve their writing skills, as well as its advantages and features.
How can Paraphraser Help Improve your Freelance Writing?
The goal of paraphrasing tools is to rephrase any form of text in a way that is easier to read and comprehend.
The intelligent and smart tool uses state-of-the-art NLG (Natural Language Generation) technology to process and generate content per the user's entry.
This can be used for a number of purposes, such as to shift the tone of the content, make the text more comprehensible, or even make it shorter.
Rephraser online is the most dependable, cost-free, and effective internet tool.
4 places where a paraphraser can help a freelance writer
I. Enhances Content Quality
The primary job of a paraphrasing tool is to paraphrase or rephrase the previous content that you entered into it.
With this, any writer can refresh old content and give it a revised look.
The Rephraser online can produce great quality content by either rewriting your older content and here you can see the results of a paraphrased content.
"The Input paragraph is also taken by this article and you can see the results as it paraphrased this content by giving it a new look without disturbing the intent"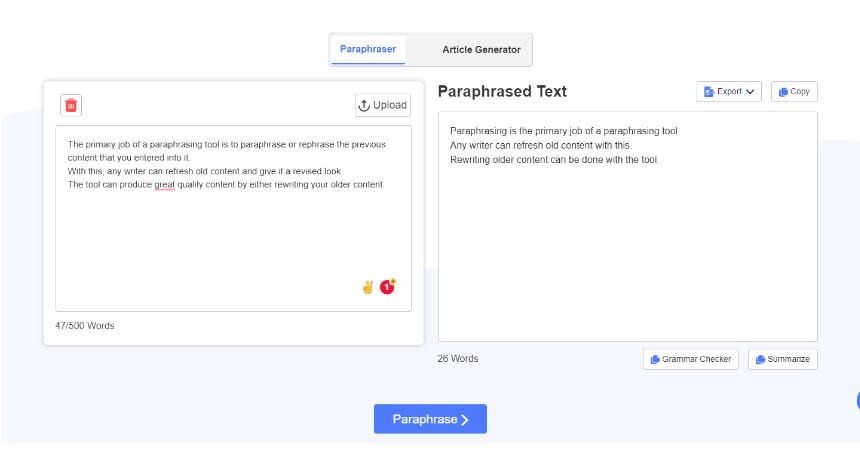 II. It can help you remove Plagiarism
By rewriting your older published content, you can easily prevent self-plagiarism and republish your older content in a new and improved manner without any issues.
III. Helps Improve Grammar and Punctuation
It can greatly help you improve your grammar and punctuation by helping you revises and rephrases your content to make it more precise and accurate with the help of modern content automation.
It can help you improve your vocabulary, refine your writing style, and enhance your overall writing skills.
IV. Reduces Writing Time
The tool uses an automatic algorithm that efficiently does the job within a minute without the user needing to do anything except press a button.
This saves a lot of time because it does all the work for you instead of having to do it yourself manually.
For what purpose can the rephraser be used?
A wide variety of users can use this AI paraphrasing tool for a wide variety of written tasks and purposes.
For example, you can use the AI paraphraser tool to make hard-to-read content easier to understand.
With the smart tool, you can also save time and effort by creating social media content.
When it comes to writing different social media content, like captions, product descriptions, bios, posts, titles, hashtags, and advertisements, many people worldwide struggle.
You can therefore use the effective AI rephrase tool for easy content creation and paraphrasing, like the one stated above, to simplify things for yourself.
1. Content Writing
The paraphrasing tool is most frequently applied in this situation as it is the most common tool used by content writers.
It enables writers to change the language, tone, and even style of an article to give it a fresh look and a more complex shape if needed.
The best thing about the tool is that it is applicable in both academic and professional contexts and is neither sector- nor occupation-specific.
Marketers, content creators, and even learners who need to handle a lot of academic content are among the people this product is intended for.
You can create a lot of content with less work and higher quality with the aid of this helpful AI tool.
2. Academic Tasks
Student plagiarism is widespread and a common problem they deal with.
Students frequently have to write academic essays and other writing projects, and certain writing tasks can have content that has been plagiarized.
In order to avoid plagiarism, they can just change the content by utilizing the free online tool.
Students may easily write whatever type of content they require, thanks to the rephrase tool's article generator feature, which is highly helpful.
This tool is useful for teachers globally because it enables them to revise various tasks and definitions.
Teachers must read a lot in order to instruct pupils and grade their work.
Therefore, some of the content may require updating or simplification.
3. Social Media Marketing
In order to revise and update outdated and other marketing content, such as bios, product descriptions, taglines, hashtags, captions, and other posts, social media marketers can easily refresh and reuse them.
4. SEO
It can be challenging for SEO experts to create content for the same niche and subject every day, given that they must browse hundreds of websites daily.
With the help of the paraphrasing tool, they can smoothly rediscover old content and give it a fresh look.
5. Scientific Research
Researchers can quickly and easily replicate and rewrite content from earlier research content and other related scientific works by using the online rephrase to paraphrase.
Conclusion:
An AI paraphrasing tool comes under the Natural Language Generation (NLG) system, which emphasizes content automation.
For many reasons, AI paraphrasing can be beneficial and enhance the readability, clarity, and form of your writing.
Social media is excellent for interacting with and talking with your audience.
Communicating your message in an engaging and appealing way might be quite challenging.
The tool can be used to revise definitions and other types of work in any profession, whether you are a student, teacher, marketer, researcher, businessman, or writer.
Knowing this is an excellent reason to start using paraphrasing tools.