Featured goAgency: Ebridge
Welcome to the Ebridge Family where your e-business dreams become reality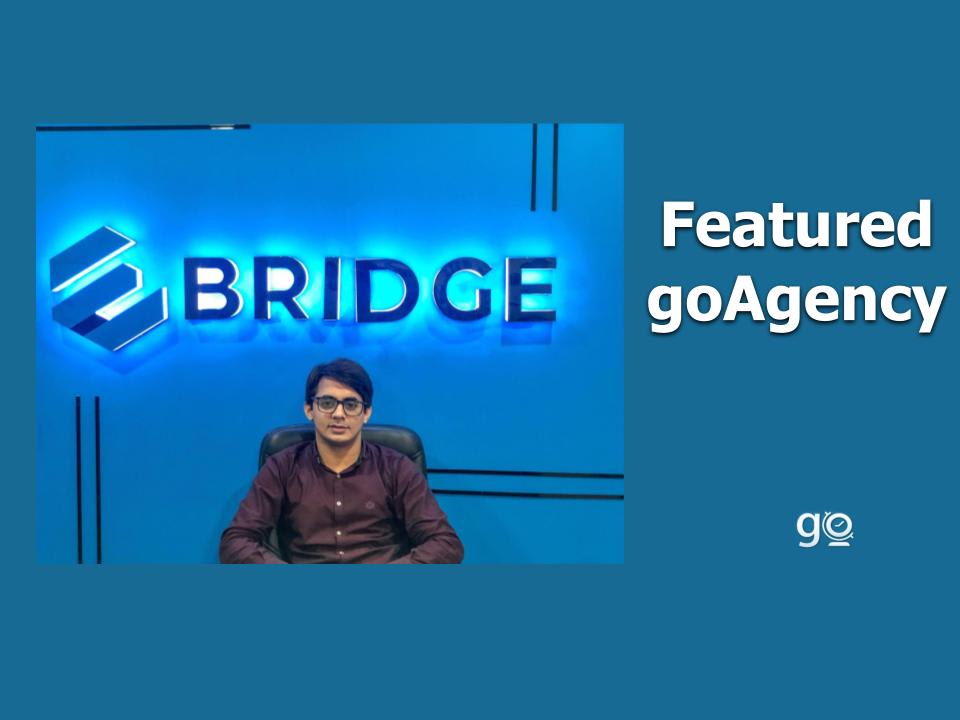 Welcome to the Ebridge Family where your e-business dreams become reality.
Ebridge is a web and e-store development company focused on creating reliable digital solutions that steer your business towards sustainable growth. Their success is based on the 4 C's:
Clarity
Communication
Competence
Consistency
Let's see how Ebridge has managed to build countless bridges of success and trust to their clients all over the world.
goLance: Let's begin by asking you a question about your company's history. What have been the most important contributing factors to your success?
Ebridge: Ebridge prides itself in creating customized IT solutions tailor-made for the clients. Our high-quality, reliable, and affordable digital solutions establish trust and foster long-lasting partnerships. We value brand building and go the extra mile to help companies realize their goals. Our initial services are mostly free and subsidized as we commit to garnering trust for long-term partnerships.
goLance: What kind of services does your company provide, and what types of industries do you cover with your services?
Ebridge: We provide holistic software development and digital marketing services. Our service sectors include:
E-Commerce Development: Consumer-centric digital store infrastructures
Custom Website Development: Enabling companies to achieve their vision and realize their goals.
Website Design: Our robust web design architecture stands the test of time.
Search Engine Optimization: Enhancing website visibility
Social Media Marketing: Digitally linking the brand with its audience.
Paid Advertising: Effective digital exposure for brands with maximum lead generation.
While we are open to all sectors, we are specialists in providing solutions to eCommerce enterprises with our services.
goLance: What are the things that set your company apart from similar companies in the remote work industry? What are your competitive advantages and core values?
Ebridge: Customization is the cornerstone of Ebridge's digital solutions. We want your brand to succeed and cater to the client's individual needs. The highlights of our work include.
Responsive: We ensure your product is responsive across all devices and platforms.
Buildable: We create an architecture that grows with your brand.
Attractive: Our creative designers build impressive and eye-catching websites.
Affordable: Ebridge provides International standard services at subsidized rates.
Reliable: Highly rated digital products with thorough quality control.
Quality: Unique and impactful digital solutions.
Upgrades: We offer required updates and customizations for our products.
Timeliness: Receive your customized product on time, with precise qualitative analysis.
Support: Receive 24/7 customer support from our dedicated and skilled support team.
Ebridge's Core Values are the 4 C's behind their success.
Clarity
Communication
Competence
Consistency
goLance: How did you find out about goLance and why did you decide to create a profile on our platform?
Ebridge: goLance is one of the most reliable and legitimate freelancing platforms for IT-related service providers. When we aimed to go truly global and searched for quality online platforms having clients from across the world, goLance was our first choice. We aim to target a global audience with our services and a thorough scrutinization of a variety of platforms, resulting in goLance being our top choice.
goLance: How do you compare goLance to other freelance platforms you used to or are still working on?
Ebridge: A competitive edge is provided by goLance due to its features that enable us to build a team online, track the performance of remote workers, grab high quality, top-notch projects, grow our skills and business, save money, and receive support. The payment efficiency and transparency make this our top choice for a freelancing platform.
goLance: How have you managed to gain the trust and respect of your clients? How do you build long-term relationships and make happy clients?
Ebridge: Our work speaks for itself. Our reliable, long-lasting IT solutions feature a durable architecture that grows with the brand. We create custom-made IT solutions and our rigorous quality control establishes trust, keeping the clients coming back for more.
goLance: How has the pandemic affected your business?
Ebridge: The Covid-19 Pandemic has resulted in a strategic shift in how we work and function as a company. While lockdowns have been hard on everyone, we took this opportunity to grow, improve our processes and establish guidelines for the future.
goLance: Would you recommend goLance to your business partners and clients?
Ebridge: The professionalism, commitment, and exposure provided by goLance to its freelancers are incomparable to other platforms. We would highly recommend this service to all who are searching online for software expertise.
Build the new business bridges of success with Ebridge on goLance!