Featured goAgency: BlueHat Marketing
Canada's Top Rated Digital Marketing Agency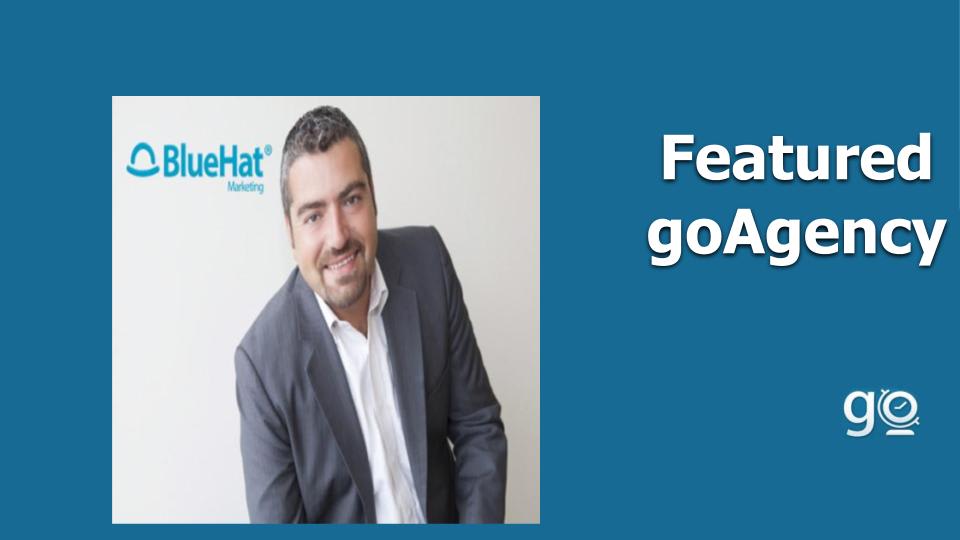 It is our great honor and privilege to share an inspirational story of Canada's top rated digital marketing agency - BlueHat Marketing.
Since 2001, BlueHat Marketing has been at the forefront of search engine optimization, digital marketing, social media marketing, and web design. A team of distinguished individuals from various tech, marketing, and design backgrounds has managed to keep this agency's reputation ahead of the curve. This is a results-oriented Toronto and Montreal SEO provider that sets itself apart from the competitors with quantifiable and sustainable SEO services that really work.
Fadi Azba, the CEO of BlueHat Marketing, will guide us through the exciting and challenging SEO world in this interview. So, let's begin.
goLance: Fadi, let's begin by asking you a question about your agency's history. Your agency has been around since 2006. What have been the most important contributing factors to your success?
Fadi Azba: Since inception, our clients' success is our number-one priority. We deliver rankings, results-driven paid campaigns, exceptional social media management, and creative ideas that will increase growth for any industry.
goLance: What kind of services does your agency provide, and what types of industries do you cover with your services?
FA: Our agency handles a wide variety of tasks: search engine optimization, Pay-Per-Click advertising on Google, Bing, Media Buys, etc., social media management, contests, influencer marketing — we call it "digital word of mouth" — website design, and web development. Our team also creates original ad creatives, such as banners, landing pages, videos, and more.
goLance: How would you describe the current state of the Internet marketing industry and the challenges it faces?
FA: The Internet marketing industry is growing: CEOs, CMOs, Marketers, and SMBs realize that doing business without a good Internet marketing strategy is not an option anymore. The industry is ever-changing, and it's a challenge to keep up with new technologies, new platforms, and new advertising avenues. But it is very exciting because we're always on the lookout for new challenges and changes that will deliver good results for our customers.
goLance: What are the things that set your agency apart from similar agencies in the industry? What are your competitive advantages?
FA: We are a results-driven company. We manage our clients' budget to deliver tangible results that ultimately deliver an ROI to every campaign we design and work on. Our customers' success is always our number-one priority. We have brilliant and dedicated customer success managers that report campaign progress to the customer on a weekly basis with an unparalleled reporting process and material. Our team constantly develops or tests new technologies, new advertising channels, and new platforms; then we handpick what works to deliver outstanding results.
goLance: What are the main reasons for your agency to join goLance?
FA: Excellent team, excellent platform! But, most importantly, our company holds the same values as goLance. We want to team up with skilled individuals who we wouldn't be able to work with otherwise. Transparency is highly sought after nowadays. BlueHat and goLance share the same culture, and by combining these two forces, I'm sure we will achieve outstanding results.
goLance: How do you compare goLance to other freelance platforms you've used or are still working with?
FA: GoLance matches projects with the right company; it is this matching process that attracted us to the platform because we know having individuals who are compatible with companies is essential for the success of all the projects posted on goLance.
goLance: What would be your word of advice to the new agencies?
FA: Only design campaigns that will deliver a return on investment for your clients, use data to enhance your campaign's performance, and be proactive when allocating your clients' budgets because reactive is already too late.
goLance: Has your clients' understanding of the SEO concept evolved over time? How do you manage to find a balance between the SEO reality and your clients' expectations?
FA: From the beginning, we educate our clients on the merits of SEO by presenting realistic projections for the term of their campaign. Once we achieve our goals for any given milestone, SEO becomes a realistic opportunity to grow and enhance over time. A good SEO campaign will deliver tangible results, and a positive ROI.
goLance: How do you build and maintain a long-term relationship with the client?
FA: Understanding what our clients want and being able to anticipate their needs before we get a phone call is just part of our philosophy. We are heavily invested in the success of our accounts. In order to stay on top of trends and keep our promises, we're very clear from the beginning about who our priority is — the client.
goLance: On your blog, you discuss many interesting topics related to digital marketing. In your opinion, how successful has your agency been in raising the awareness about the importance of digital marketing for business success?
FA: Digital marketing only seems to be a "sexy" subject when a person or company realizes that there's a lot more to it than posting to social media and writing blog posts. The general public doesn't understand in great detail what it takes to make a digital marketing campaign work, and the general public doesn't need to; most of us only see the end product. When business owners and entrepreneurs take a hard look at their marketing efforts, they easily see—through evidence and our case studies—how important online marketing is for their enterprise to succeed in the 21st century.
We have been offering digital marketing for over a decade, and we are extremely successful in our awareness campaigns, through our sales approach, blog content, and delivered results. When customers recognize the ROI from an online advertising campaign, they also refer other customers to benefit from our services.
goLance: What particular features of the goLance platform — designed for agencies — do you find to be the most appealing? Do you have any suggestions in terms of changes and improvements?
FA: The matching feature is our favourite. We also appreciate that both agencies and freelancers have the freedom to look for candidates or companies; it's a two-way street.
As for constructive criticism, we have yet to encounter major issues with goLance!
goLance: What are your agency's future plans?
FA: We're working on global expansion. Right now, we're focused on the UK, Australia, France, and South America. We're also busy developing new technologies in the ecommerce space, retargeting ads, and proprietary email marketing solutions.
goLance: Would you recommend goLance to your business partners, clients, and friends, and why?
FA: Absolutely. GoLance is clearly laid out and facilitates communication between freelancers and agencies. The reporting metrics are gold!
goLance: What's your secret to being named the #1 SEO agency in Canada?
FA: We deliver on our promises while generating ROI for our clients. We keep our customers ahead of their competition at all times, no matter what industry they're in. We have a brilliant team of marketing professionals who meet challenges and strive to succeed on every campaign.
BlueHat Marketing Team Is Ready To Help Your Business Grow on goLance!