What Are Pros and Cons of the Top Five Freelance Websites for Clients and Freelancers?
I decided to present three pros and three cons for both clients and freelancers for the following freelance platforms: Upwork, Freelancer, Fiverr, Toptal, and goLance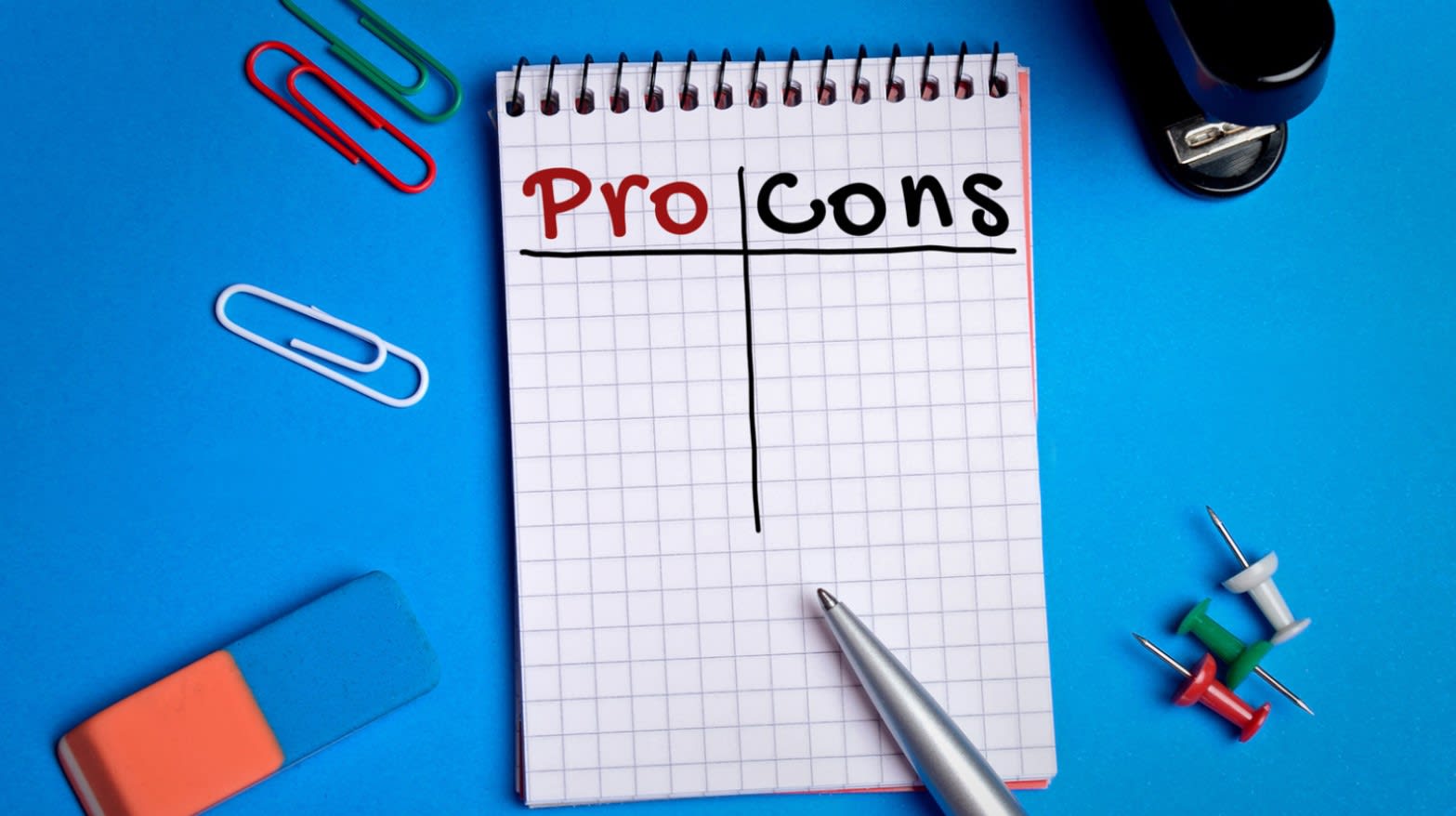 CONTENTS:
Introduction
Upwork

Upwork Pros for Clients
Upwork Cons for Clients
Upwork Pros for Freelancers
Upwork Cons for Freelancers

Freelancer dot com

Freelancer Pros for Clients
Freelancer Cons for Clients
Freelancer Pros for Freelancers
Freelancer Cons for Freelancers

Fiverr

Fiverr Pros for Clients
Fiverr Cons for Clients
Fiverr Pros for Freelancers
Fiverr Cons for Freelancers

Toptal

Toptal Pros for Clients
Toptal Cons for Clients
Toptal Pros for Freelancers
Toptal Cons for Freelancers

goLance

goLance Pros for Clients
goLance Cons for Clients
goLance Pros for Freelancers
goLance Cons for Freelancers
INTRODUCTION
There's no ideal freelance platform.
You can try, but you won't find two clients or two freelancers who have reached a consensus about a certain freelance platform. That's good. Diversity in the freelance industry is a blessing.
It's surprising how little we actually know about the most widely used freelance websites. That's bad. Ignorance isn't bliss in this case.
Here's a simple truth about freelancing. One-freelance-size-fits-all just doesn't work. No freelance website can make all clients and freelancers happy.
With these thoughts in mind, I decided to present three pros and three cons for both clients and freelancers for the following freelance platforms: Upwork, Freelancer, Fiverr, Toptal, and goLance.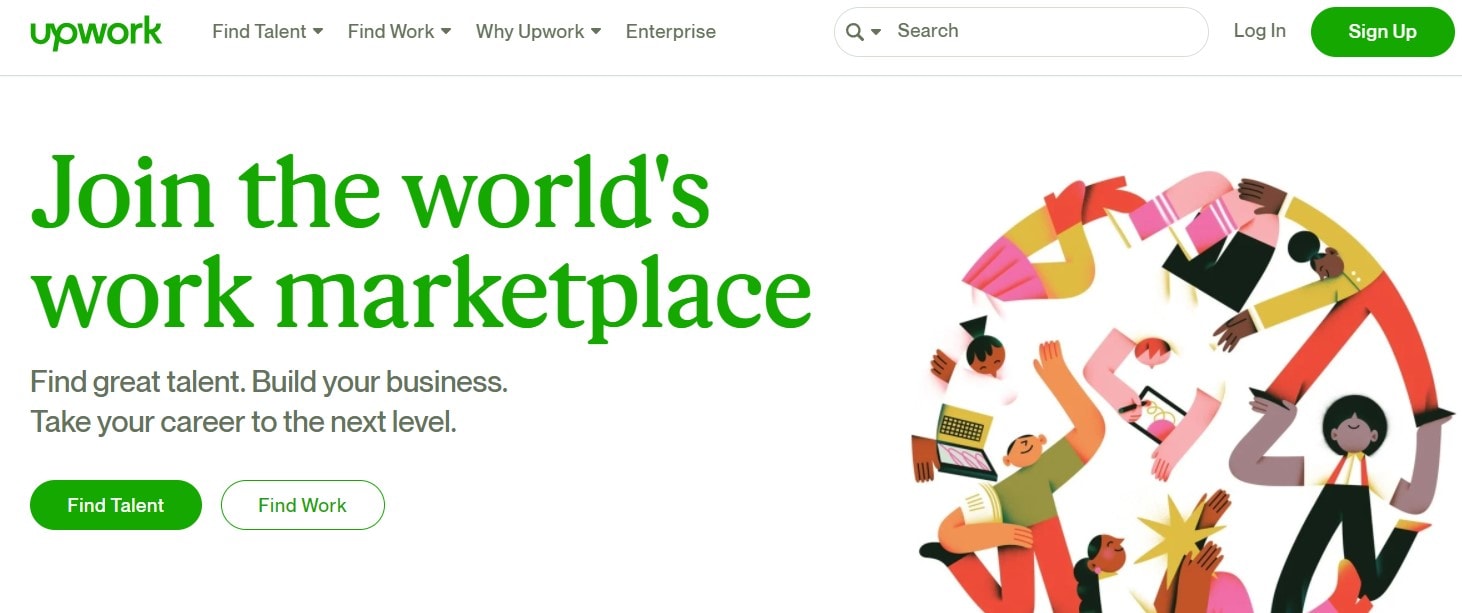 Screenshot: Upwork's official homepage
1. UPWORK
1.1 Upwork Pros for Clients
Upwork is arguably the most popular freelance platform. The list of available job categories is long and impressive. With the millions of freelancers looking for work, your chances for a quick hire are high.
The acceptance and verification process for freelancers is extremely rigorous on Upwork. This means that verified and skilled freelancers will work on your projects.
Upwork recruiters are at your disposal to save you time and make sure you are hiring the right candidates.
1.2 Upwork Cons for Clients
Every single payment you make on Upwork is followed by a 3% processing fee.
The more you demand and expect from Upwork, the more you will have to pay. "If you want a dedicated account manager" for your projects, you have to opt for a Plus Membership that costs $49.99 per month. The last time I checked, the price of Upwork Enterprise solutions was $499 per month.
You should be aware of the initial 20% service fee for a freelancer you hire. That's an amount that Upwork freelancers have to include in their final prices.
1.3 Upwork Pros for Freelancers
Some of the well-known brands and Fortune 500 companies are Upwork's clients.
Freelancers on Upwork can offer their services as both "traditional" freelance work models (hourly and fixed-price projects) and/or Project Catalogue that's very similar to Fiverr gigs.
Upwork's verification and talent badges are worth the effort for freelancers because they allow them access to the top clients and best-paid jobs.
1.4 Upwork Cons for Freelancers
Freelancers have to pay for every proposal they submit on Upwork. The price is $0.15 per connect. Between one and six connects are required per project.
Freelancers are required to work only on Upwork for at least two years, unless a client pays an opt-out fee that's now called the Conversion Fee, and "it is calculated by taking the freelancer's highest hourly rate and multiplying it by 2,080 (40 hours/week X 52 weeks)." (Source: Upwork)
Freelancers pay a sliding-fee that's based on lifetime earnings for each client separately in the following way: "20% for the first $500 you bill your client, 10% for total billings between $500.01 and $10,000, and 5% for total billings over $10,000." (Source: Upwork)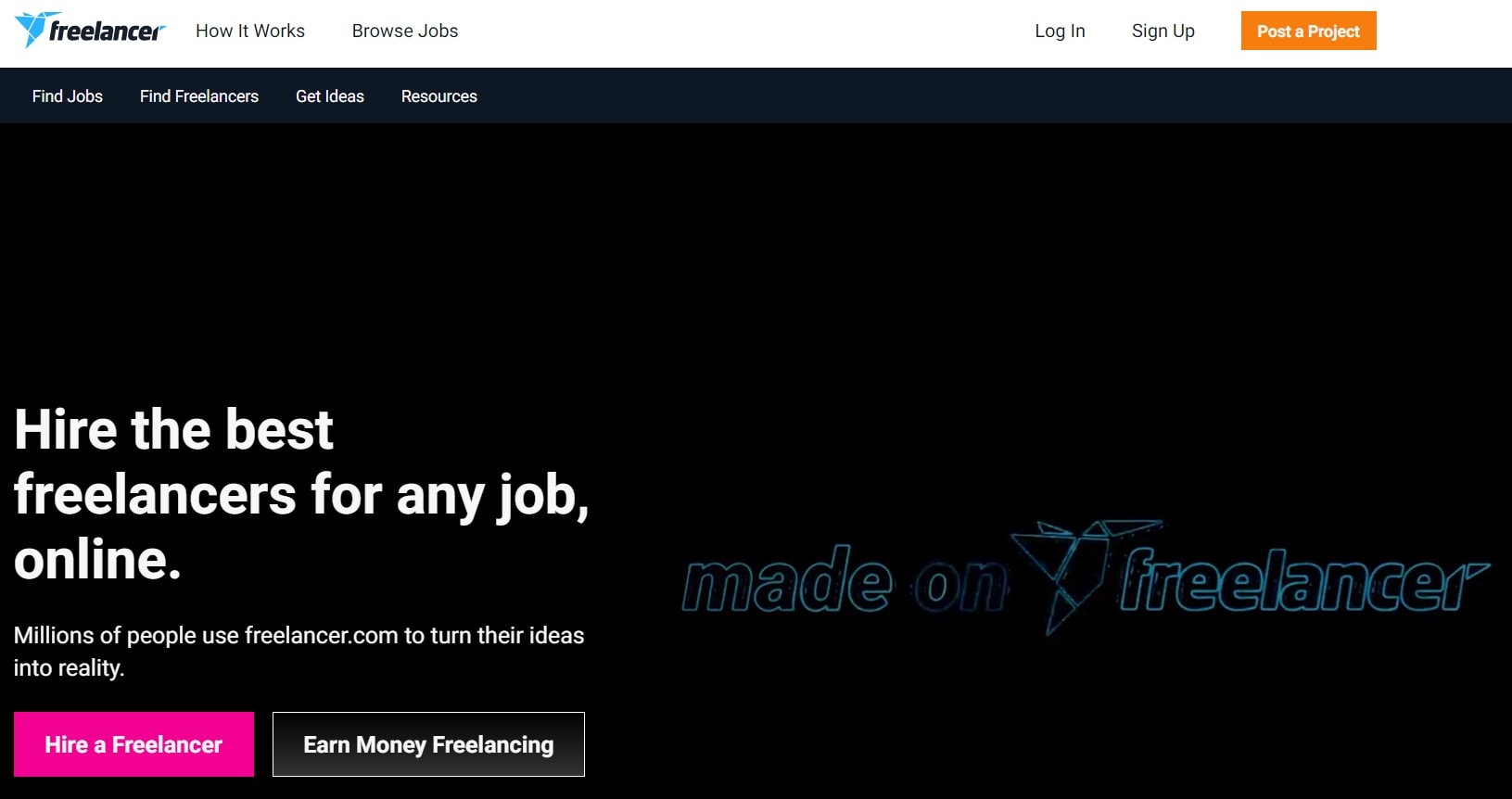 Screenshot: Freelancer's official homepage
2. FREELANCER
2.1 Freelancer Pros for Clients
Freelancer is the biggest platform in the world with more than 50M+ registered users. The overwhelming majority of them are freelancers who are eager to be hired as soon as possible.
The Preferred Freelancer Program is the Freelancer's Top Gun reserved only for the most skilled freelancers who have to meet the strict requirements to enter and maintain their Preferred status.
Freelancer made it possible for clients to save up to 20% if they choose to cover the costs of their membership plan with one annual (prepaid) payment.
2.2 Freelancer Cons for Clients
Despite their best efforts, Freelancer can't completely eliminate the spam bids that often include boilerplate proposals. When you combine this fact with the high number of total bids, it's no surprise that clients become frustrated.
Besides the membership plans you can't avoid paying if you mean to do serious business on this platform, clients pay a 3% fee for both hourly and fixed-price projects. If you want optional project upgrades, you have to pay for them too.
The mind-blowing number of registered users comes at a price for Freelancer that can't guarantee quality over quantity of freelancers that are applying for your projects.
2.3 Freelancer Pros for Freelancers
Preferred Freelancer Program allows freelancers to get exclusive access to the best projects and top clients Freelancer has to offer.
With each successfully accomplished project, you get experience points and credits (tokens), which you can use for purchases in the Freelancer's Credit Shop.
Your rewards level, number of reviews, and earnings play a crucial role in positioning your proposal at the top of available bids clients see first.
2.4 Freelancer Cons for Freelancers
On this platform, freelancers pay a fee as soon as they are awarded NOT after they're paid for a project. This means that you will pay a non-refundable fee right away after acceptance of a project regardless of the final outcome.
You pay a standard flat 10% fee for "regular" projects, but as a Preferred Freelancer, you have to pay 15%.
Freelancer has a very favorable client-friendly policy that leads to a high number of questionable projects to say the least.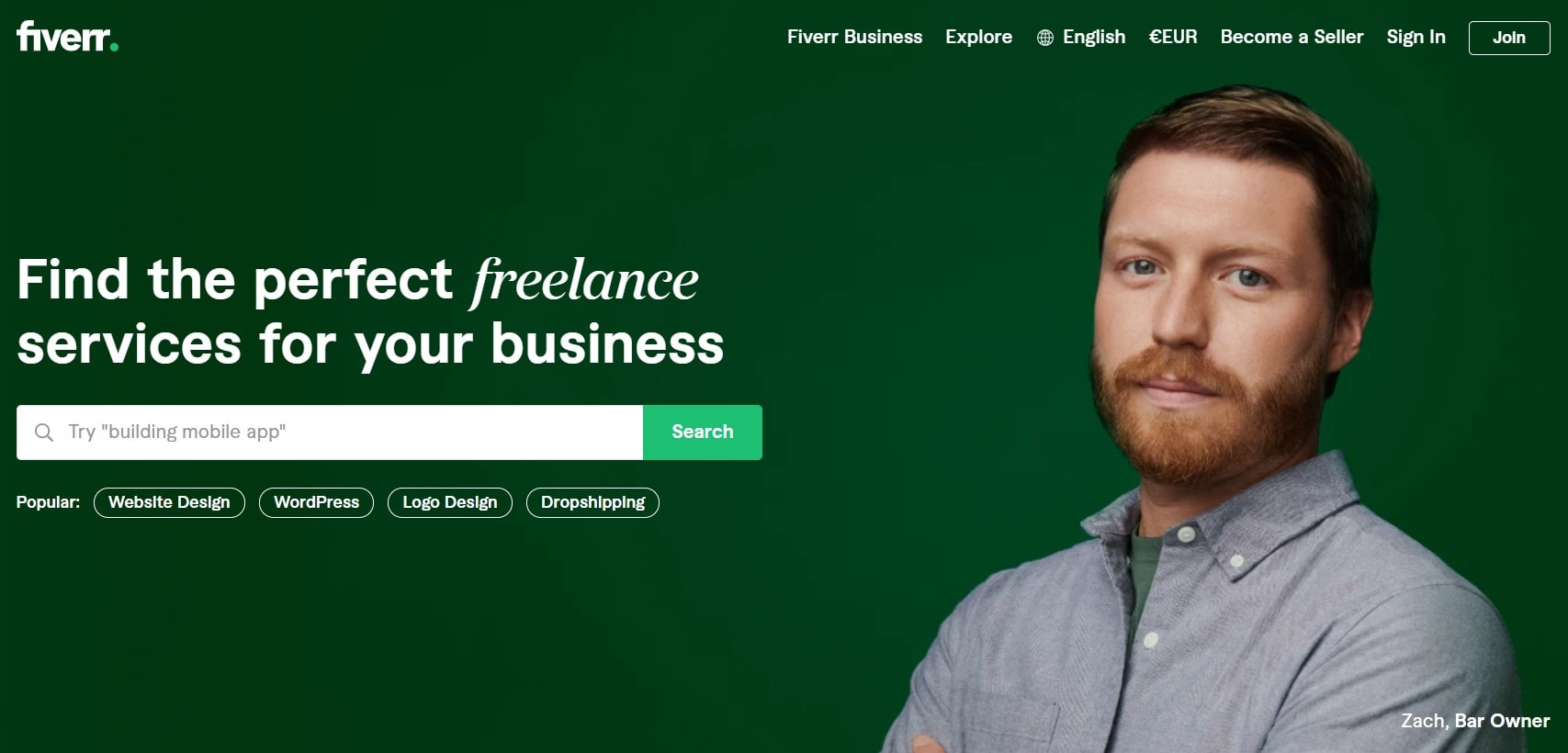 Screenshot: Fiverr's official homepage
3. FIVERR
3.1 Fiverr Pros for Clients
The unique Fiverr business model has stood the test of time, and this platform has become the synonym for the gig industry.
You can buy a gig very quickly and easily for the starting price of only five dollars.
What is the Preferred Freelancer Program for Freelancer dot com that is Fiverr Pro on this platform. Meaning, the best of the best Fiverr gigsters for you to choose from.
3.2 Fiverr Cons for Clients
Very often clients on Fiverr get exactly what they paid for. Sometimes, you just can't expect too much in terms of quality for only $5.
Fiverr buyers (clients) used to pay $1 on purchases up to $20 and 5% if you buy gigs worth more than $20. Now, they pay $2 on purchases up to $40 and 5% for gigs above this amount.
There's a significant percentage of the "dead" (inactive) gigs. "You wait the week out, and eventually the computer allows you to cancel the order. You receive in-site credit that can only be used on Fiverr." (Source based on a buyer's first-hand experience)
3.3 Fiverr Pros for Freelancers
If your gig is all about a product or service that can be automated and delivered on a regular basis, quickly and easily, without too much effort, then Fiverr can be a great source for your freelance income.
Fiverr Pro is a great option to stand out and earn serious money on Fiverr, if you have a respectable portfolio, professional LinkedIn profile, and you're willing to make a short introductory video about yourself and your skills.
Fiverr freelancers have earned one billion dollars in just over a year. Obviously, clients want and like to spend on Fiverr a lot.
3.4 Fiverr Cons for Freelancers
This platform's fee for sellers (freelancers) hasn't changed since day one. You always had to pay 20% to Fiverr for all gigs you sell there.
The competition is beyond overwhelming on Fiverr. It's not easy for a newbie gigster to make a breakthrough.
Fiverr still can't shake off the controversy around their "In Doers We Trust" marketing campaign that prized hard work and great results for the lowest price possible.


Screenshot: Toptal's official homepage
4. TOPTAL
4.1 Toptal Pros for Clients
Only the top 3% of all applicants are accepted to work on TopTal. From day one this platform insists on quality over quantity.
TopTal's staff makes sure you save time during the vetting and hiring process. Also, they put a strong emphasis on the quality of work.
TopTal's no-risk trial period and refund policy for clients are both thoughtful and fair.
4.2 Toptal Cons for Clients
You have to accept that you will never know which percentage of your money goes to a freelancer you're working with and how much TopTal takes.
You are required to make an initial deposit of $500 that is "applied as a credit to your first invoice once you make a hire." Once again, it's fully refundable if you don't want to proceed with work on your project on TopTal.
Some clients aren't comfortable with the strong presence of TopTal throughout the whole process of hiring and working with their recommended freelancers. That's why it's understandable that you may have a feeling you're working with a TopTal "employee" rather than a freelancer who you choose to work with.
4.3 Toptal Pros for Freelancers
For many freelancers, especially developers, to be accepted on TopTal is a matter of prestige and acknowledgment of professional achievements.
You are very likely to work with clients who prioritize quality over price.
You are also very likely to get a constant flow of new projects and clients, if you prove yourself as a quality and reliable freelancer on TopTal.
4.4 Toptal Cons for Freelancers
It's not common among freelancers that they perceive themselves as TopTal employees who worry more about what TopTal thinks about their work than the clients who actually hire and pay them.
TopTal strongly favors the development and design projects. That's why I couldn't find any writing opportunities unless it's a very specific form of technical writing.
Discussing your initial hourly rate and the final price is a big no-no for freelancers on TopTal.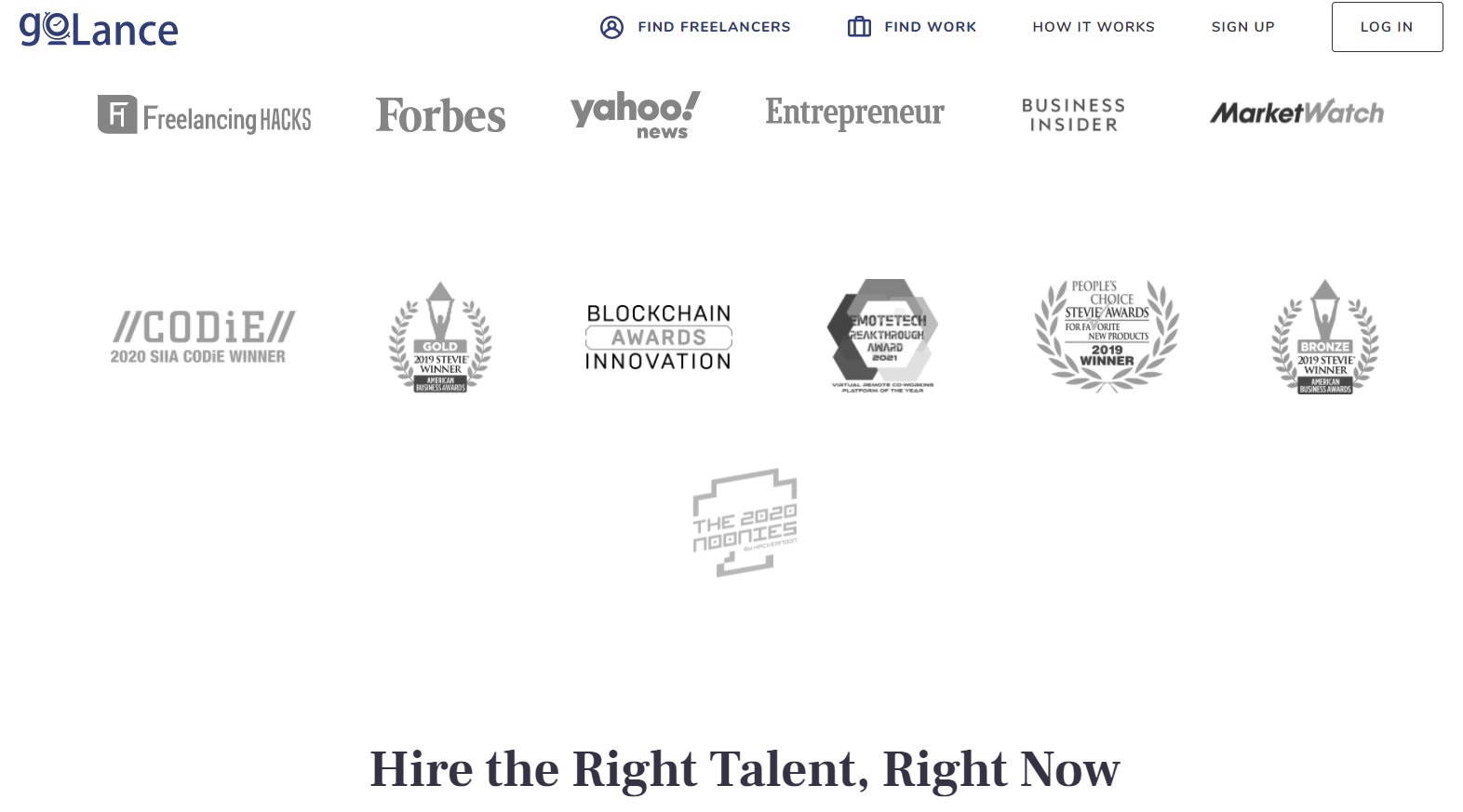 Screenshot: goLance's official homepage
5. goLance
5.1 goLance Pros for Clients
GoLance is absolutely and unconditionally free for clients to use from day one without any hidden costs and zero payment processing fees.
GoLance is the only platform that actually gives back money to its clients through CashBack. How much do the clients get back exactly? There's a fee calculator that ensures full transparency about this essential question for any client.
You don't have to pay for recruiters on goLance who will approach you and offer their assistance even if you don't ask for it.
5.2 goLance Cons for Clients
GoLance is still perceived as the underdog of the freelance industry compared to the biggest and most popular freelance platforms.
GoLance's spendings on ads and marketing of their platform and services are rather symbolic.
Ignorance is the biggest enemy of goLance. Clients are often unaware of all features this platform has to offer at zero cost and its capabilities to successfully support big corporate clients.
5.3 goLance Pros for Freelancers
GoLance is the only platform that showed a constant tendency of decreasing its flat freelance service fees in addition to unlimited bidding opportunities and without any membership plans.
Thanks to PayDay Advance you can get paid the very next week after you submit your work. You have the freedom to negotiate a variable review period with your clients or remove it completely.
You don't have to worry that you will be suspended if you promote your own website or any other third-party websites on your profile, including your freelance profiles and reviews on competitors' platforms.
5.4 goLance Cons for Freelancers
When it comes to the number of available jobs, goLance simply can't compare itself against some of the biggest platforms in the industry.
Many freelancers are still treating goLance as their "Plan B" or "sidekick" platform while they're doing most of their work on other bigger and more popular platforms.
Ignorance is the biggest problem for goLance among freelancers too. There are still freelancers who don't know that there's a platform, such as goLance.
CONCLUSION:
Comparing the major freelance platforms that eventually comes down to convincing is wrong and pointless. My goal was to create a useful overview of the most important pros and cons of the top five freelance websites.
There are no winners and losers in a comparison game. The only thing that matters when it comes to the cons every platform has is whether or not these disadvantages represent a "curable" and temporary condition.
Both clients and freelancers are free to try out all available platforms and weigh up pros and cons to their advantage. Again, there's no such thing as an ideal freelance website. However, it's an undeniable fact that the more you know about where you hire or work, the more you will be able to grow.