Top Ten Quotes - Hacker Noon AMA Heroku Remote Culture Event with Francis Lacoste
Remote culture isn't the next big thing, it's already the thing!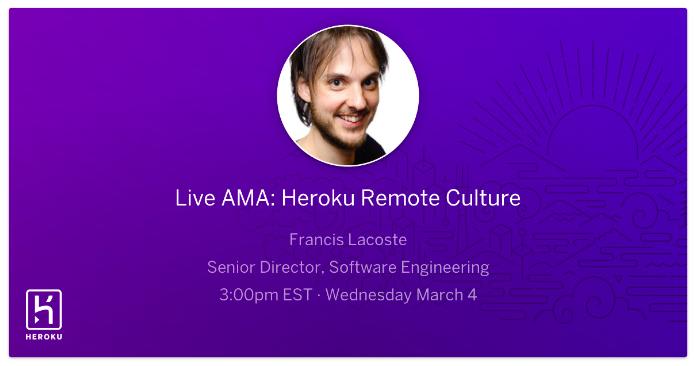 Remote culture isn't the next big thing, it's already the thing!
Heroku Remote Culture with Francis Lacoste AMA at Hacker Noon was all remote culture enthusiasts and explorers could possibly wish for.
Now, what's the best way of sharing the remote culture vibe with my fellow goLancers? Well, you can and should become a member of the great Hacker Noon Community. Also, I can just copy/paste all or some of the best Q/A of this event. But, I have something else on my mind and I'm sure you're going to like it.
Francis Lacoste is a Senior Director, Software Engineering at Salesforce Heroku. During the live AMA Heroku Remote Culture event he shared quite a few great and useful answers. Some of the lines were so great that they can be easily and rightfully turned into quotes about remote culture. And, that's exactly what I'm going to do in this blog post.
So, here's a list of the top ten Francis' quotes about remote culture worth memorizing and applying to your remote team:
In a distributed environment, you need to be very intentional about communication. So we also invest in learning to listen, ask questions from a place of curiosity, work on recognizing our biases and assumptions, and challenging them. It's hard work, often uncomfortable, but definitely worth it (especially, as these skills have application outside of work too).
Well, being remote is a perk in itself!
I'd also suggest that if you want to have a strong remote culture, you need to have a leader who is remote themselve, so that the leadership team can take that perspective in.
A real risk in our world is actually for work to take all the space in own's life, so that's usually more the problem than people being unproductive because of "life distractions".
I'd say that for many, the hardest thing to adjust to is the lack of the "office social life". For management (especially, if they aren't remote themselves), it's the fact that "not everyone is the room".
Around 70% of Heroku engineers are working from home, and that ratio is probably going to continue for the foreseeable future.
You'll want to put boundaries between when you are in "don't disturb me" mode, and when it's ok, for the kids or the pets to come say hi on a video call (yes, that happens, and is appreciated).
I wanted to do everything asynchronously. The thought of talking on a call with someone to solve a problem seemed just a waste of time. Over the years though, after seeing many discussions taking days over email threads (or PRs, or document's comments) without resolution, and where people talk past each others, I've come to see the value of synchronous communication.
When Heroku started going more remote, we did a "Remote week" where everyone worked from home and challenge. That helped build empathy for the experience.
Yes, there are definitive challenges being a remote leaders, especially, if you are working with non-remote leaders. That usually means more travel to build relationships in the environment they know, so that you have trust when you are not there.
That's all remote culture folks, for now.
If you want to read great tech articles without worrying about a paywall then Hacker Noon is an ideal choice for you.
If you want to build an efficient and reliable remote team then sign up on goLance.
And, if you want to read more about remote culture then you should definitely check out Micheal Brook's Space on Quora - Remote Culture Matters.
Yeah baby, remote culture rocks!