Top 6 Ways to Manage and Boost Your Team Wellness while Working from Home
Companies who promote wellness with their team experience lower turnover rates, and therefore reduce the hiring costs.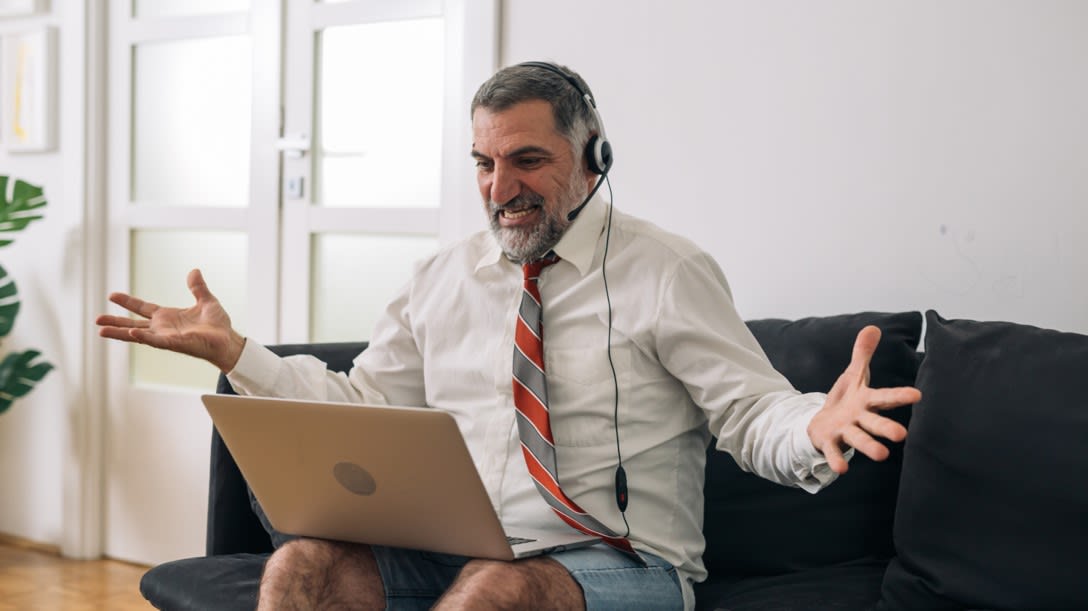 For a long time now, companies have put a great deal of focus on wellness for their team. It's what makes the team productive, energized, and motivated.
But, what happens to wellness now that the workplace has changed?
After the very stressful events that took place in 2020 and are still shaking the world today, working has become a challenge. What used to be a simple daily occurrence such as going to work and spending time at the office has suddenly become an issue.
Even at that point where things were highly uncertain, experts estimated that 30% of the workforce will work remotely at least a few days a week by the end of 2021. As the year slowly moves toward its end, we are witnessing exactly that – more and more companies forced to send their employees at home, and the trend of remote work growing in popularity with every passing month.
This brings us to the main concern...
How will you promote wellness within your company now that things have changed entirely? On top of everything that's changed, there's the added stress that people go through trying to adjust to the change. They've become lazier since they don't have to be active to get to work, and as wintertime comes, so do the winter blues.
Before we get to the new, updated ways to promote wellness within a remote workplace, let's see why this is important.
Why Should You Promote Workplace Wellness?
Wellness is on all of our minds these days, but why is it important in the workplace? Why do business owners and leaders seek out to promote wellness in the office?
CIPD defines the importance as follows: "Promoting wellbeing can help prevent stress and create positive working environments where individuals and organizations can thrive".
It even goes beyond this. If you check Haptivate's infographic, you'll find that workplace wellbeing leads to tremendous benefits for everyone included.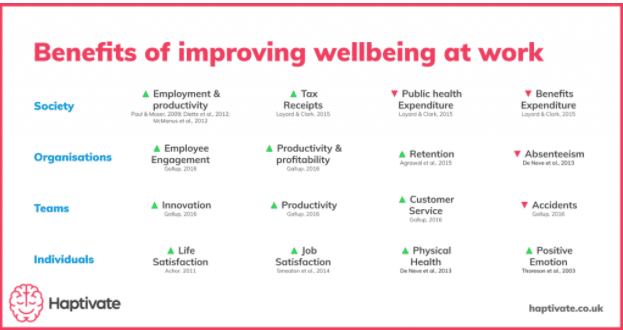 If your brand has a wellness program that is appealing to employees and works, it makes them happier and your organization stronger. Not to mention, this is a brilliant way to attract top talent. Most people these days prioritize wellbeing and healthy working conditions over bigger salaries or higher job positions.
This is a great way to save tons of money, too. Companies who promote wellness with their team experience lower turnover rates, and therefore reduce the hiring costs. Financially, they also save a fortune on healthcare and absenteeism thanks to the healthy habits their employees implement. According to Health Affairs, companies save $3.27 for every dollar spent on healthcare and $2.73 for every dollar spent on absenteeism.
6 incredibly effective ways to boost wellness with a remote team
Adding exercise hours, getting an instructor to train your team, and prepping a room where they can rest or eat healthy food might have worked when your people were in-office. But, how do you handle it now when they work remotely?
There are many ways to promote wellness when your people work from home. Here are the best of them all.
1. Promote corporate volunteering
Corporate volunteering is highly trending these days. It goes from helping the community to doing good for others, which makes people more fulfilled and paints a better picture for the brand. It's surely a win-win. If you decide on starting a corporate volunteer program for your brand, you can also consider broadening your choices. According to AlayaGood, a platform for volunteering and donation solutions for brands, this can also include:
· Workout break for your team in the afternoons
· Weekly meditation classes held online to relieve the stress
· Online book reading or cooking classes
It is hard to promote good wellness habits, especially when your team works remotely. The entire idea of volunteering and doing something good can be a great motivation, and make the activities fun. Something as simple as a volunteering program or challenge can get people more focused on the wellness initiative at hand. Not to mention, it's far more exciting to strive to meet your goals if you can celebrate the wins with others.
2. Make it a competition
Volunteering is certainly a way to make people feel better about themselves, and feel more accomplished – as well as boost their personal development. Playing games is yet another great option, one that awakens the competitive side in people – no matter how old they are.
While you cannot use the games teachers use in school to motivate their students, making wellness a competition is a sure way to challenge your team and get them interested. For example, start virtual contests for a new diet, or a game where they have to do planking for an entire week.
3. Create more flexible work schedules
Naturally, you don't want to give your team too much freedom and let them roam free while you have to complete all of their tasks. As a leader, you must find a way to keep track of their performance and request that they put in the paid and required working hours.
However, a bit of flexibility won't hurt, especially now when they work remotely.
With remote work, people can enjoy more autonomy. When they feel too tired or overwhelmed, they should be allowed to take a stroll outside, take a nap, and simply sign off and rest for a bit. As long as their performance isn't hurt by a bit of flexibility, this should be acceptable.
Consider this – people have changed their routines and the way they work. They might still need time to adjust to this. There will be team members that will not know when to take breaks because they are used to working in an office. Some might not have a distraction-free spot to use to do their remote work (perhaps you remember the BBC news interview that was interrupted by the speaker's family entering his room).
Leave them some room to adjust and find their own pace. Some people will adjust more efficiently and faster than others. Others will need to form new rituals before they find their most productive one.
As long as you help people feel less stressed about this, you are promoting wellness in the workplace.
4. Organize wellness program activities
Wellness activities do not need to be limited to the workplace. Instead of those sessions in between working hours, why not organize online workouts via video, or connect your team with an expert wellness specialist?
There are many steps that you can take to make your employees less stressed. You can organize group activities in the open and promote both wellness and team building. This will give them the much-needed socialization, allow them to take better care of themselves, and build a healthier culture for your company.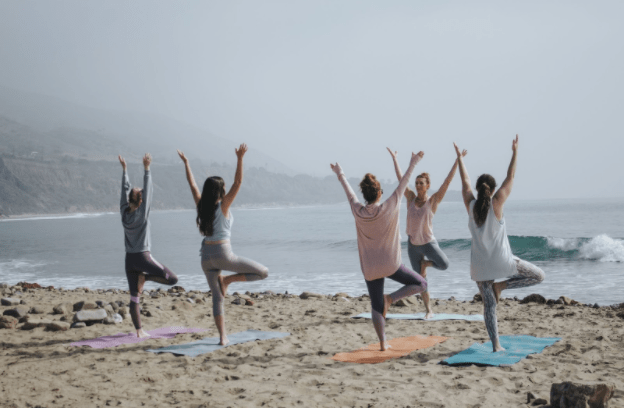 5. Improve their benefits package
People today are more likely to accept a job position with a better benefits package compared to a higher-paying job with a poor package. According to a SoFi study, 61% of Gen-Z and 57% of Millenials feel less stressed at work if they have financial wellness benefits included in their offers.
This same study shows that 59% of people feel it is more important today than ever to get such benefits. Employees who are experiencing stress, especially like the one we've all witnessed these past months, are more likely to suffer from migraines, insomnia, cardiovascular disease, etc.
Today, it's more important than ever to re-evaluate your benefits package. Even small changes can make a huge difference for your team and potential employees. This can make your brand more attractive to talented employees, and keep the ones you have onboard happy.
If your employees are scared of the pandemic, which is most likely the case, knowing that their insurance covers the costs can be a huge relief. Getting the opportunity to go to the gym free of charge can make them feel better about themselves – and healthier because of it.
You should also consider making counseling available to the team members, maybe even online. People are probably having a hard time adjusting to the new world as it is now, and having easy access to help when they need it can certainly make them feel better.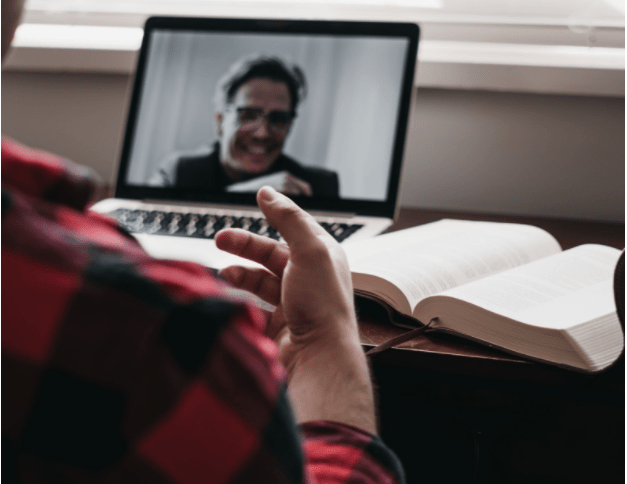 6. Whenever possible, enable more free time
Even if yours is the most flexible workplace and the tasks are evenly spread among employees, work can still compound stress. Doing the same thing all over again why trying to juggle home life and personal life is not easy on anyone.
This is why, whenever applicable, and if it doesn't hurt your business, try and give all team members some free time. Enabling them more personal time will make them more energized to work later when they come back to work.
Final thoughts
Companies in every industry are struggling with various challenges these days. For some, it is a huge competition that makes it hard to stand out and attract the right talent. For others are the changes that the pandemic imposed, something that we all need to adjust to. Regardless of which group you are in, there's one thing that you should definitely make your priority – the wellness of your team. From talent retention to better productivity, the right wellness strategy can do wonders for your business.