"Show Your Go" with goLance!
If you took our blogs on Digital Reputation and Your Personal Brand seriously, we want to hear from you!
If you want to take your career with goLance to the next level, then we have an offer you don't want to miss.
goLance is reaching out to every goLancer for assistance. We are looking for motivated goLancers to write a blog post for us. Your post can be about anything related to freelancing, goLance, or your experiences.
If we publish your post on the goLance blog, we will give you $100. That's right, $100! If we really like (even love) your post, we will promote your post on social media to include; Facebook, Twitter, LinkedIn, and Quora.
What's so good about goLance promoting your post?
You get to build your personal brand for free!
When we promote your post, your referral code will be embedded!
We will give you exposure to the world, showing off your digital reputation!
Potential clients will be reading your blog post, which may result in job offers.
Let us help you, by helping us!
goLance is growing at an exponential rate. You can establish your personal brand by showing us your Go!
This offer is available to anyone with a goLance account. ANYONE. Regardless if you have worked a contract or not, if you are a client or a freelancer, this offer is for every goLancer on our platform.
To submit a blog post, sign in to your goLance dashboard, and go to the "GOREFERRALS" tab.


Outlined in the red rectangle is the description for "Referrals via blogging" and to the right is a circular button. Click the button.
You will be brought to another page with the option of reading goLance's blog or writing your first article. Click on "WRITE YOUR FIRST ARTICLE"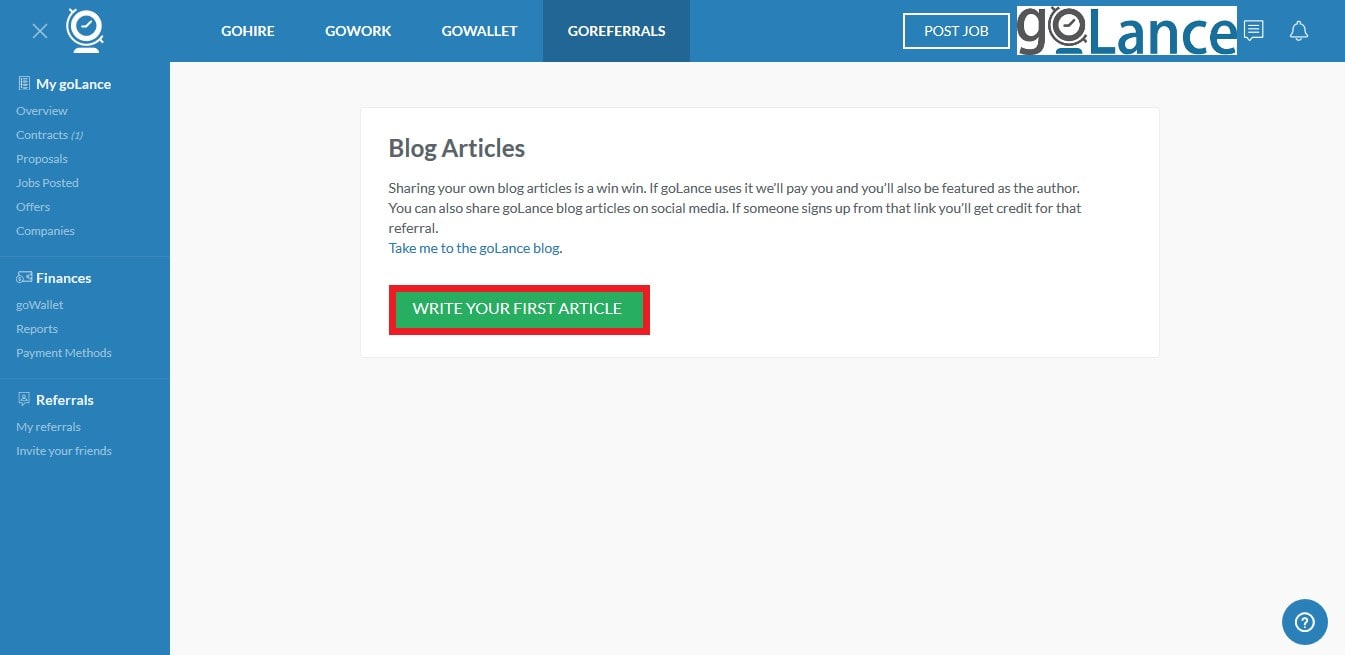 You will then be brought to the blog editor, where you can upload an image, title your article, and then write your post. When finished, click "SUBMIT ARTICLE."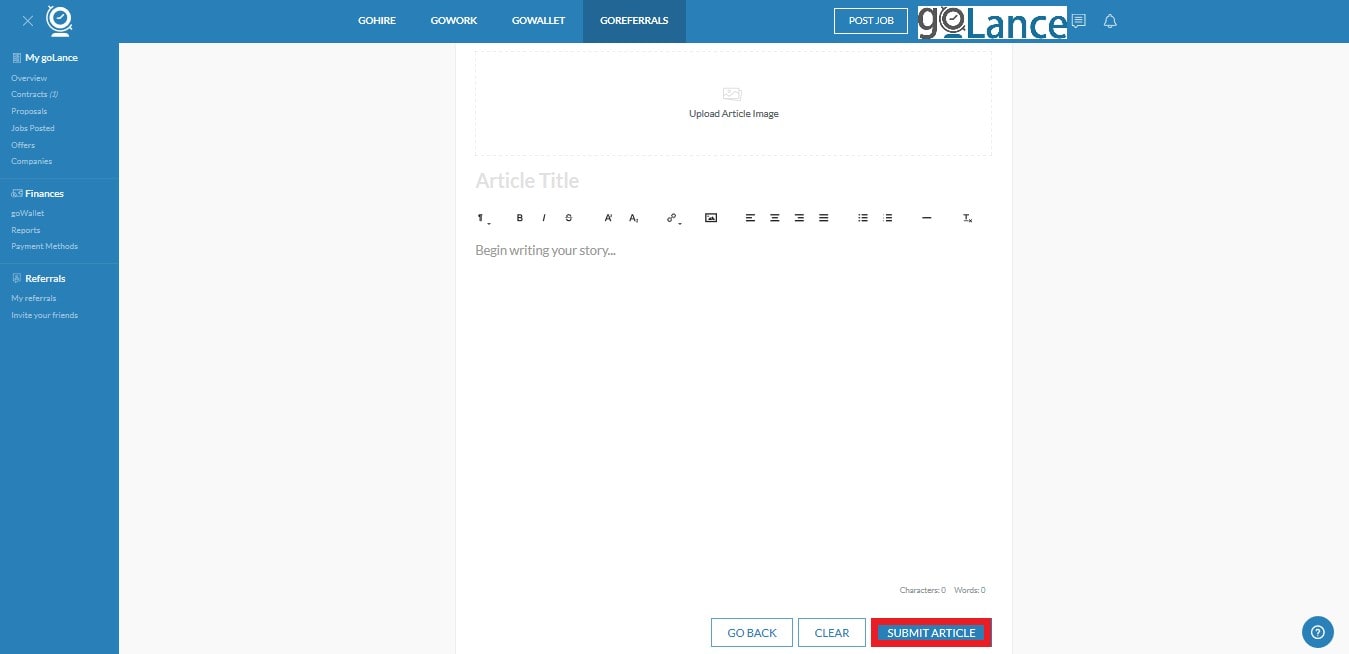 Questions you may have:
What should I write about?
The choice is up to you. We want to read articles about anything related to goLance and freelancing. If you have an interesting story to tell us, feel free to do so. We only ask that you keep your article professional.
How many blogs can I write?
As many as you'd like, honestly! The blog at goLance can never have too many posts. If you're looking to become a freelance blogger, this is literally your chance to a great start!
How will I know if my post is selected?
goLance will notify you whether your post is selected or not. Posts that are considered will receive feedback from one of the goLance staff members.
How do I get paid?
You will receive a bonus from goLance through your goLance account, it's that simple!
What are the requirements to the post?
There are no requirements in length, but 300 words at minimum makes for a great post. Including images and using headers for paragraphs or sections are visually appealing as well.
We ask that you do not use copyrighted material. Do not use images with royalties taken from Google searches or from other websites. If we scan your post and find that any part of it exists anywhere on the internet without your authorship, we will not publish the post.
If you have any questions, feel free to ask in the comments below.
We cannot wait to see your submissions. Thank you for working with us!
Leave A Reply