Our Trip To The Philippines
goLance's CEO and founder, Michael Brooks travels to the Philippines to meet freelancers at the Freelancing.PH conference.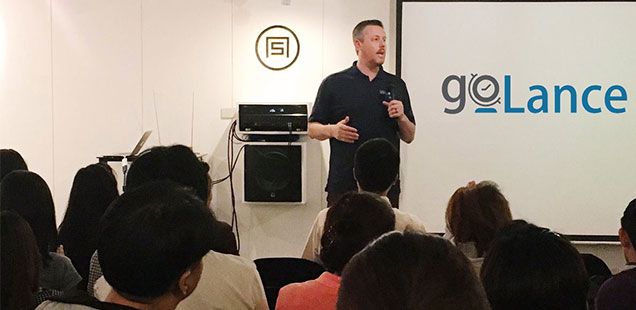 In the world of freelancing, you'll have many options asking for your time. You'll have platforms like Fiverr valuing your skill set at a flat $5. You'll have giants like UpWork showing you opportunities at a high cost. You'll have clients asking you for freebies. You'll find yourself on Skype at odd hours of the day explaining projects to freelancers. So why goLance? Why not find jobs using UpWork or Freelancer? They've certainly have been around long enough — so what makes goLance different?
Our Trip To The Philippines
A)  We Will Go Where Others Won't…
One of our core values is putting the community first. Recently we launched an updated UI that was built on suggestions and conversations with our users. The end result, an overwhelming rush of positive support. But we won't stop there. For the past few months, the founder of goLance has been making the rounds on influential podcast shows.  One of the interviews (Marv De Leon, the host of FreelanceBlend.com found here) goLance's Ad Agency, Treehouse 51 arranged led to Michael receiving an exclusive invite to be a featured as a guest speaker at a job fair in the Philippines.
B)  The CEO of goLance WANTS TO MEET YOU…
C)  goLance Is Here To Empower Freelancers
There are many differences between goLance and Upwork. From our fee structure being a better deal, to our platform being more personalized for our users. Probably the biggest difference you will find is how our team works with Freelancers. We're here to empower fellow freelancers. That's why Michael Brooks jumped on a plane for over 10 hours to the Philippines to meet freelancers face to face. He's a strong believer in helping others succeed. If that means jumping on a plane to an exclusive job fair on the other side of the world — he's all for it. During the event, he was able to share industry insights, learn about freelancers stories, and help them find work.
What Can You Get Out Of goLance Today?
We're a young company. We're driven. We're passionate. We listen to our community. I can't stress this enough, swing by our website www.goLance.com and say hi, we'll say hello back and ask you how we can help. That's just how we operate. We value our freelancers and want to take them from being soloprenuers and transition them to entrepreneurs.
The top perks you'll find on goLance are:
Passive Revenue — our platform has an option where you can refer others to the site and when they are hired you will earn a fee for the lifetime of their contract.
Faster Payouts — with our new UI we've introduced a feature called Payday Advance where users can withdraw their funds the next day if they like for a small fee. This is unheard of for freelancer. You are essentially skipping the review period and getting your money out faster.
Online Jobs — we continue to grow and house new jobs for every skill set on goLance. The added bonus, we're not so large that freelancers are overlooked.
New Freelancers – There isn't a day that goes by where we don't get new, talented, freelancers joining goLance. If you're a client you need to check out their profile where we put a spotlight on their digital reputation.
Final Thoughts…
We want to meet you. We want to help you find work. We want to help you hire the best freelancers on Earth. Sign up for goLance today – click here to start. Reach out to us if you're interested in booking Michael for any type of speaking event.