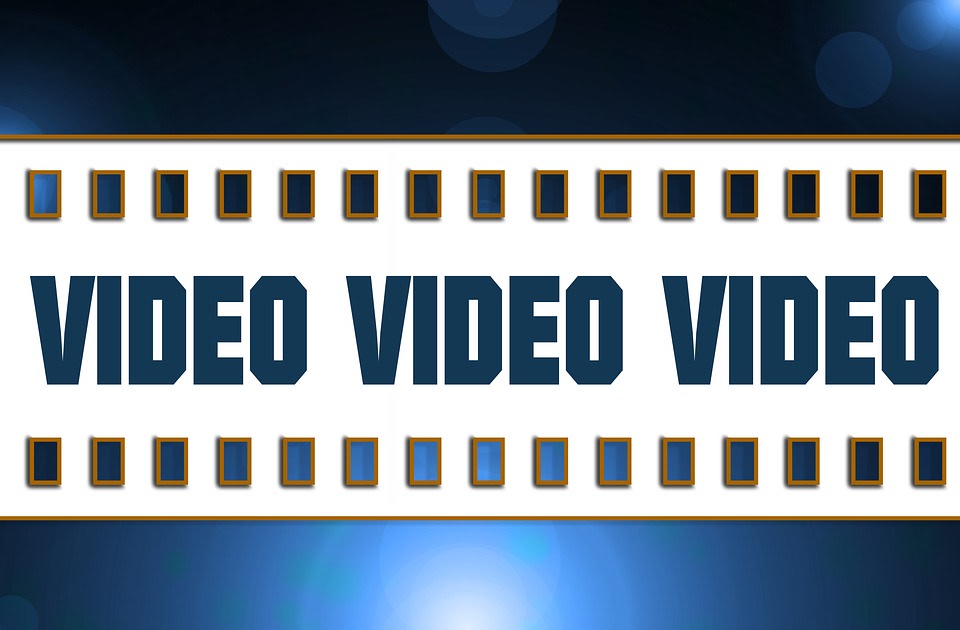 Introducing Video Calls and Meetings on goLance
goLance has been working diligently to upgrade the benefits and features it offers its users. We are proud to introduce video calling as a form of communication between clients and freelancers. As an added bonus, you can also schedule meetings with freelancers, initiating a date and a specified time to call or message.
Video Calling
The video ccall feature is available to clients whom have posted a job position. It works concurrent with the Messenger System already in place.
As a client, you can invite freelancers to a video call and interview them through the goLance platform, as opposed to using outside an outside application such as Skype, Facebook Messenger, or LinkedIn.
Only clients can start video calls, so they should be pre-planned through goLance messenger to be scheduled.
How to Complete a Video Call
From the messenger page on goLance, simply click on the freelancer you would like to call, and then you will see one of two options available next to their name.
Freelancer is Online
If the freelancer is actively online and signed onto goLance, you will see the phone icon colored in green.


Simply click on this icon, and then a new window will appear, asking to confirm the call to the freelancer.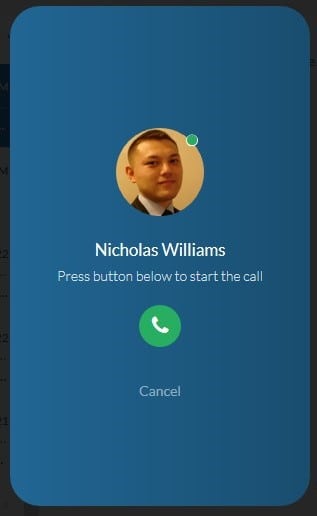 Click on the green icon, and then the call will begin.
Freelancer is Offline
If the freelancer is inactive and is not signed onto goLance, you will see the phone icon colored in gray.


You can still initiate a call if the freelancer is offline. Simply click on the gray phone icon, and a new window will appear.

Click on the green phone icon, and the call will initiate. The screen will display the following.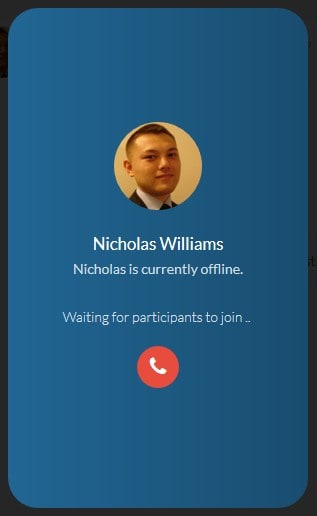 At this point, you will be waiting for the freelancer to become available online, after signing onto goLance.
If you would like to end the call, simply click on the red phone icon.
During the Call
Once you have successfully connected with the freelancer, your screen will show the following.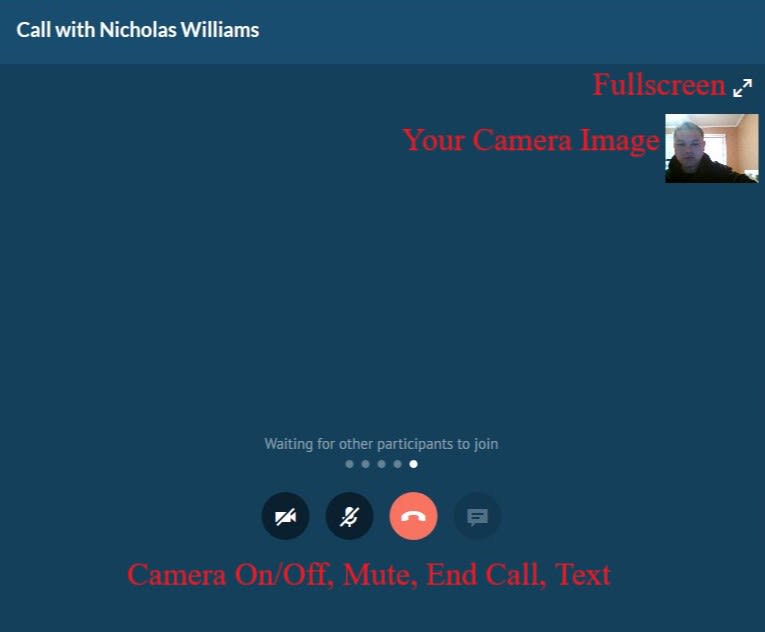 The four icons from left to right on the bottom are:
Camera On/Off, allowing you to turn off your camera or back on.
Mute, which mutes your microphone.
End Call.
Text during call, which opens a box to send messages.
In the top right, you can expand the call to fullscreen. The smaller image is what your camera is displaying to the freelancer.
This is and example of texting during a call.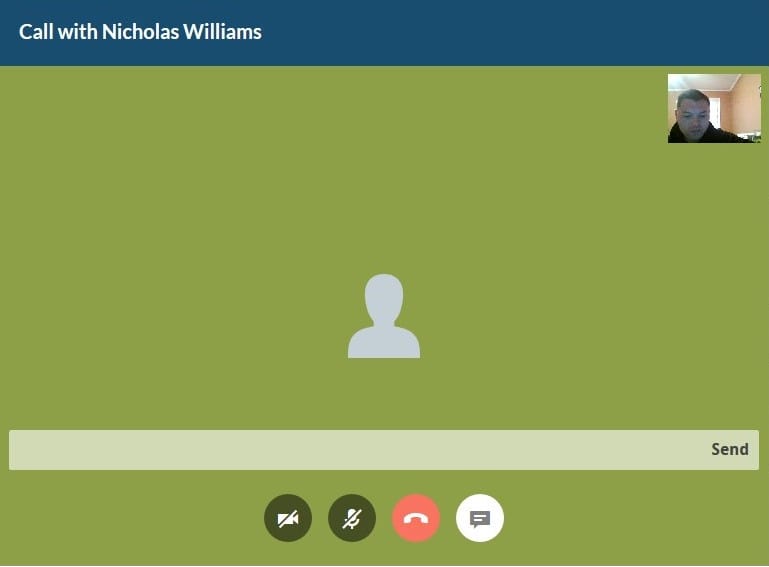 How to Schedule Meetings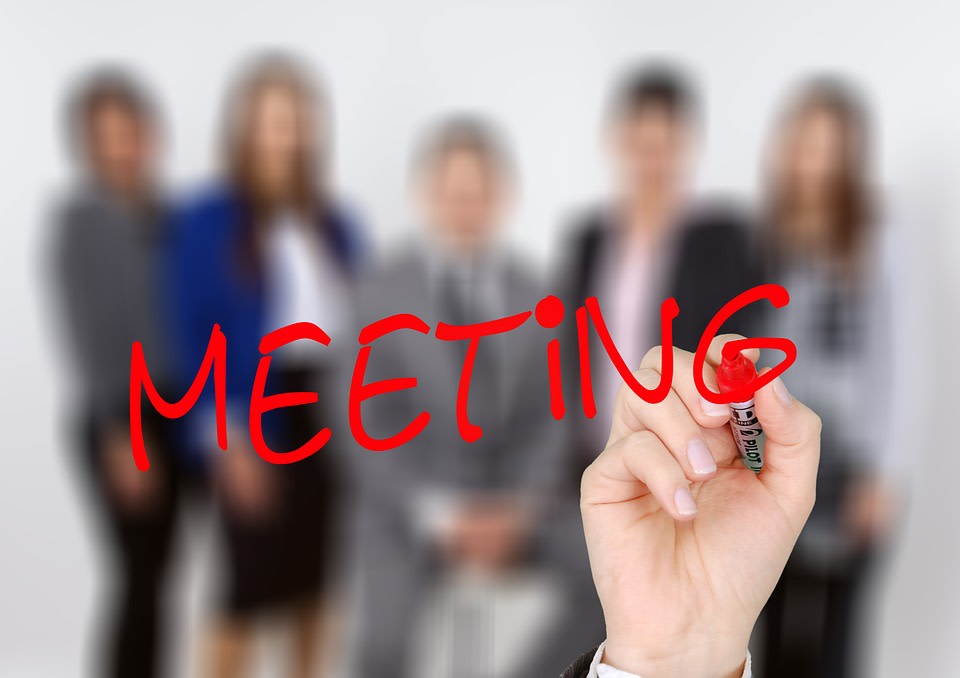 goLance also has the capability to create and schedule meetings. As a client, you can schedule meetings through the messenger service with freelancers.
When you select the freelancer you want to contact, the calendar and phone icons will appear.



Click on the calendar icon, and a new window will open.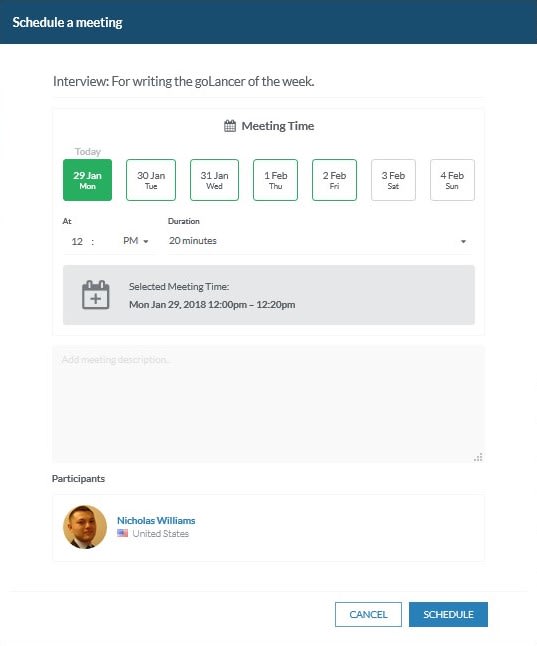 Scheduling a meeting is simple, and only requires you to:
Select the date.
Select the time and duration.
Add a description of the meeting.
After you have filled out the scheduling form and submitted it, the freelancer will receive a notification, confirming that they were invited to the meeting.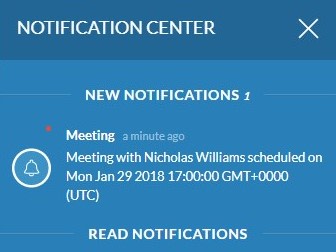 F.A.Q.s
Does this service have a cost?
No. The video calling service and scheduling service are free of charge.
Do I have to download anything or upgrade anything?
No. Video calling and scheduling are all conducted through your web browser.
What browsers are compatible with goLance?
Mozilla Firefox, Google Chrome, and Apple Safari. Internet Explorer and Microsoft Edge are not compatible with the video calling service.
I am a freelancer, how can I call a client?
As a freelancer, you cannot initiate a call to a client, nor schedule any meetings.
What if my freelancer doesn't have a web cam?
It is important to confirm with your freelancer through messaging whether they have the equipment to participate in video calls. If they have a headset with a microphone, then they can participate in voice-only calls.
What happens if a freelancer misses a call from me?
When a call is missed, an e-mail is sent to the freelancer's registered address automatically, notifying them of the missed call.
If you have any questions or comments, please leave them below.
Thank you for working with us.
Leave A Reply