How to Find the Most Prolific Freelance Writers for Your Business Needs?
Continue reading for a complete guide on how to find the perfect freelancer for your business.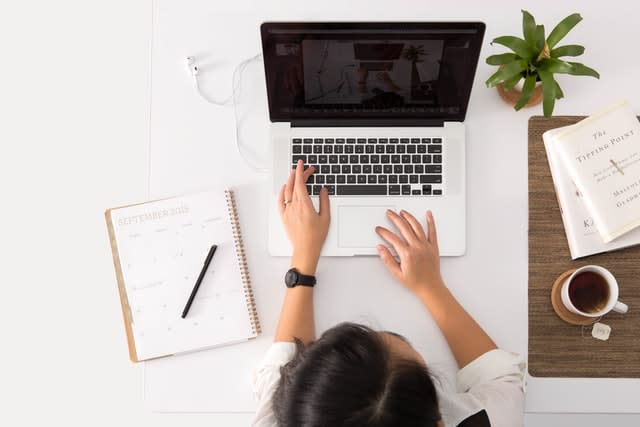 It goes without saying that using content of a high caliber can enhance your overall marketing initiatives.
In fact, 76% of B2B (business-to-business content marketers intend to produce more content this year than they did last year.
Though the process of producing excellent written material is straightforward in theory, certain content marketers struggle with continuous implementation.
Your procedures (and timeline) will become disorganized as a result of the demand to provide high-performing content more quickly.
As a result, you should consider employing qualified freelance writers – who can help you to lessen your workload, enhance the quality of your website, scale up your content marketing strategy, and assist you in concentrating on your daily activities.
A complete 8-step guide on hiring the best freelance writers for your business
Whatever the situation, a prolific freelance writer could assist your company in achieving all of its creative objectives. Finding the ideal freelance writer, though, can be challenging.
Continue reading for a complete guide on how to find the perfect freelancer for your business.
1. Create a job description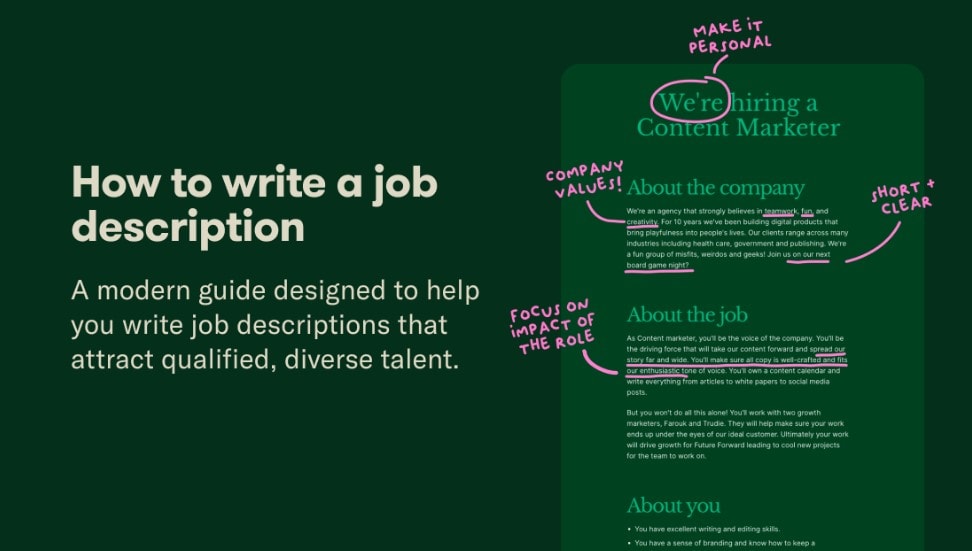 Create an excellent job description first. It should include your company details, intended audience, themes, fee, number of words, and additional job details.
Consider this template:
"As [company name's] Content Writer, you'll be responsible for creating blog entries, articles, newsletters, online posts, and white papers."
"We aim to reach our readership with your content. You should be dynamic and research-oriented — to educate people about our brand."
"Your content strategy and schedule should ensure consistent publishing. You'll furthermore make [company name's] advertising copies intriguing and unique. You'll produce stunning narratives with our design team."
"Our growth marketers will assess your content's success."
Now, in this brief, multiple elements come into play. For instance, you may need to include more specifics about the prospect in your brief. If you wish to make this process faster and easier, you can click here to choose an automated job description template.
Such templates help you in including other variables as well. For instance, pay rates need special consideration. While novices may charge a lower fee, experienced professionals will demand more. You need to include a rate that suits your requirements and budget.
You can even establish a trial rule while hiring freelancers. In the payment area, state that freelancers will commence with a sample piece at a cheaper rate.
Keep the test article's word limit lower than standard posts for fair play. If the person passes the test, they'll start writing regularly at a higher rate.
2. Conduct a writer survey
Not all freelance writers are client-connecting experts. New freelancers who solely reply via emails could leave out significant facts.
Use a poll to minimize repetitive reminders. A writer survey standardizes the data you get from each person so that you can swiftly assess competence, specialties, and approach. It ensures you're employing like-for-like candidates.
Your questionnaire could have as many questions as you choose. Here's a set of questions to ponder if you're stuck:
Name, please.
What's your email?
What's your expertise?
How much experience do you have in writing these topics?
Which [Business Speciality] thought leader do you admire?
Please provide a link to your best three [Topic] articles.
Your writing portfolio.
If you've selected trial content, verify the freelancer knows the requirements and compensation rate.
Include the questionnaire URL in your job brief after it's put up. After preparing, start looking for freelancers.
3. Explore your networking circles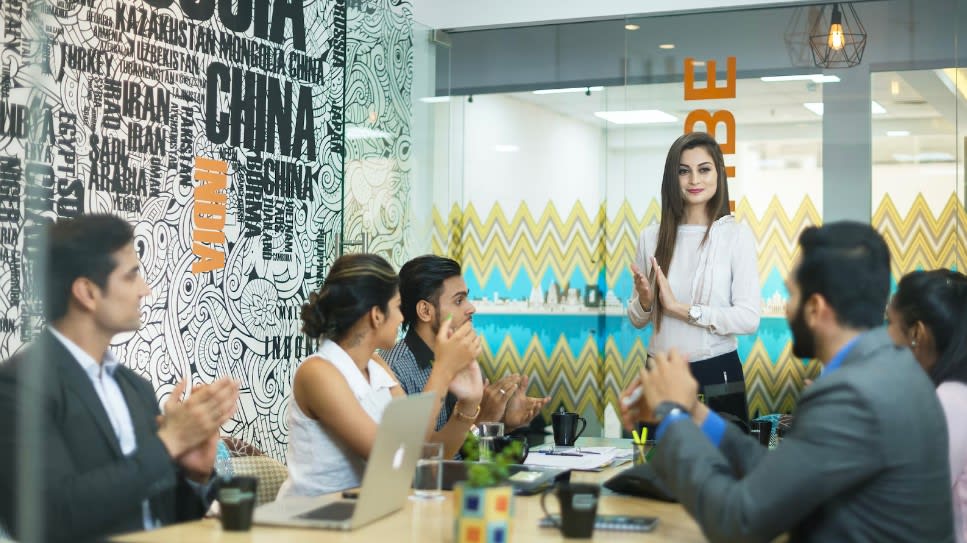 You may come across multiple good writers through your connections. "I didn't even know you were an author!" is a common theme among freelancers.
Ask friends, relatives, and regional professional contacts about freelance writers. Single or a few qualified leads are preferable to 20 randomized leads sans recommendations.
Then, use online networks such as LinkedIn. Ask for recommendations. Usually, recommendations pour in.
4. Post to authors' groups and freelancing networks
Now is the moment to use a writing-focused Facebook or Slack community.
Always verify with forum administrators before posting a job. Most groups allow job ads, but it's always advisable to double-check.
Don't neglect literary groups. Meetups, authors' leagues, and organizations are fantastic venues to locate freelancers. Send an email or post on Facebook. Officials will often forward your job posting to members.
Freelancing communities and job sites help business owners broaden their search. If you want the best applicants, don't overlook remote employment boards.
An increasing proportion of freelance authors float in distant work circles. In fact, such forums are ideal if you're looking for tech-savvy Gen Z talent.
They widely inhabit these circles and possess a variety of skills, prices, and expertise levels. Gen Z freelancers work in tech, marketing, design, and more.
5. Consider SMEs (subject matter experts)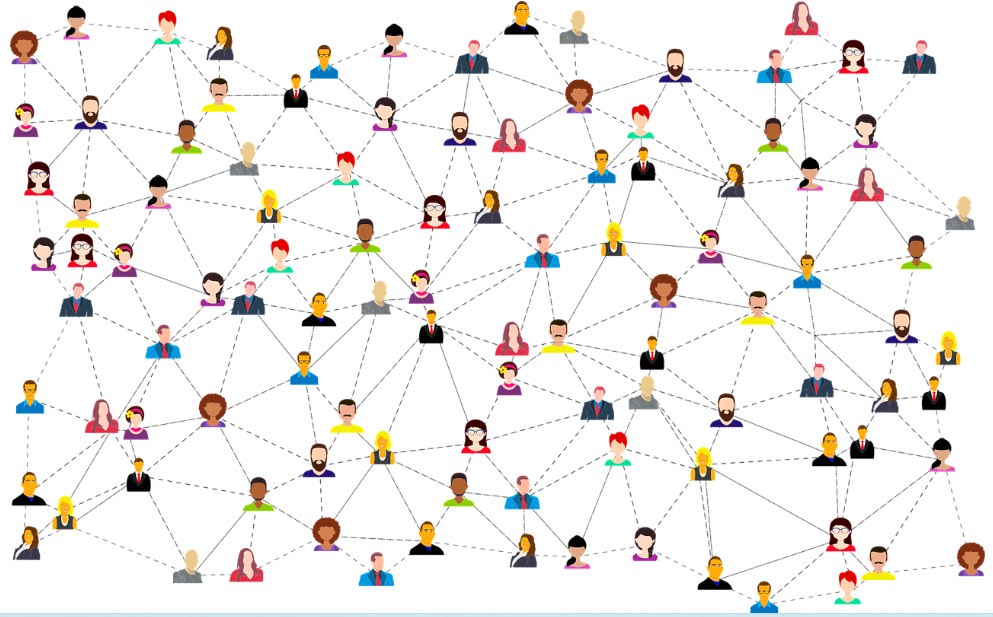 Hiring a freelance writer who recognizes your business and branding is a struggle. This is difficult in technical fields like healthcare, government, and law.
Discovering a freelancer who is also an industry expert could be difficult and wouldn't be a feasible alternative as you expand. Some writing markets can link you up with competent SMEs; find one who fits your industry.
If you can't hire an SME or are tired of telling your in-house specialists to compose all of your content marketing material, use your crew to supervise and instruct your writers.
Find a freelancer interested in a long-term partnership. You should test a candidate's listening skills, openness to critique, and willingness to make authored modifications. Key skills also include communication.
6. Check out social networks like Twitter
Twitter is an epicenter for independent contractors to interact, exchange tips, and seek opportunities.
Each writer plans to establish a foundation here anyway, so it's a good place to look for expertise. Writers often include bylines in bios and repost their own projects.
Start by searching with hashtags such as #freelancewriter or #copywriter, or take a glance through the profiles of authors you appreciate.
Writers usually copy others. You also can tweet a gig synopsis. Some freelancers sign up for newsletters, which collate social media prospects, so they'll locate your job advertisement. Make absolutely sure that you can be reached.
7. Contact agencies
Entrepreneurship naturally fills a need. Advertising and content agencies have focused on the content issue over time.
When you'd instead have another firm identify the correct writer, track their hours, and ensure the final product is good, a content development agency may be appropriate for you.
Such agencies may cost more than the typical freelancer based on what they can provide, so make an informed decision before committing.
8. Consider direct outreach
Many professional writers are always looking for new work. If you like a blog entry on a news website with many independent contributors, ask the author about their bandwidth.
To prevent wasting your time and theirs, provide details of the project upfront. How much time should they spend composing and proofreading weekly? Pay range?
Tell them you give a platform to post their work to build their profile. You never really know when you'll grab a professional at the perfect time and benefit from their skills and slimmer to-do list.
So, now, you've identified an author or possibly multiple freelance writers. Therefore, should you let them create your content, right away? Not exactly!
A creative brief might help you as well as your authors speed up the process.
9. Brief freelancers
Creative briefs outline project information so that all are on the same page. They're prevalent in design and marketing, but quickly becoming a content standard protocol.
For a brief focused on composing articles, outline the following:
Title
Subject
Word Count range
Deadline
SEO-focused content should target keywords
Tone
Framework
Tone determines whether an article inspires or discourages readers into action. Thankfully, you don't need to specify tone. Broad descriptions like "inspirational" or "competent and educational" are enough to guide an author in the proper path.
While not required for a brief, a framework helps ensure the final product meets your goal. If you would like particular points in the final piece, define them. If you have convincing arguments, sources of data and intro/conclusion directives can help.
Make your outline flexible. The greatest freelance writers can refine even sketchy basic outlines. Too many details can resemble micromanagement.
For your first project with a freelancer, use a flexible plan that outlines your must-haves. You're done whenever your proposal is complete. Let the author do their thing.
10. Optional: Design your own branding style
If you hire a dedicated team of freelance writers, you can build a standard in-house style to ensure all of them use your company's voice while being unique.
If you've a worldwide staff, you may also want to make sure that each post speaks American or British English or that abbreviations are punctuated appropriately.
Enforcing standards might be tough as your company evolves. Hence, start early!
Conclusion
When you find a suitable writer, start thinking of them as a valuable member of your company. If you've not seen their writing, request to see excerpts and ensure that style of writing fits your company's tone.
If not, enquire whether they can mirror brand tones and for samples. Check their delivery time for the specific assignments you'll give most often.
As with any partnership, expectations must be communicated early on.