How to Employ a Dedicated Tech Partner: Flow, Phases, Recommendations
How to select and employ a dedicated development team?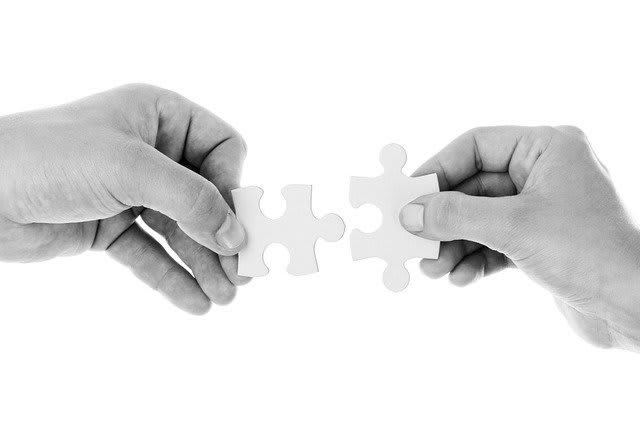 Entities in all industries continue to digitalize within the frameworks of the post-COVID world. A prevalent number of both startups and market giants opt for outsourcing capabilities with an aim at receiving flawless performance at reasonable costs. Due to a recent report by Capital Counselor, tech development outsourcing takes over the half of the entire worldwide market of this sector.
A wide diversity of digital product architecture vendors ensure the opportunity to select and employ dedicated tech experts with proven in-depth competence in a particular specialization within the IT industry. It allows for expanding the project opportunities and cutting down the time spent on proficiency checking as well as hard and soft skills evaluation.
A wide range of benefits offered by technical outsourcing drives the question of how to select and employ a dedicated development team. Therefore, let's discuss the successful completion of this task, some valuable tips, and steps to complete.
Dedicated Model: Practical Application
A dedicated model of partnership stands for providing a customer with a remote tech team for a certain period, which conventionally tends to be long.
This approach is client-oriented and is aimed at satisfying the requirements of customers and their specific projects. Ranging due to the industry, some digital products need competence in a particular functionality elements' implementation. Consequently, dedicated experts serve as a way to meet this necessity and build more sophisticated and complex products. To put it in brief, this type of a model represents the opportunity to work with a professional from IT providers to work on certain set responsibilities.
Delegating the assignments of a digital product implementation allows your team not only to expand expertise in the technologies involved in the project but to deal with more significant tasks as well, moving part of the responsibilities to dedicated specialists.
Indispensable Pros of Dedicated Tech Teams
Let's get familiar with the key reasons why dedicated teams are a great approach to adopt and what makes them sought-after:
Decreased investments. Such an outsourcing model enables saving costs due to the reasonable prices for the tech services. The crucial condition for this aspect is that distant cooperation ensures a boundless choice of tech vendors.

Essential expertise. The idea complexity isn't a challenge when it comes to dedicated professionals. Any required tech specialization can be fulfilled as there are lots of digital hubs with competent and talented individuals. To illustrate, Estonia is an advantageous region to consider.

High control level. Any dedicated employee becomes an integral participant of your work ambience and quickly adjusts to the internal flow of your business, delivering you with enhanced operating capabilities.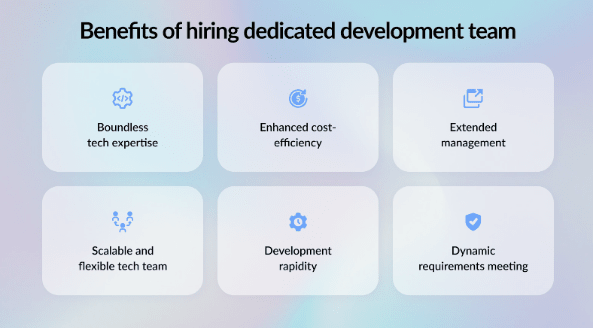 Which Experts Are Worth Employing?
The list below discloses the services of which experts you are able to order a software development partner to expand the opportunities within your organization:
Business Analysts. This partner will assist in gathering and analyzing your demands and business goals. In addition, such a specialist may consult you on ways to reach them by optimizing the current workflow.

UI/UX tech specialists. The main task of designers is to create a flawless user experience with the software solution by developing a clear and stylish interface that will ensure a high satisfaction level from interactions with it.

Frontend and backend software engineers. The proficiency of this type of developer lies in building the interface of the digital product as well as implementing the functionality and making it work smoothly.

iOS/Android experts. Today's need in mobile-first architecture motivates many businesses to create applications for the aforementioned platforms by employing mobile tech experts.

DevOps professionals. If the occasion requires robotizing the software architecture flow, picking right digital instruments, and raising productivity, you should hire such an expert to perform and obtain all these objectives.
Regions and Dedicated Tech Partners
The platforms for employment are full of engaging offers from solutions architecture providers. There are some regions where the delivered performance is excellent, yet, the costs are reasonable and adequate, making the whole cooperation advantageous. Besides, it is worth mentioning that the selected country is a primary price indicator for the tech services.
A great misconception we may often hear sounds as follows: the more the investments' amount is, the more enhanced the the performance and the outcome (product), respectively. This point has absolutely nothing to do with dedicated members outsourcing.
In practice, the USA remote tech market's services require the biggest financial conditions. Nevertheless, you have the option to get the equally fruitful cooperation at fewer outgoings by looking for partners in Central or Northern Europe. In particular, you may start the search in Estonia.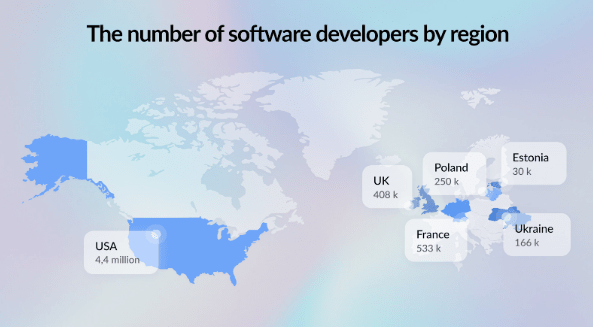 On the other hand, hiring a dedicated team in India may result in poor communication, insufficient English knowledge, and decreased accessibility. Thus, it's vital to employ dedicated teams at an adequate cost and check their expertise by getting acquainted with the delivered portfolio accompanied by the rating and reviews.
Employment Process in Practice: Cooperating with Dedicated Teams
Becoming partners with an IT software architecture team may seem pretty complicated. However, let's shed this perception and get a clear view at essential phases of dedicated teams' selecting as well as employment:
1. Create a list of potential tech vendors to work with. For this, it would be useful to assess the dynamic conditions on the market and select the region for hiring; analyze your own demands towards tech partners in order to choose the most optimal variant meeting them.
2. Take a closer look and compare portfolios, rates, previous clients' experience, and feedback for each candidate you consider. The choice should be made to experts with the relevant specialization the tech idea requires for your project. Next, you now have the opportunity to evaluate the advantages and drawbacks of every potential provider to come up with a final conclusion regarding the best software development vendor.
3. Handle confidential issues by signing a non-disclosure agreement. By doing this, the originality of your idea will be safe, and no data will be available to third parties.
4. Define the operation of the dedicated employed experts by going for the special worker employment or selecting to handle the team control yourself. After this phase, your business is all set for your dedicated specialists' onboarding and proceeding to the solution fulfillment.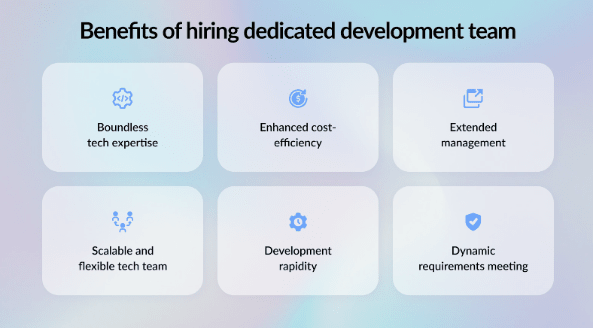 Summarize
Dedicated technical teams serve as a brilliant way to meet your case's demands and fill all the lacking tech expertise. The hiring resources are full of providers delivering software solutions architecture, so each business may find a range of offers suitable for the specific budget. It's vital to remember that the process of choosing a tech vendor should be taken seriously, as the final product's quality is mainly determined by the partners you hire. In case this process is accomplished successfully, your work with dedicated tech members will be productive, efficient, and beneficial.
Author's bio
Vitaly Kuprenko is a writer for Cleveroad. It's a web and mobile app development company with headquarters in Ukraine. He enjoys writing about technology and digital marketing.