GoLance Recognized As "Virtual Remote Co-working Platform of the Year" By RemoteTech Breakthrough
Annual Awards Program Recognizes Innovation in the Global Remote Technology Industry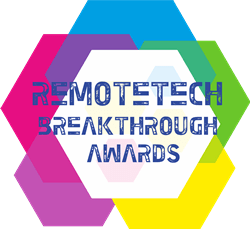 LOS ANGELES (PRWEB) JUNE 24, 2021
RemoteTech Breakthrough, a leading independent market intelligence organization that evaluates and recognizes standout technology companies, products and services empowering remote work and distributed teams around the globe, today announced that goLance, an online freelance marketplace with more than 600,000 global users, has been selected as winner of the "Virtual Remote Co-working Platform of the Year" award in the 2021 RemoteTech Breakthrough Awards Program.
The goLance platform empowers businesses to recruit, screen, hire, manage, and pay remote global online freelancers efficiently and cost effectively. Freelancers can even build their own teams of freelance subcontractors for larger jobs and manage them from anywhere in the world. Clients can manage their unlimited companies with a single sign on under one account and easily hire freelancers for hourly or fixed-bid contracts. Both clients and freelancers have full transparency on rates, payments, and projects, and clients easily gain visibility into freelancers' work.
Freelancers are able to make use of the platform's goMeter app and Work Diary, which tracks activity and time as well as message contacts on the platform. It's easy to apply for jobs and access reports, and goLance is one of the few companies offering advance payment options to freelancers, tracked and managed by the platform. goLance also uniquely offers live chat customer support 24x7.
The platform utilizes powerful software solutions, integrations, and best practices such as automated skills testing and online profiles to showcase work samples.
"Many businesses in the United States rely on global freelancers who want to be paid quickly and in their preferred currency. The platform offers the unique capability to pay and manage subcontractors along with communicating project status, collaborating, reporting, time tracking and other functions," says Michael Brooks, Founder and CEO, goLance. "We wanted to help companies shift gears during the COVID pandemic and increase their revenue. Our database of talented freelancers made becoming fully remote an easy transition. We thank RemoteTech Breakthrough for this award, especially as remote work has been part of our mission from the beginning."
The mission of the annual RemoteTech Breakthrough Awards program is to conduct the industry's most comprehensive analysis and evaluation of the top technology companies, solutions and products in the remote technology industry today. This year's program attracted more than 1,600 nominations from over 15 different countries throughout the world.
"goLance was built for what companies are going through today. By putting the focus on creating a powerful remote culture supported by a team of highly skilled freelancers, businesses can find new ways to cut costs and still deliver high-quality products or services to their customers," said Bryan Vaughn, Managing Director of RemoteTech Breakthrough Awards. "With quality work and payments in the same platform, goLance truly values remote teams. Congratulations on winning our 'Virtual Remote Co-working Platform of the Year' - especially in such a competitive year as the one we just had."
About RemoteTech Breakthrough
Part of Tech Breakthrough, a leading market intelligence and recognition platform for global technology innovation and leadership, the RemoteTech Breakthrough Awards program is devoted to honoring excellence in technologies, services, companies and products that empower remote work and distributed teams around the globe. The RemoteTech Breakthrough Awards program provides a forum for public recognition around the achievements of technology companies and solutions in categories including messaging & communication, project management, virtual events, team collaboration, virtual offices, collaborative design and more. For more information visit https://RemoteTechBreakthrough.com.
About goLance
goLance provides innovative software that empowers businesses to recruit, screen, manage, optimize and pay global online freelance talent efficiently and cost effectively. It also enables freelancers to pay and manage subcontractors when they need additional talent for assignments. The goLance platform has more than 600,000 users. Learn more about goLance at https://golance.com/.