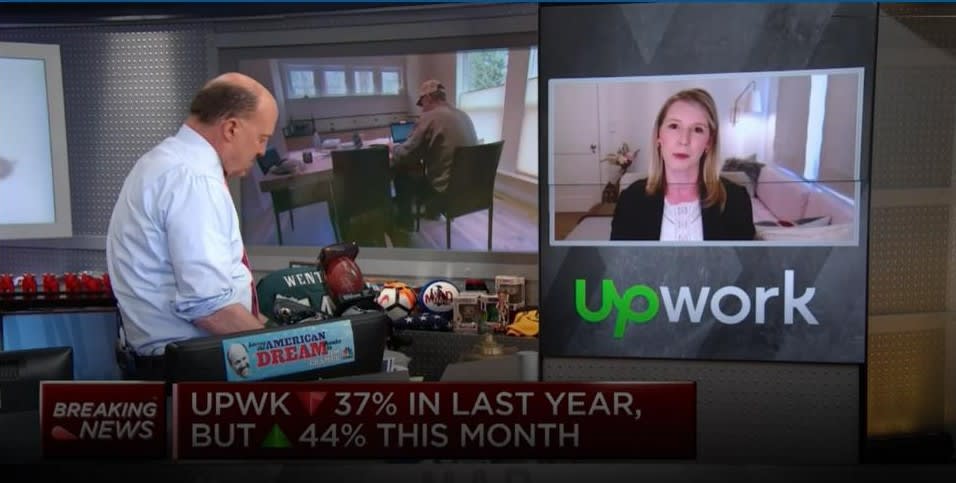 GoLance Reacts To CNBC's Mad Money Interview With Upwork CEO Hayden Brown
One of the latest editions of CNBC's Mad Money with Jim Cramer and Upwork CEO Hayden Brown confirmed what all knew: the gig industry isn't only pandemic-proof, but also a highly effective cure against the biggest trouble we have to deal with right now - unemployment.
We couldn't wish for a better example than Upwork itself. If 2019 was the year of Upwork stocks' downfall (down 37%), then the last month alone was a period of unparalleled recovery (up 44%).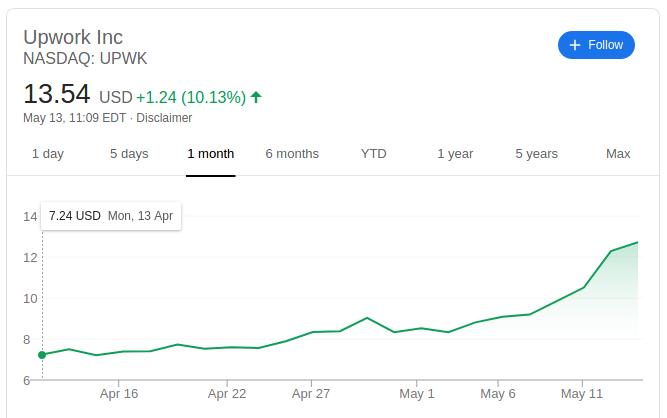 NASDAQ: Upwork Inc (UPWK)
The most intriguing change is related to the number of available jobs on Upwork during the same time period. According to Joshua Fruhlinger and his article published on Thinknum:
"On April 13, the number of jobs on Upwork hit a low of 77,500. Since then, however, roughly 10,000 new gigs have been added, bringing the new total of available jobs on Upwork to 87,400."
The following graph perfectly illustrates this tremendous change over a relatively short period of time: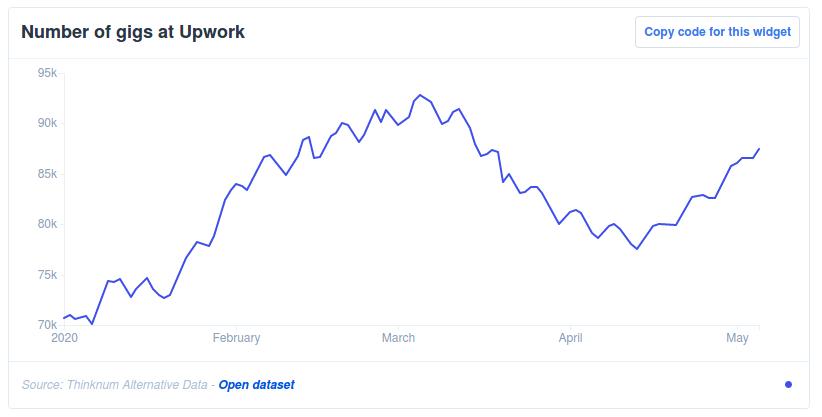 Jim Cramer couldn't hide his excitement about the potential of the gig economy, having in mind that we're having "the highest unemployment rate since the Great Depression." Hayden Brown emphasized the importance of the undeniable "environmental impact" that's associated with remote work.
After watching this video more than once, I felt the moment is right to reach out to other remote work platforms for a comment. Among them is the fastest-growing online marketplace goLance and their CEO Michael A. Brooks:
"It's no surprise at all that Jim Cramer invited Upwork to be featured on his show. This is a recognition for the whole gig industry that has both a unique opportunity and responsibility to help the global economy tackle the high unemployment rates efficiently and successfully. Furthermore, I strongly believe that there's more remote work platforms can do to help freelancers and their clients."
I have to admit that I was deeply intrigued by Michael Brooks' mentioning of additional help possibilities, so I kindly asked for additional information and clarification:
"GoLance has also experienced the high volume increase of new jobs and users since the beginning of the pandemic. We aren't interested in exploiting the obvious benefits for any business that is remote work oriented and supportive, but rather in stimulating the transition process from the traditional office to the fully remote working models. There's no better way of achieving this goal than through service fees reduction wherever possible. GoLance has uncompromising no cost to clients policy, including the payment processing fees. All businesses that are willing and need to hire freelancers should be encouraged and stimulated with the ZERO fees policy. On the other hand, freelancers should pay the lowest fees possible. We had a flat 10% service fee that is already reduced to 7.95%. We're committed to continuous fees reduction as a part of our remote work business model. Let's not forget and ignore the fact that the freelance workforce is affected by the pandemic too. That's why our approach can be summarized in one line: Don't cut freelancers - Cut the fees!"
When you go back to the Thinknum's article, you understand what was Michael A. Brooks referring to: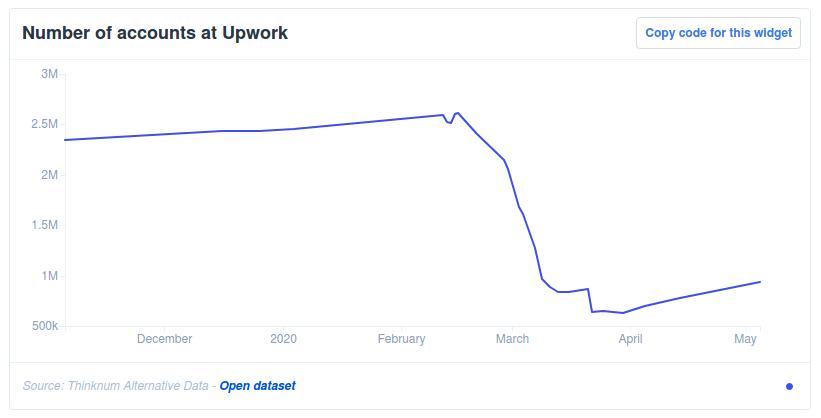 The author of this article is clearly on the same page with Michael A. Brooks because:
"Just before that, in early May, the number of user accounts at Upwork began to grow as well. On March 31, the site reported 643,000 user accounts, or workers. As of this week, that number has swelled to 938,000. That's still a far cry from the 2.6 million workers the site reported in February, but it appears that things are up again at Upwork."
It's a great thing that the number of jobs on freelance platforms and remote work opportunities are surging like never before during the pandemic. However, if we don't stimulate this growth with additional measures, such as fees reduction and payment processing fees elimination, we will never unlock the full potential of the gig industry in solving the unemployment problem.
Leave A Reply