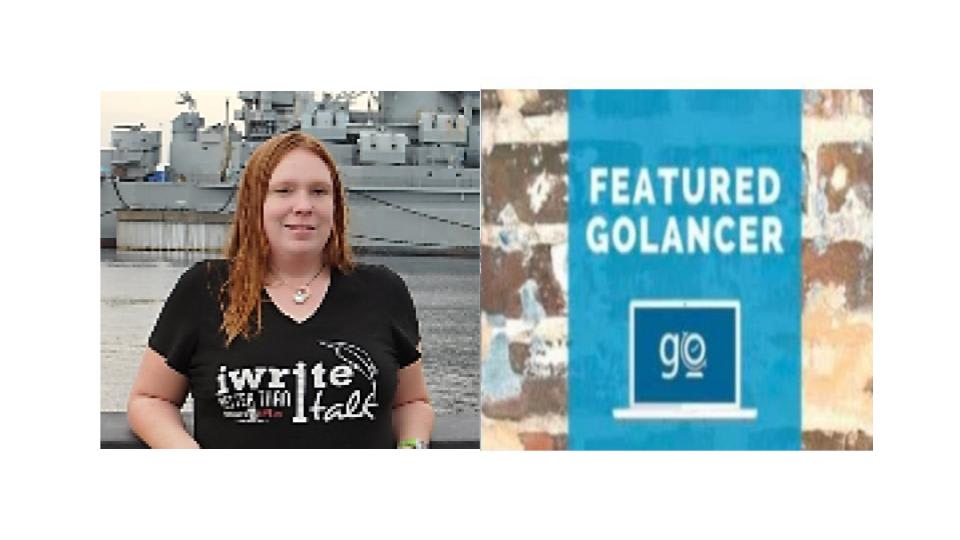 Featured goLancer: Stephanie Wenburg
Our Featured goLancer, an exceptional bookkeeper and writer, Stephanie Wenburg is a born and raised New England girl who currently lives in Nebraska. She is currently married to a wonderful, patient man, who has beaten the Pope in a likability contest. With her husband, she has two firey Wonder Women in training; a soon to be five year old, and a three-year-old girls. She has been a guest blogger on many sites ranging from topics on motherhood, writing, mental illness, college, and other issues. In 2018, her short story 'Fireflies and the Computer Screen' was published in the Nebraska Writer's Guild Anthology. She recently graduated with her associate's degree in accounting and is QuickBooks certified. When she isn't writing or bookkeeping, she can be found with her nose in a book, or pressed up against her e-reader! She is an avid reader/ writer and loves to make new writing buddies.
goLance: Stephanie, when did you decide to become a freelancer, and why? Is freelancing your only and primary source of income?
Stephanie: I became a freelancer for a couple of reasons. One was that I live in a rural area and job variety is very rare. I come from Boston - a vast world-connected city - and currently, I live in a small town in the middle of Nebraska. Not that the town isn't connected to the world, but it is decidedly more focused on farming and agricultural skills versus Boston, which has a wide variety of industries. Another reason I switched to freelancing comes down to flexibility and control. I became a mother in 2014 and again in 2016. With children, you need to be flexible, and you need to be able to adjust things without the risk of the end of the world happening. Also, dealing with children, with the state of childcare right now, it is hard to have a full-time job and have full-time childcare. Especially in the area I live in, childcare is very rare, so the only thing I could do was stay home and be with my girls.
Freelancing isn't my primary source of income. I am currently married to a wonderful man who works full time at the local car dealership. On top of that, he 'moonlights' as a tech wizard - he can fix computers, cellphones, TV's, and almost anything that works with electricity. (I don't have to go far if I have a tech problem!)
goLance: What's your opinion about the current state of the freelance industry, especially when it comes to bookkeeping and writing services?
Stephanie: I don't know if my opinion is worth its weight in salt, but I firmly believe that more and more people are moving to the freelancing or gig economy. It is more comfortable in some ways with the sense of being able to choose when you work, it's not always location-specific, and it opens freelancers to have a chance of living the lifestyle they dream to live. However, this isn't the main driving force for why people are moving to freelancing. With low wages, lack of benefits at traditional jobs and the simple fact that most of the world is moving to tech-based industries, freelancing is the next best choice. Specifically, when it comes to writing or bookkeeping, there is work out there, and it doesn't appear to be going anywhere! Words and numbers are not going anywhere, and since they are not going anywhere, neither am I!
goLance: What's the most challenging part of your career as a professional freelance bookkeeper?
Stephanie: The most challenging part of freelancing - in any specialty - is organization! With most parts of life, you need to have a system in place to keep track of things, but when it comes to freelancing, having a structured system is critical. If freelancing is the primary source of income, this is your lifeline, and you need to know where things are at the drop of a hat! Being a bookkeeper, you are taking care of someone else's lifeline – all the paperwork, bills, invoices, statements of cash flows, receipts and almost any other piece of paper that you may or may not need to handle their books (but your client might need it later, so don't lose those papers!)
goLance: Where do your clients come from? Are you working with clients from specific countries and regions?
Stephanie: Right at the moment, I am just working with clients in the USA. I work with CPA's, and my clients grow via word of mouth. However, I am currently working on expanding and looking for more work. With both my girls in school and with me finished with my associate's degree in accounting, I have more available time for projects!
goLance: Do you work exclusively on goLance or do you also provide your service on some other freelance platforms? How do you compare goLance with other freelance websites?
Stephanie: For a part of my career, I have just handled everything through myself or QuickBooks. For a little while, I worked through UpWorks, but while I was in school, I only worked with a few close clients. This past summer UpWorks changed their connects policy (and for the ones who do not know what those are, on the UpWorks site, to apply for jobs, you need to use a limited pool of 'connects' to 'connect' to the job.) This summer, they started to charge for connects, and for someone who did limited jobs on the site, it made it difficult to afford to work. I began to look for different freelance job sites. I discovered goLance.com, and once the girls were in school, I signed up. If it matters, I have profiles on Indeed and Ziprecruiter.
goLance: What are the goLance features and options that you appreciate the most?
Stephanie: I can't think of just one feature that I like the most. I mean, I LOVE the layout of profiles and the fact that you can create a company profile. Also, the application process is more straightforward. Besides, the fact that you can hire and apply for jobs with one profile is very nice. There are many things to love!
goLance: What would be your word of advice to new freelancers who have just joined goLance? What's the best way for them to increase their chances of being hired?
Stephanie: The first piece of advice I can think of is to be yourself. Be authentic and honest. A little humor helps, but I strongly mean a little. The other suggestion is before applying is search tips and tricks on how to write cover letters. Nowadays, writing cover letters have changed, and what you may have learned in school might not work anymore.
goLance: How did you manage to maintain a long-term working relationship with your clients?
Stephanie: One thing, communication. Communication is essential in life. It is the one action in life that is critical to function. It will make or break you in freelancing. If you aren't in the same room as your client, they will not know what you are thinking or planning. Granted, even being in the same place doesn't mean that people will know what you are thinking but not being in daily communication is not a way to work. Also, be available to answer emails or calls. Or make sure you make your available hours known.
goLance: Would you recommend goLance to your friends and colleagues?
Stephanie: Yes, I would! The rates are great; the site is smooth looking; the application process is straightforward; the rates are fair and flat. What more can you ask for from a freelancing site?
goLance: Both your website and goLance profile look excellent and professional. Do you always pay attention to details?
Stephanie: Yes! I am a very detail-oriented person. It is essential for me to see all the little things that make the big picture! Everything is made of smaller parts and to see the big picture you need to know what the small parts are. Everything from bookkeeping, to construction to medicine to writing to gardening to child-rearing to presentations to computers, have small parts that come together to make the big picture. Even though you will not have to deal with all the small parts in your freelancing career, it is super important that you know what all the small parts are!
goLance: What are your favorite inspirational quotes?
Stephanie: I have several that I either refer to daily or have posted around my workspace!' I'll share a few with you, but as a disclaimer, I might not have the correct person attributed so please, I apologize for that mix-up! I try my best to make sure that I have the right person, but I am human; please correct me, but please do not belittle me!
What would 90-year-old Steph say on her death bed?

The difference between fiction and reality? Fiction has to make sense. - Tom Clancy

If you want to be a writer, you must do two things above all others: read a lot and write a lot. There's no way around these two things that I'm aware of, no shortcut. - Stephen King

Only I can change my life. No one can do it for me. - Carol Burnett

It does not matter how slowly you go as long as you do not stop. -Confucius

The future belongs to those who believe in the beauty of their dreams. - Eleanor Roosevelt

Aim for the moon. If you miss, you may hit a star. - W. Clement Stone

I can fix a bad page. I can't fix a blank page. - Nora Roberts
How To Hire Stephanie Wenburg?
Stephanie's profile on goLance can be used as a role model for a detailed and thoughtful presentation of a true professional freelancer.
If you want to find out more about Stephanie's impressive skills and experience, feel free to check the following links:
https://stephwenburg.com
https://www.facebook.com/swfreelancing/
https://proadvisor.intuit.com/app/accountant/search?searchId=stephanie-wenburg
https://www.linkedin.com/in/stephaniewenburg/
https://twitter.com/theredhead23
https://theredhead23.tumblr.com/
https://my.indeed.com/p/stephaniew-3u2vtd2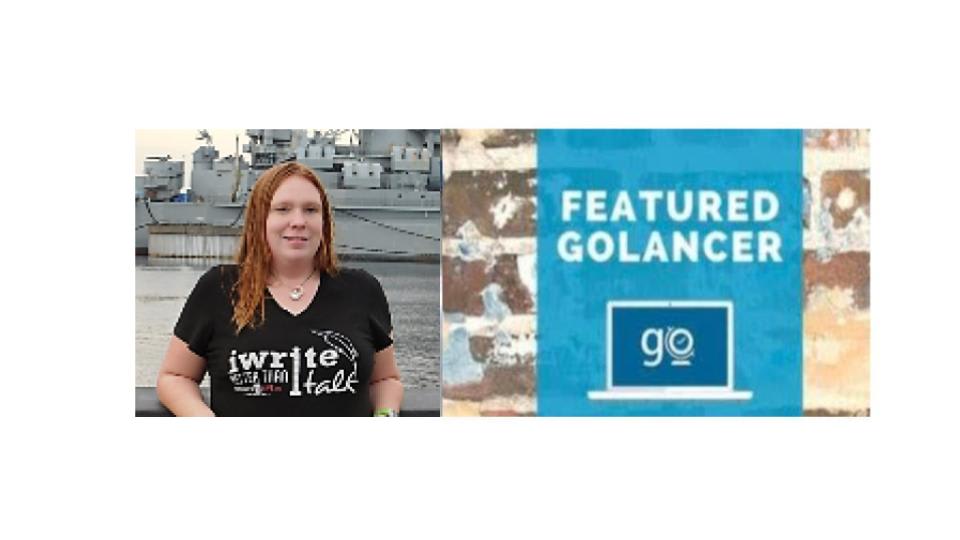 Leave A Reply