Featured goLancer: Nebojsa Todorovic
Nesha's impressive portfolio includes more than 1,000 five-star rated projects successfully accomplished on different freelance platforms since 2012. We're both excited and curious to find out more about Nesha's decision and motivation to become a part of our growing freelance community.

Nebojsa Todorovic, AKA "Nesha Word," AKA "Words Industry," is an experienced freelancer who has decided to join the goLance community. Nesha's impressive portfolio includes more than 1,000 five-star rated projects successfully accomplished on different freelance platforms since 2012. We're both excited and curious to find out more about Nesha's decision and motivation to become a part of our growing freelance community.
A Five-Star Rated Freelance Veteran Joins goLance – Our Featured Freelancer Nesha Word
goLance: Tell us something about yourself.
NESHA: I guess, I've always been a Frank Sinatra's "my-way-kind-of-man" who has followed his instincts in both my private and my professional life. I obtained an academic degree in 2003, and as one of the top 30 students in my country, I had a promising career as a lawyer or public prosecutor. However, after only a few years I decided to leave it all behind and start a new career in sales from scratch. That was a decision that shocked my family, friends, and my former colleagues. Yet, I followed my way persistently and with no hesitation. As a result, I advanced from a rookie salesman to a position of sales director for the joint markets of a handful neighboring countries in the SEE (South-East-Europe) region. The intensity of business decision-making process, frequent business trips, and constant pressure took their toll on me. I ended up with an alarming diagnosis of prediabetes and high blood pressure. That was the moment that I realized, I had to make the most important decision in my life. I entered the world of freelancing in 2012 and I haven't regretted it ever since.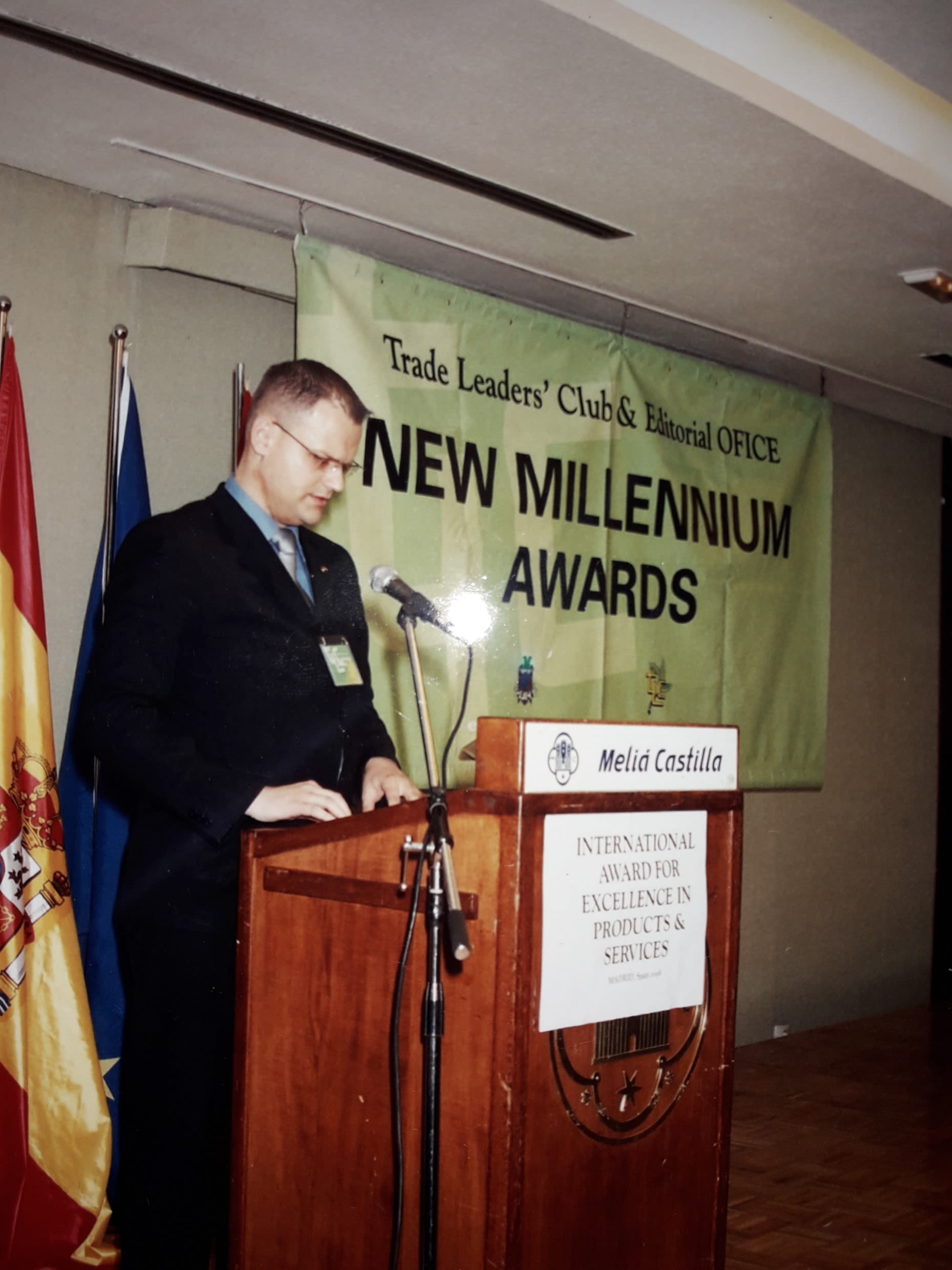 Nesha Word back in his sales days at the business conference in Madrid, Spain.
goLance: Have you treated freelancing as a step back or step forward in your career, considering your previous successful working record in sales?
NESHA: At the very beginning both my wife and I treated freelancing as a temporary solution. My plan was to take a break from the unhealthy corporate lifestyle and then get back big time when I recharged my batteries. The truth was, though, that the more I worked as a freelancer the more I liked it. I kept postponing my big comeback in the 9-to-5 business world.
goLance: What was the decisive moment in your freelance career when you decided to stop treating it as a temporary solution?
NESHA: My very first project was worth just $2! However, two years later I was making around $2,000 a month. That was the moment when I began to examine and accept freelancing as a phenomenon from a completely different perspective. Freelancing helped me to focus on my health and spend more time with my family. Eventually, it started to show a surprising earning potential.
goLance: You've been a freelancer for a respectful number of years. How was freelancing back then?
NESHA: Well, I have to say that I feel privileged of having been able to witness some of the most important tectonic changes in the freelance industry first-hand. Back then, we had a half dozen of serious business players in this field, such as Elance, goDesk, Freelancer, Guru, vWorker, among others. Then, Freelancer acquired vWorker, Elance and goDesk merged into a new platform called Upwork. The freelance landscape has been completely and irrevocably changed. The "New Freelance World Order" was born with room for only two freelance superpowers: Freelancer and Upwork.
goLance: If that's true then how come you're willing to give goLance a try?
NESHA: The brave new freelance world hasn't become a happy and enjoyable place for freelancers. The major freelance platforms have completely transformed themselves into the multi-million-dollar businesses. Unfortunately, while doing so, they have totally forgotten the basic principles of freelancing that drove so many people to this industry in the first place. Both Upwork and Freelancer lost touch with reality. I'm talking about the reality of an average Joe freelancer, who's doing his or her best to make it in the freelance world that has become extremely competitive and disappointingly merciless. In goLance, I see the strength and purity of the original founding freelance principles: freedom, fairness, and equality. We need to be reminded of these principles. We need to go back to the freelance basics forgotten and trapped under the corporate greed that has nothing to do with the genuine concept of freelancing.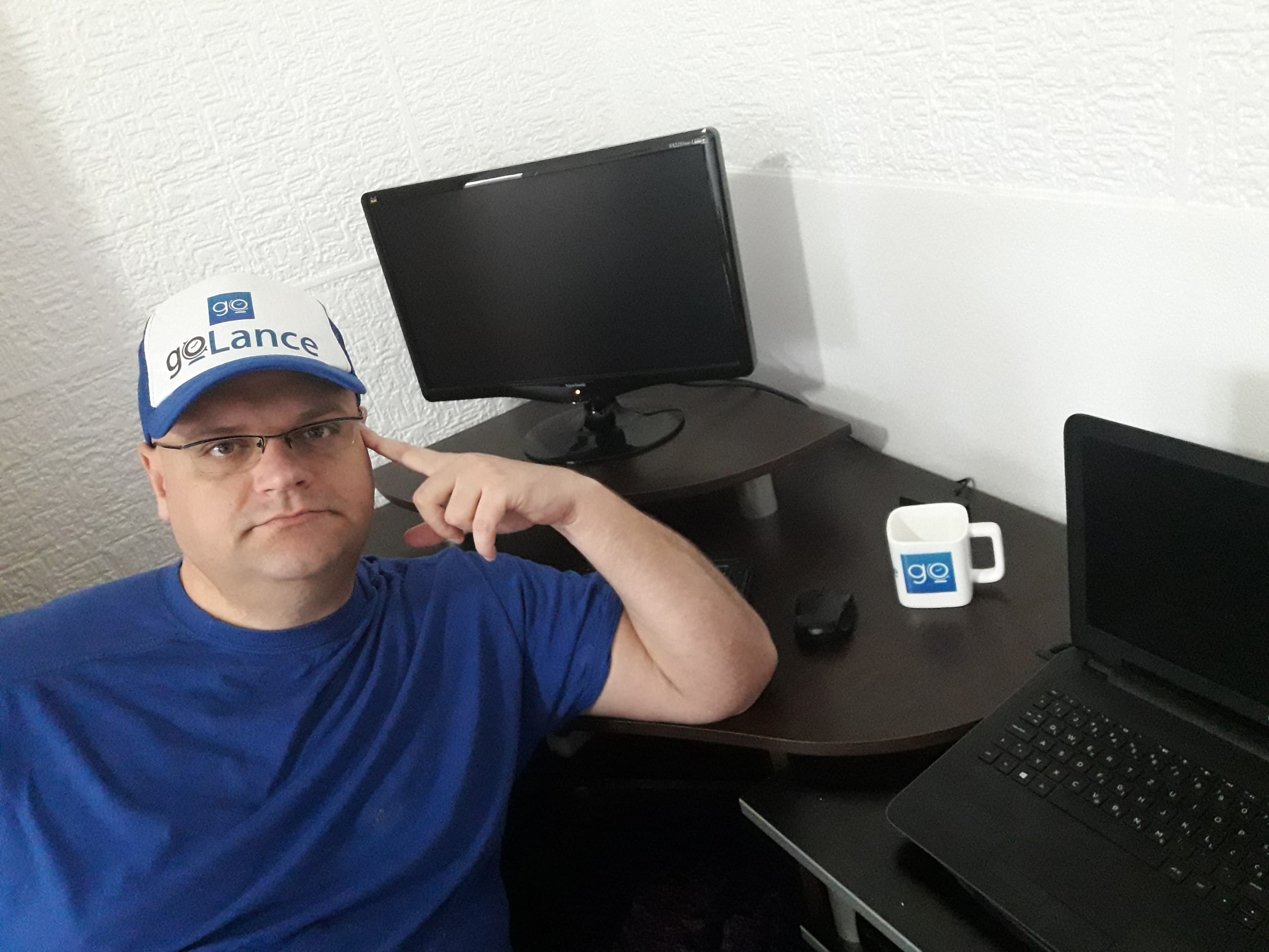 Already thinking about a new project.
goLance: Don't you think that you put a lot of weight on goLance's shoulders with statements such as these?
NESHA: goLance has both a huge responsibility and an amazing potential to help freelancing get its lost soul back. If I'm to describe goLance by using Star Wars terminology, that would definitely be A New Hope. I really believe in goLance. As a freelancer I will put my time and energy where my mouth is. In the future, I plan to focus entirely and work exclusively on goLance.
goLance: We appreciate your trust in our platform! We would like to know, what do you plan to do with your existing freelance accounts on other freelance websites, including your long-term clients?
NESHA: I respect my clients' freedom of choice and expect of them to do the same for me. They're free to follow me and give goLance a try, or continue working on platforms where we have established our business relationships. Regarding the situation with my existing accounts, Upwork made my freelance life so much easier by terminating my user account.
goLance: Really? We are sorry to hear that. What happened?
NESHA: After a few very successful years on oDesk, I experienced a difficult period when Elance and oDesk decided to merge and create Upwork. I just couldn't make it in the new working environment, which is supposed to be better and improved. The final blow was Upwork's decision to double its fee. I was totally demotivating to work and pay a 20% fee for each project I do on Upwork. One day I got an email where Upwork notified me that I'm no longer a match for their clients. They left me with an option to appeal, but I found that to be humiliating and disrespectful for a freelancer of my experience and skill level. Actually, I realized that they just did me a huge favor. That email, which is undoubtedly every freelancer's worst nightmare, represented the culmination of my discontent with the way things have changed in the freelance industry. I decided to begin seriously examining other more freelancer-friendly alternatives that aren't entirely profit oriented. This is how I eventually discovered goLance.
goLance: What is your area of expertise and are you satisfied with the number and quality of available projects on goLance?
NESHA: I'm a professional content writer, copywriter, and paralegal. Honestly, I had realistic expectations when it comes to new platforms in terms of the number of available projects. The quality, on the other hand, definitely outmatched even my most optimistic expectations and hopes. The very first client I got in contact with on goLance awarded me a project. It wasn't a high-value project, but it was just the right sign I've been looking for. GoLance doesn't have too many projects to offer, but what you can find is a safe bet for every freelancer. I'm totally aware that other freelance websites like to brag around with their number of projects. However, the bitter truth is that in almost 90% of cases, you can find only junk or fake projects. In addition, I've heard from my loyal clients that they're extremely frustrated when they get dozens of proposals submitted by freelancers with no proper qualifications who are bidding randomly. Luckily for all of us, goLance doesn't have these problems.
goLance: So, what's your point?
NESHA: In plain English, the freelance business size simply doesn't matter. There's a paradox only freelancers and clients who have been long in this industry can truly understand. The bigger and more crowded a website you're working on becomes, the harder it will be for you to find a quality project or a freelancer.
goLance: What's your opinion regarding the biggest challenges and opportunities for both goLance and its users?
NESHA: I honestly think that goLancers will have to learn to be patient, if they haven't managed to do it the right way by now. It's not going to be easy, no question about it. But, in the long run, the persistent and loyal goLancer can expect to be rewarded with quality projects and on a reliable platform that won't let them down. On the other hand, goLance has to work really hard to spread the word and reach freelancers all over the world. The biggest challenge for goLance is to resist a corporate temptation once it becomes truly successful. I sure hope that this is a great and promising platform that won't become one of the countless victims of Gordon Gekko's "greed-is-good-syndrome." There will be plenty of money for both goLance and freelancers, if they can manage to remain faithful to what they're doing the right way.
goLance: What do you think, how long will it take for clients and freelancers to recognize and accept the change goLance is bringing?
NESHA: People are willing to embrace change. You can feel it in the air. The current freelance options and a way of work have become unbearably costly, time-consuming, and frustrating. The emphasis is on the quantity not the quality. The clients don't want to spend the whole day going through dozens of bids. The freelancers also don't want to bid day after day on low-quality projects posted by unreliable clients. The freelancing system as we know it will either collapse or completely reinvent itself. There's no middle ground. goLance is a healthy alternative that reminds the old freelancers and teaches the new ones how things used to be in the good old days of freelancing. Therefore, I wouldn't be surprised if goLance takes the freelance world by the storm before you know it.
goLance: What if one day you decide to give up on freelancing?
NESHA: Although I believe that you should never say "never" in your life, in my case, that's not very likely.
goLance: Why?
NESHA: Because to give up on freelancing means to give up on freedom. When there's no client to be found, I often caught myself thinking about the benefits of a relatively secure job with a regular salary. However, the next thought is a cold shower for every freelancer, not just me. The very idea of getting back to the 9-to-5 routine, loss of privacy, and horrible bosses brings me back to the freelance reality, which isn't an ideal one, but at least it is authentically mine.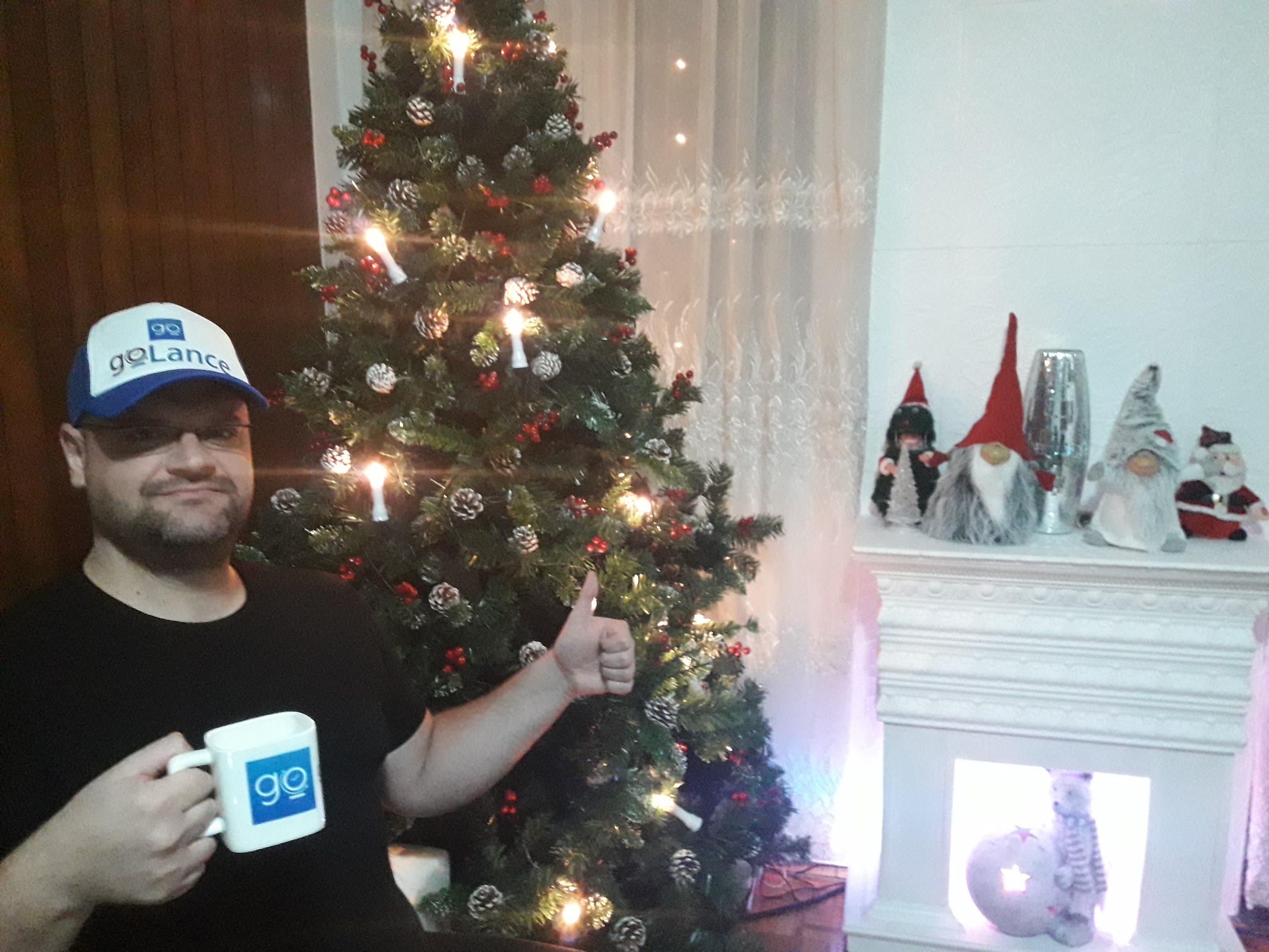 My Christmas wish goes to goLance.
goLance: What are your words of advice for freelancers who are planning to start working on goLance, both experienced and new ones?
NESHA: Well, the most sincere advice I can possibly give to my colleagues is to think twice about where they're going to invest their time and energy in 2018. Don't bet on the wrong horse in a freelance race. My only regret is that I didn't leave Upwork on my own much earlier. I shouldn't have waited that long and tortured myself. Don't blame yourself. Move on and feel free to evaluate new freelance alternatives that aren't compromised.
goLance: What is your wish for Christmas?
NESHA: My Christmas wish goes to goLance. I really have high hopes for this website. As I said, I'm not thinking about giving up on freelancing, but I can't hide my huge disappointment. That's why it's extremely important for goLance to grow and develop. Freelancing is all about freedom, isn't it? Being free for real, means to have alternatives to choose. goLance is my alternative that I'm choosing to invest my time and energy with in 2018.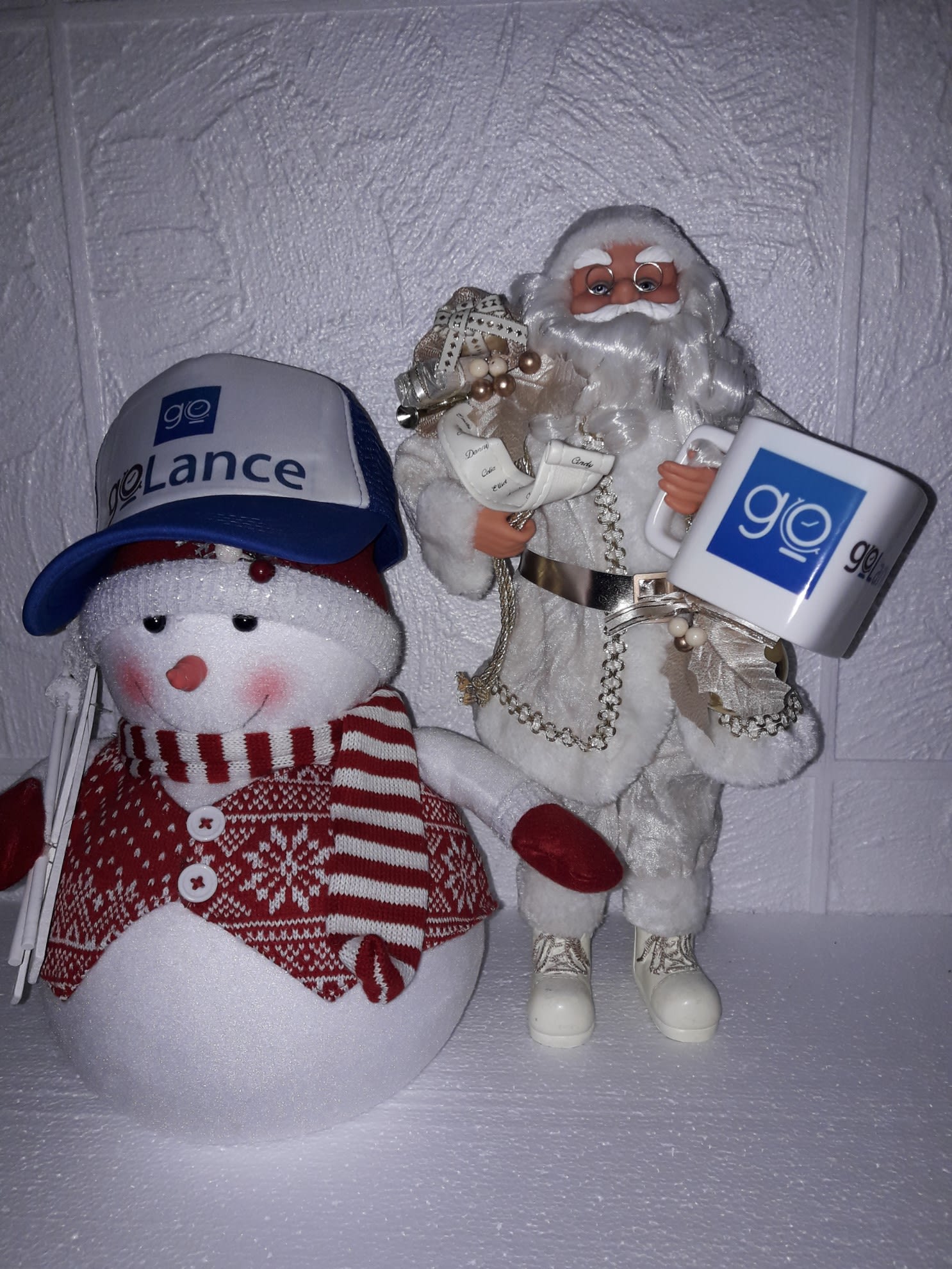 goSanta Clance.
Why Did We Pick Nesha As the Featured goLancer?
Nesha Word is an experienced freelancer who has proven that you don't have to be stuck on a freelance platform no matter how big it may be, if you aren't quite happy working on it. He is an encouragement for freelancers who have become disappointed and disillusioned about the future of freelancing. goLance welcomes those freelancers with open arms and a strong promise that their ideas won't be betrayed.
Where Can You Hire Nesha?
Have a look at Nesha's profile on goLance.