Featured goLancer: Jelena Grgas
"GoLance works with you, not against you as some other platforms."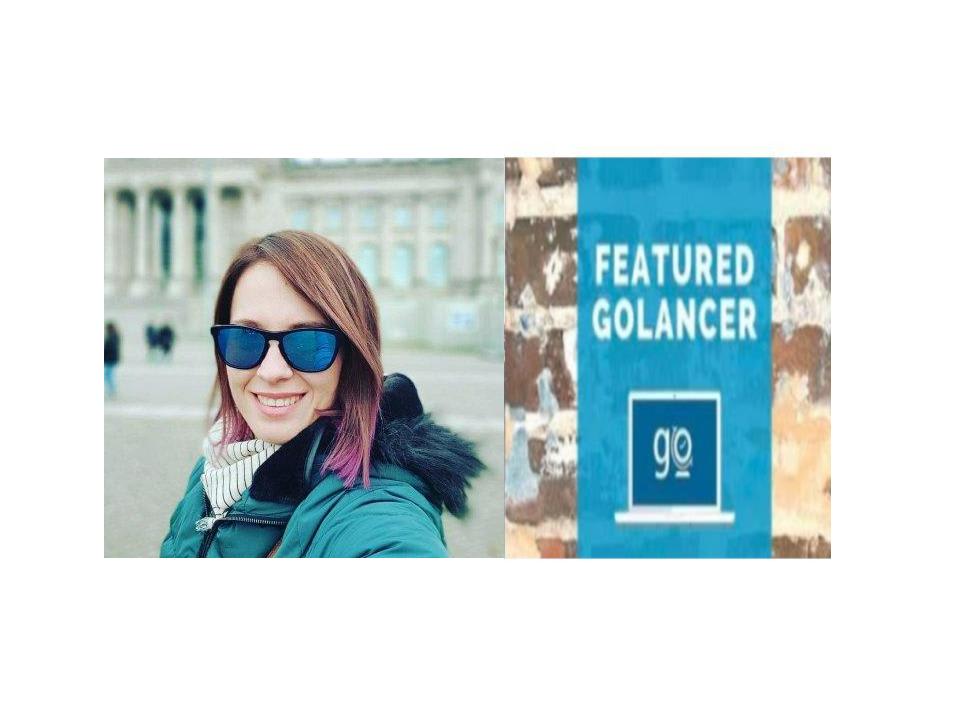 Hello world, my name is Jelena. Born and raised in Split, in a family of a tourist guide and an accountant. During my first years, mum and dad worked in one of the biggest tour operators in Yugoslavia, allowing me to use city centre where they had their offices as my playground. I never really thought one day those narrow streets and squares will be my office, but today I am proud to be a representative of my town. Dad has a talent for languages, so both me and my sister got them.
I speak English, Spanish, Italian and a bit of French, which helped me a lot during education, as I went from foreign-language oriented high school to, first, Faculty of Economics and Marketing to Hotel Management and Hospitality. During my college years I became a licensed tourist guide and slowly, as I was doing research for what would be my first summer job, started writing some Blogs and with the help of a cousin got interested in web design. 10 years later, every year I do around 500 tours, wrote hundreds of articles in gaming, tourism and racing categories and created 30+ websites, mostly for guides and local businesses. The rest is history.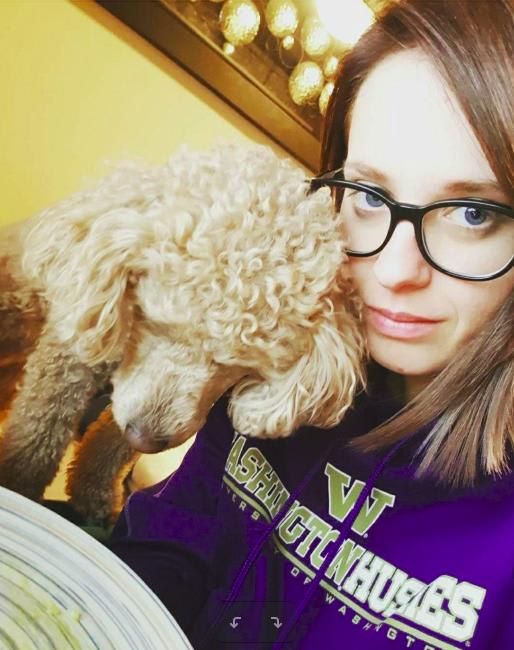 Ria (a 4-year-old french poodle, aka "Devil") always stealing from Jelena's plate
goLance: Jelena when did you decide to become a freelancer and why? Does COVID-19 have anything to do with your decision? Is freelancing your only and main source of income?
Jelena: I was a freelancer since the first day I started working. My father owns a company for translations and guiding but we are present on the market as freelancers, with, of course, contracts with various companies. In my free time I was always the one in the family that was tinkering around computers, wannabe hacker as my sister calls me, so this set the course of my side-job. I started getting into programming first, but always felt that I can give more design-wise. My cousin started attending some courses in web design that got me interested in the subject. After years of self education, multiple courses finished I was finally ready to set up some first basic pages, which I still do.
Over the past four years (or seasons as we refer to them) we were very busy with tours. Last summer I did more than 500 of them, meaning I couldn't dedicate myself so much to my other job.
COVID-19 pushed me back into the whole freelance business, as everything we had until mid-March was completely cancelled. It was a shock in the beginning, because bills kept on coming. That is when I decided to really get active in writing (as before I would write Blog articles) and website design. I was a bit rusty, but like riding a bike, brain remembers everything, and now I can say I am on a right track again. It is currently my main source of income, and hopefully it will stay this way.
goLance: What's your opinion about the current state of the freelance industry? How do you find enough time and balance your family business and freelance work?
Jelena: Freelance industry, in my opinion, is facing a flood of freelancers that are looking to find their spot under the Sun. It is good in some way, as industry gets new, fresh blood offering new ideas, solutions and stirring things up. Side effect is total destruction of prices, as we all know in economy it is all about offer and demand. In long term it might lead to loss of quality, but as every market does it, the best and the strongest will survive.
One of the joys of freelancing is to organise your day, most of the time, however you want. I am currently moving out to my own apartment, sorting out papers, setting things up with my significant other, and when everyone is sleeping that is when I get creative and write for hours. I always try to divide time, 60% is for my private life, 40% is strictly business. After all, I am from Split, and we are known as those that are on the lazy side. It is not me, it is in my genes :)
goLance: What's the most challenging part of your work as a freelance blog writer and WP developer?
Jelena: Competition. In the past few months it has been crazy out there. I feel like I'm in a buffet and thousands of us are running towards the same table and the only thing I have left is a toothpick. I sometimes feel like I'm not in the mood to fight with 100 other competitors, saying no way they would see me, sometimes I fight, write the best proposal and it always works.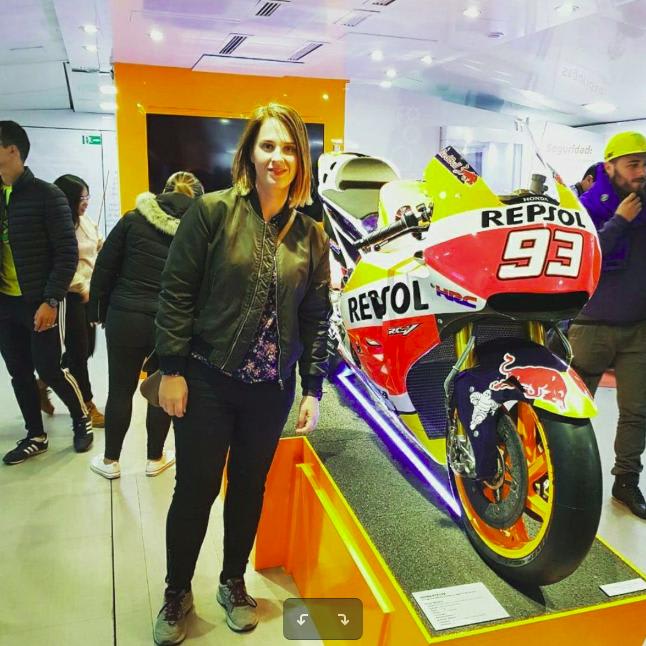 Jelena's biggest passion in life are motorbikes. She is a rider herself, and a big fan of Marc Marquez, this is a photo with his famous Honda, last winter in Valencia
goLance: Is ti possible to be a freelance tourist guide? Are the tourism (travel) industry and remote work compatible? If so to which extent.
Jelena: In my case it works, but to a certain point. Tourism is an industry that is growing constantly and rapidly. You miss one day of work, a million things already changed. You need to study all the time, be at 120% of your energy for each and every group which drains you at the end of the day. It is challenging, but as with everything, good planning and staying realistic about your possibilities is always the solution. I think you can nicely combine tourism and remote work as a travel vlogger, blogger and anything in between. You can combine both things and create something beautiful.
goLance: Do you work exclusively on one freelance platform or you also provide your service on some other platforms? How do you compare goLance with other freelance websites?
Jelena: I currently work on goLance and Upwork. So far, I noticed pros and cons on both platforms but it depends also on your point of view. What goLance has, and no other freelance platform doesn't, is the way you are treated as a freelancer and a client. GoLance works with you, not against you as some other platforms. Jobs offered are of much higher quality than any other platform out there. With goLance you get the feeling of quality not quantity, and that is something rare in today's world.
goLance: What are the goLance features and options that you appreciate the most? Where do you see room for improvements and why?
Jelena: First thing that caught my eye, as a website developer, is how simple UI is. Very clean, easy to navigate website. That is always a big plus, as you don't want to spend hours of your precious time to navigate around, trying to find something. With goLance this is history, very responsive and logical website. I also love that you can put a video to present yourself, as in online world it is sometimes nice to see a face sitting behind that screen.
I also love the fact that you can connect all your social profiles which in writing business is important, as your client can see your style, your interests and it can always work for your benefit.
I wish more clients would know about goLance to have more jobs available, but as mentioned before, quality over quantity!
goLance: What would be your word of advice to new freelancers who have just joined goLance?
Jelena: Build your profile, present yourself, show your previous work. If you had no clients so far, build something on your own, make a portfolio. Every client will take you over someone else if you show immediately what you know and how you work.
goLance: How has COVID-19 influenced your private and professional life? How is your family business dealing with the challenges of the pandemic?
Jelena: COVID-19 influenced every aspect of my life. Our main income is our family business, it is now at 20% of last years's income, and it took its toll on us personally too. In the first weeks it took some time to wrap our minds around it, but luckily, with help coming from the government, and borders opening now we can see the light at the end of the tunnel. We had some big plans for this year, it was supposed to be the best year in booking since 1986, and to go from one day of having 1000s of tours to having zero the next day was hard. Humans adjust quickly to new situations, we used this time to modernise and prepare ourselves for all the new things future will bring. We got creative with some of our products and used this time to enjoy together as a family, as normally we work 360 days in a year. To be honest, it is nice to sit down on weekends, have a BBQ and just chill. We didn't have that in more than a decade.
goLance: Would you recommend goLance to your friends and colleagues?
Jelena: I would and as a matter of fact I already have. A lot of friends and colleagues lost their jobs, have amazing talents and didn't know what to do. Hopefully you will see them on the platform soon.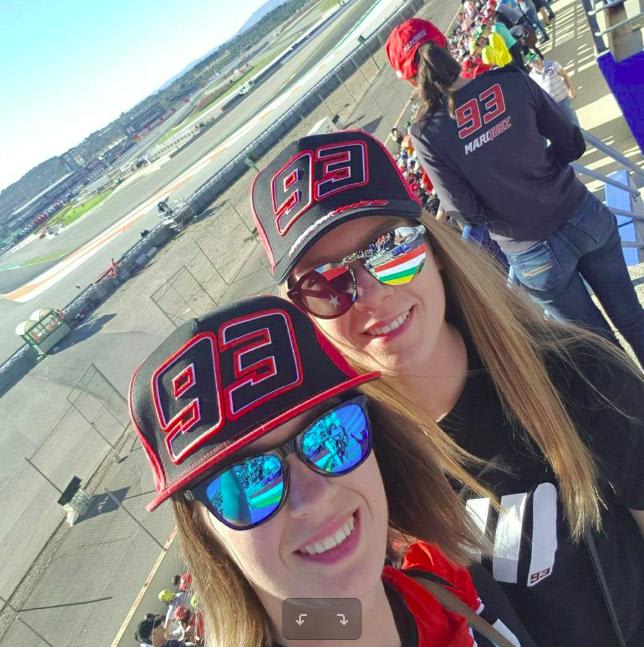 Jelena and her sister in Valencia, where they go every year for the last race of Moto GP season, always supporting 93
goLance: Can you tell us more about your future plans as both a freelancer and a tourist guide? Is it possible to do and be both at the same time? Can the freelancing and tourism industry complement each other?
Jelena: I started some courses to further develop freelancing as I mostly do blog writing and WP. I would love to try as a copywriter, but as a perfectionist I don't want to jump into that without research and education. I already created a website for our company, which for my dad was like arriving to 23rd century, being old school and still using a fax to get his booking. I am about to set up a blog, show to the world some amazing things from my region and start developing something a bit different than what I did in the past 10 years. I think both tourism and freelancing can be nicely combined, why not. Both are dynamic, freelancing-oriented and if done properly they can complement each other in a great way.
goLance: Is there something you would like to add that hasn't been covered by these questions?
Jelena: Since I talk too much, I hardly noticed we are on the last question. I would love to add that freelancing is a hard thing to do. Don't be fooled by fancy, shiny videos and articles you read. Everything you do in life, you need to put yourself in it 120% and never give up. You will face amazing ups and terrible downs, sometimes you will not write a single word, and some days you will write a book. It is all part of the experience, and at the end of the day very rewarding. There is no better feeling than opening a random website, reading a blog article and seeing it is your work there. Have your eyes always set on the finish line!
How To Hire Jelena Grgas?
Check out Jelena's profile on goLance and let her guide you through the beautiful city of Split, Croatia and the exciting world of marketing, web design, and blog writing.