Featured goAgency: Devox Software
It is our great pleasure and honor to present you the first Featured goAgency - Devox Software.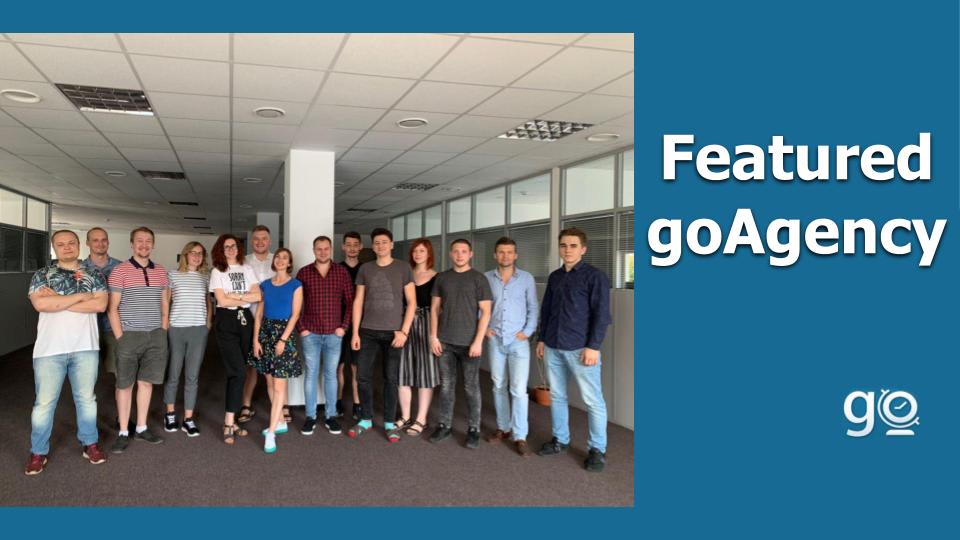 It is our great pleasure and honor to present you the first Featured goAgency - Devox Software. This distinguished agency opens a new chapter in goLance book of remote work opportunities. We couldn't ask for a better role model of agencies we want to recommend to our top clients and establish a long-term working relationship with.
We have invited Vadym Zotov, CEO at Devox Software, to guide us through the exciting world of the top-rated agencies.
Devox Software Is An Agency of Commitment and Possibilities
goLance: Vadym tell us something about your personal freelance career first? When and why you decided to create an agency?
Devox Software: In 2016 my business partner and I came up with an idea of setting up our company. By that time both of us had experience of working in top 5 Ukrainian outsourcing companies with 3000+ employees. We were occupying C-level positions there and had 10+ years of managerial experience: building web development departments up to 100 employees, being responsible for the strategic growth of their accounts, etc. It was a great opportunity to observe the IT outsourcing market and notice its needs.
Although outsourcing seemed to be a well-established industry at those times, it still lacked technical quality and trust. We felt that it's a gap that we could fill in due to our experience. That's how Devox Software was established.
We are cash-flow positive and build a company without outside venture capital which allows us to grow naturally and deeply understand the forces pushing on a self-invested company.
Also, the idea was to follow the principles of maximum transparency of cooperation and inner processes to establish trustful relations with the clients. Customer satisfaction is the only criterion that shows if we are in the right way.
It looks like our continuous improvement strategy works well - we turn leads into our loyal customers.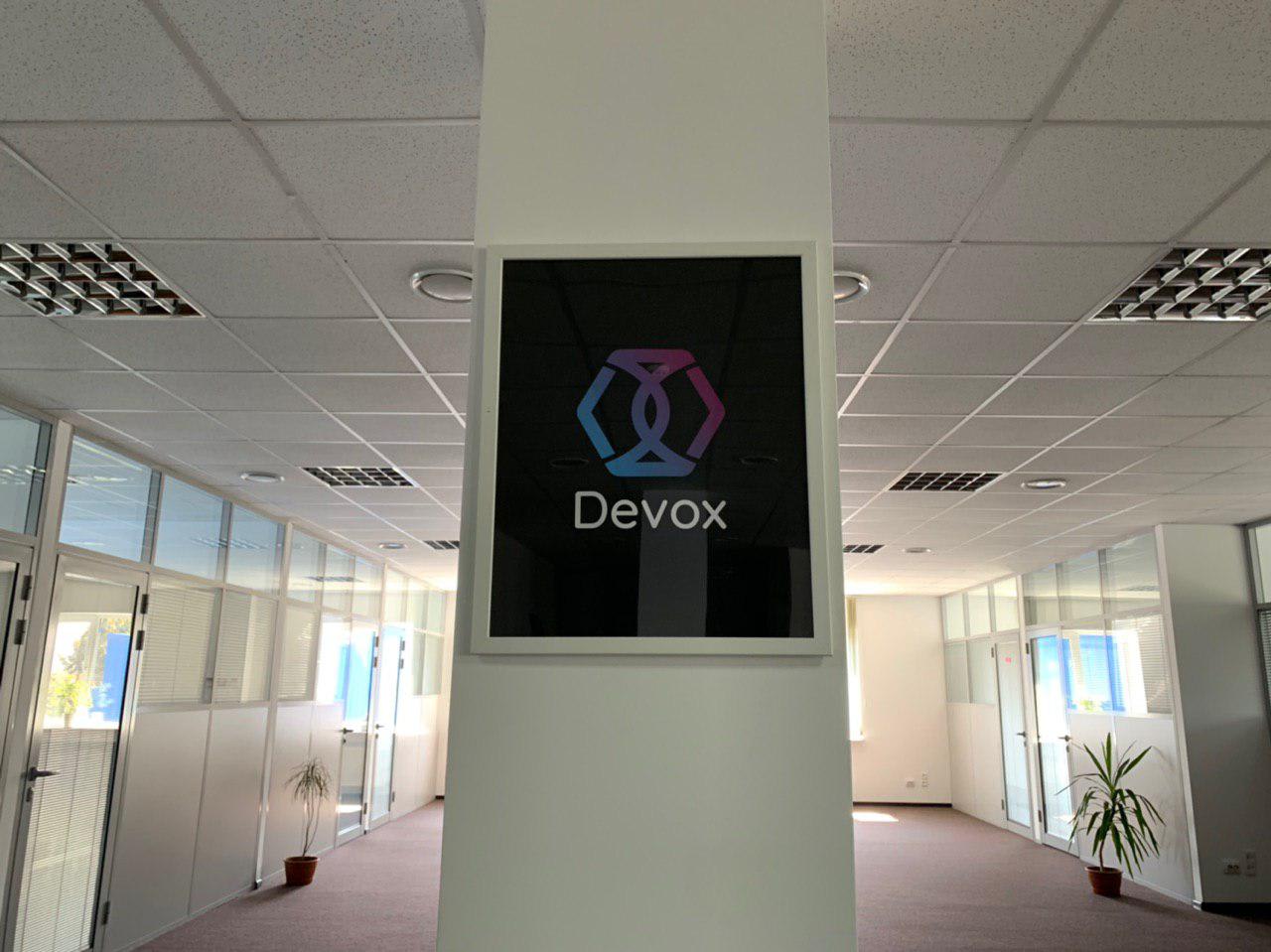 Devox Software Office
goLance: What kind of services does your agency provide?
Devox Software: We are a full-cycle development company. Our main focus is web development: Angular, React, Vue for front-end development and .NET, PHP, Node.js, Java for back-end solutions. Besides, we provide UI/UX design, testing, and DevOps services.
Currently, our team consists of 25+ tech experts: Front-end and Back-end developers, software architects, designers, PMs, business analysts, QA engineers who can take care of the project of any complexity.
We follow TDD, DDD approaches, SOLID principles and use Scrum including all necessary meetings/artifacts and use CI/CD environment.
"Our Values Are Part of Our DNA"
goLance: What are the things that set your agency apart from the similar agencies in the freelance industry? What are your competitive advantages?
Devox Software: Let's face it, outsourcing market is oversupplied. Customers are spoilt by choice - instead of hiring in-house developers they can easily find freelancers or vendors. Competition is now harder than ever: no longer it's enough to provide quality services at optimal cost. You need to stand out from the crowd to attract clients.
Our key values are personal approach and flexibility.
We offer multiple hiring models to our clients, be it project-based outsourcing for short-term cooperation or hiring a custom-recruited dedicated development team that works only with this particular client. The latter model works for long-term projects. Thus, we listen to our customers' needs carefully, describe our services and give them a free choice. As a vendor, you can only advise but do not impose your rules on the client's project.
Adaptiveness and flexibility help us to turn into a reliable business partner and establish trustful relations with the customers.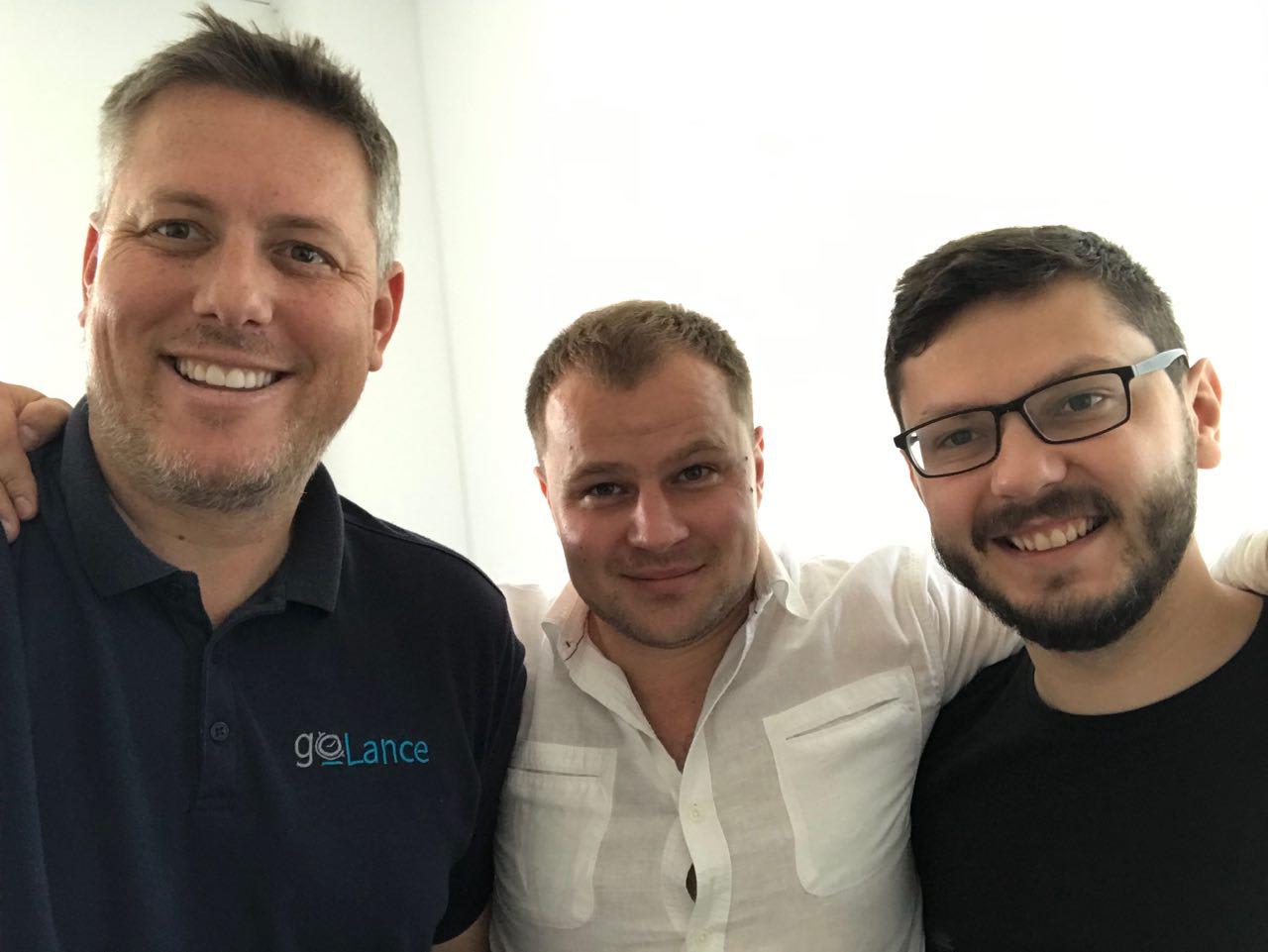 Michael Brooks, Vadym Zotov and Igor Krasnik
goLance: What are the main reasons for your agency to join goLance?
Devox Software: goLance is a great platform that gives huge opportunities for freelancers and agencies. It has a simplified process of bidding, user-friendly and transparent workflow. Also, the referral system is awesome.
goLance: How do you compare goLance to other freelance platforms you used to or you are still working on?
Devox Software: goLance is definitely one of the most modern-looking systems that has all the necessary features for both clients and freelancers. goLance UX team does a great job so that it is easy to navigate by the app, control all processes of running an agency on the platform. Besides that goLance has a lot of interesting jobs that gives a huge opportunity for agencies to grow delivering quality services.
"We Push Beyond Boundaries And Across Borders To Deliver WOW Design And Development To Our Clients"
goLance: What would be your word of advice to the new agencies? What does it take to make it as an agency?
Devox Software: First, find your way to fight off competition from other outsourcing companies. If you are "young and ambitious", then do not try to outgoogle Google. Compete with similar agencies and stand out from that crowd and reach the next level by going step by step.
Second, work out your processes before you get the first client. Think over communication, define your project management methods, and draw up your delivery process. Your client must be 200% sure that his/her project is in the safe hands. It's obvious that you'll polish your techniques in the course of development, but the chaotic approach will scare your client off and ruin your reputation at the very beginning.
Third, treat every project you take as your own product. Sounds a bit pathetic, but if you want to provide high quality, you need to be committed to the things you're working on. In my opinion, one of the best ways to achieve this is to merge with the client's team. Drawing the line between in-house developers and remote developers make the latter ones reluctant to work. On the other hand, when I see how the development team finds a common language with the client's headquarter and build up a common team spirit, I can clearly feel their interest and enthusiasm to work. A great distinctive feature of your agency, don't you think that?
Fourth, being the best in software development is not enough. You have to be the best in relations. If you manage to pass the stage of "client-vendor relations" and build TRUST, you will become business partners. That's what I call the ultimate goal of entrepreneurship.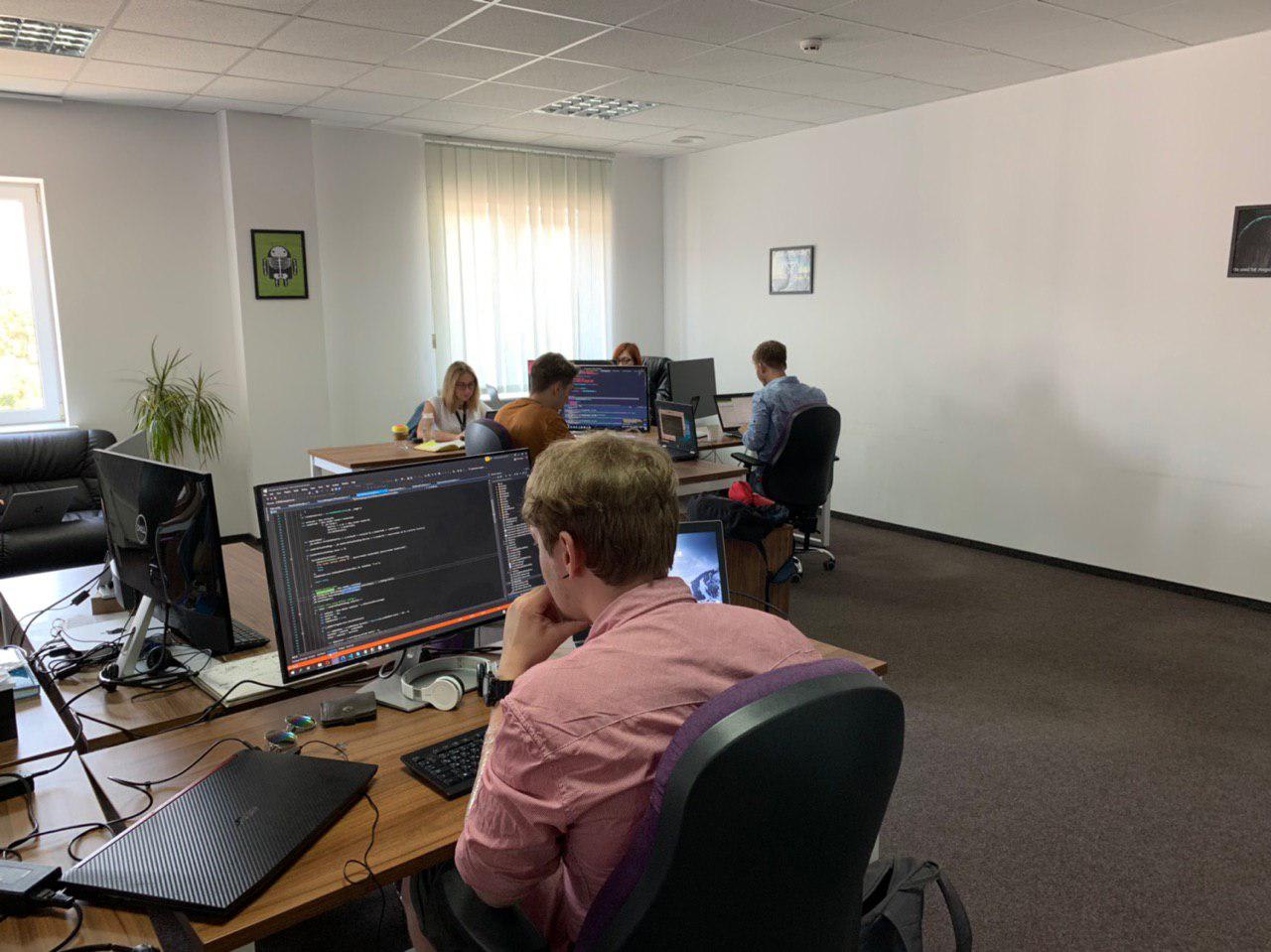 Devox Software at work
goLance: Your agency puts a strong emphasis on your working process. Can you elaborate and share with the goLance community what's so special about it?
Devox Software: Two major components of project success are efficient management and communication.
We don't give free rein to a team, our PMs distribute tasks and monitor performance. It's easier to correct mistakes if you notice them in the early stages. However, developers hate micromanagement. When you disturb them constantly with lots of questions and hold frequent meetings/standups, they simply have no time to do their job. We strive to find the balance.
As for communication, I urge clients to give us honest feedback. If everything goes well, be brave enough to tell it to your remote team. Sometimes praise works better than a generous bonus. If you have any remarks, utter them because people cannot read your mind and guess what you are dissatisfied with.
goLance: What's your secret of building a long-term relationship with the clients?
Devox Software: It's a challenge and opportunity to see the results that rally the teams. It gives a chance to both in-house and remote developers to feel a team spirit and work together as one unit.
For example, one of our projects had a very strict deadline. The idea was to release the features before a competitor's product. Our team established friendly relations with that client, so our developers were ok with the idea of having long hours. Despite sleepless nights, they were so enthusiastic about their work! We finished just in time and left the competing company in dust.
I guess the formula of our success was excellent management + flawless technical side + dedication + commitment. If you are ready to invest your time and put such an effort, you will have long-term relations with your client.
You won't establish such liaison in a day or two. It's a continuous process of cooperation with the moments of minor disagreements and tacit understanding.
goLance: What's the nature of a professional relationship you've established with your clients? Do they follow your agency if you decide to migrate from one freelance platform to another?
Devox Software: Won't it sound like bragging if I say that we haven't lost any client since the start? I mean, nobody left in the middle of the project, nobody was disappointed with the result. Our relations are based on trust and quality, and so we get loyal customers. If we offer them a new system which is convenient for both parties and adds value to our project, then why not?
"goLance Is Definitely One of The Most Modern-Looking Systems That Has All The Necessary Features For Agencies"
goLance: What particular features of goLance platform designed for agencies, you find to be the most appealing ones?
Devox Software: Mainly we were working with Upwork and since it is the leading marketplace and were working with it a lot so far(hopefully it will be the number one not for a long time as it is really buggy with legacy bugs taken from earlier systems).
As for goLance - The referral system is really nice, it is something unique that we haven't met before on other systems.
Also another outstanding feature that you can create multiple companies for one owner account, that is really cool as companies may be divided by various services and an owner may manage it from one place.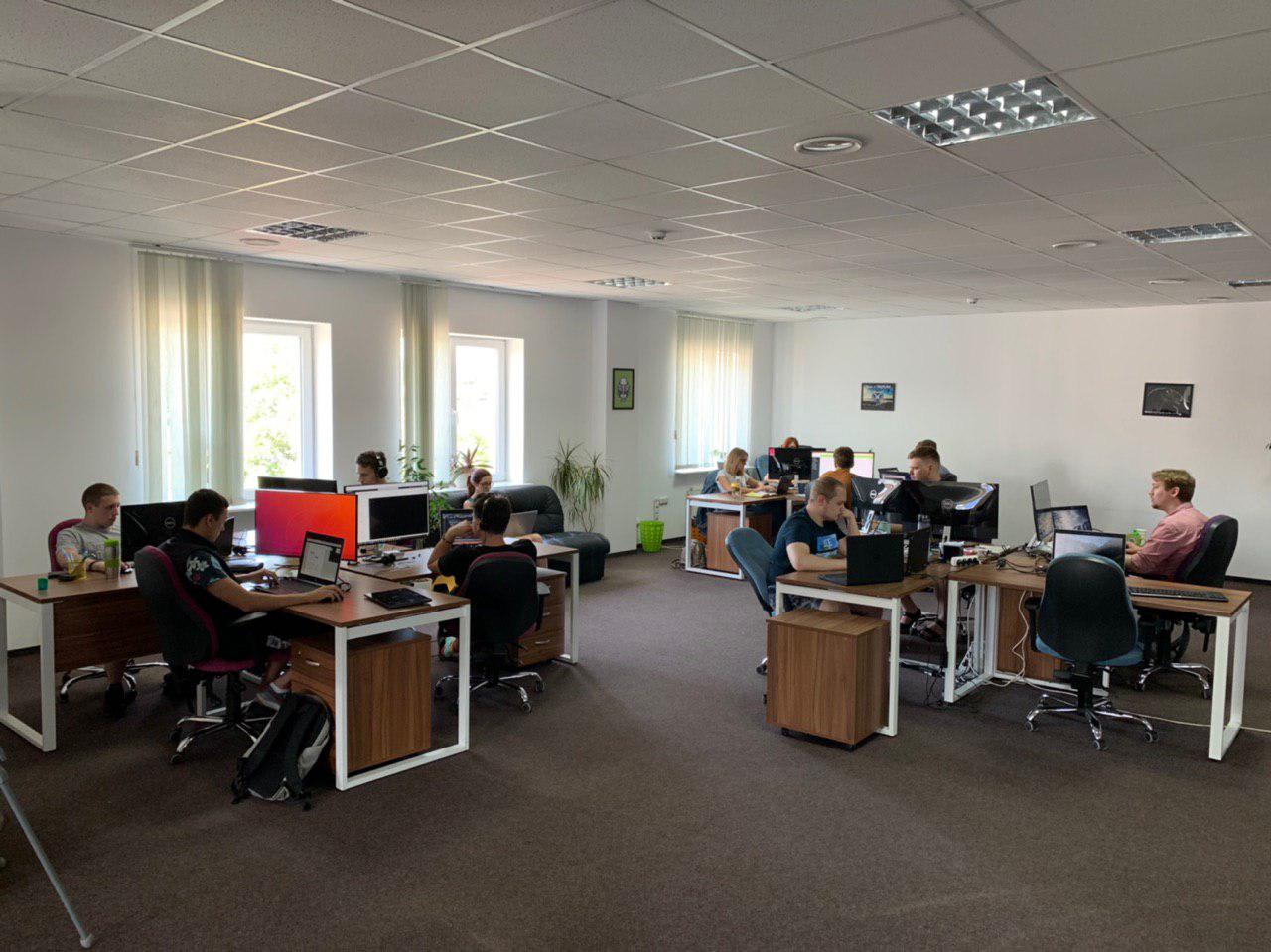 Devox Software Working Environment
goLance: What are your agency's future plans? Do you plan to focus all of your energy and resources on just one freelance platform or stick to a business model of being active on multiple freelance websites?
Devox Software: Putting all eggs into one basket is not a wise strategy for any business. I know a couple of agencies that managed to "conquer" one client with a huge project once and forgot about marketing at all. As you can guess, the client finished the project one day and the agency found itself at the bottom of the ladder.
There are so many lead generation channels, why don't you benefit from them all?
We use various sales techniques both outbound and inbound. So we have enough resources to be present on a set of platforms with goLance being one of our top priorities.
goLance: What's your opinion about the current state of affairs in the freelance industry for both individual freelancers and agencies?
Devox Software: There are lots of opportunities in the market because of the rapid growth of the IT industry and technology startups. The only thing is that you have to find your niche to grow your skills and become extra competent in that.
Freelancers compete with each other but not with outsourcing vendors.
Why so?
There always be the clients who want their team to work from office under PM guidance. Although they hire a remote team, they want it to have a corporate culture and values. That's exactly what outsourcing companies do.
On the other hand, some clients do not care about the environment where their project is done, be it coworking, home or isolated beach. This is a target audience for freelancers.
goLance: Where do your clients come from? Are you working with the clients from specific countries and regions?
Devox Software: Most of our clients are from the USA, Canada, UK, and Western Europe.
Surprisingly, we've got customers in Australia and New Zealand. Our company is located in Europe, and it means a nine-hour difference between us. We arranged an overlap in our working hours for teams to communicate and perform all necessary meetings and succeed.
goLance: Would you recommend goLance to your friends and colleagues?
Devox Software: Definitely.
goLance: Is there something you would like to add that hasn't been covered by these questions?
Devox Software: Do you remember the book "Differentiate or Die"? I guess that outsourcing is the key to differentiation. You simply cannot be the best in everything. Choose your niche carefully and stay focused on it. Outsource the rest.
How To Hire Devox Software?
You are one click away from a team of dedicated and trustworthy professionals at Devox Software on goLance who can take your business to the next level.