Featured goAgency: Better Proposals
Featured goAgency: Better Proposals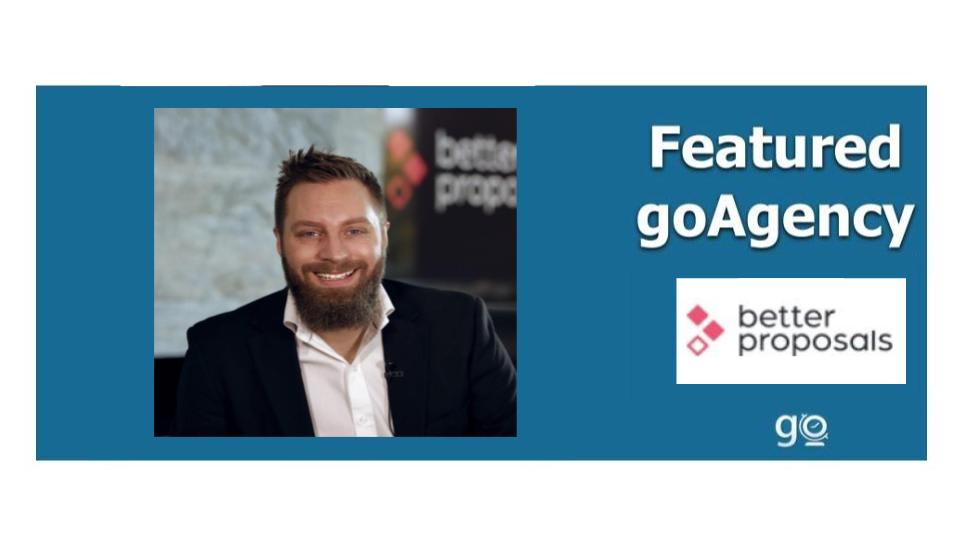 They say that "you never get a second chance to make a good first impression." Nikola Gemes, who's going to introduce us to the world of professional and eye-catching proposals, couldn't agree more with this well-known quote.
Better Proposals are all about modern and on-brand proposals that are trusted by big brands, loved by thousands of small businesses, and freelancers all over the world. Let's find out how to impress at first glance on goLance with Adam Hempenstall who is the CEO and Founder of Better Proposals.
goLance: Adam, let's begin by asking you, how did you come up with the idea to launch your online proposal software? Can you tell us something about your company's early beginnings and business history?
Better Proposals: My partner and I used to run a digital agency and spend a lot of time writing business proposals. It was like, 5-6 proposals a week. And soon we realized that if we did a bad job there, our revenue would drop. We didn't know much about proposal writing. It was hit and miss and to make it worse, we did it from scratch every time.
Now, since we were both web developers, we decided to build our own internal tool that would help us write, send and track proposals.
Once we got the tool running, more and more people bought from us and asked if they could get access to the software which we used to create proposals.
At the time, we kept it for ourselves as an intellectual property, but as time passed, I thought maybe we could actually sell this software. That's how Better Proposals was born.
goLance: Why do we take proposals for granted and how can we change that in your opinion?
Better Proposals: That kind of thinking hails back to the time when proposals were little more than Word documents that basically had a short introduction (if any), a scope of work, and pricing, with a phone number below for clients to respond. And frankly, in that format, there wasn't much to improve but add a couple of .jpegs.
The whole concept of sales documents has changed a lot since then. Now we have digital proposals that allow businesses to extend their customer experience tactics until the business is closed. Proposing is not a separate stage in landing a new client, but an integral part of a company's marketing strategy.
You won't be too wrong to say that online proposals are branded micro websites that prospects can open on any device and interact with the service provider in real-time. These days a client is literally shopping for your offer while you get the reports you need to follow up with the next steps.
goLance: How can goLance clients and freelancers benefit from your services? How can you help them create better proposals that increase their conversion and hiring chances?
Better Proposals: For one thing, our proposals literally take minutes to create and send, which speeds up the sales process. Our customers can choose among 200+ beautifully designed proposal templates we've created for diverse industries.
From there, it's pretty much type, drag&drop, click and send. Your only concern is the content, while our intelligent software does all the rest. Each proposal template in our database has been perfected and optimized for conversion by using our own research.
What you get in the end is an engaging web-based proposal that has your URL and branding, together with an electronic signature and multiple in-proposal payment options.
It even comes with a live chat feature so you can answer the client's questions and concerns right there when they're reading it. This significantly increases your chances of getting hired. All your customers need to do is sign and pay.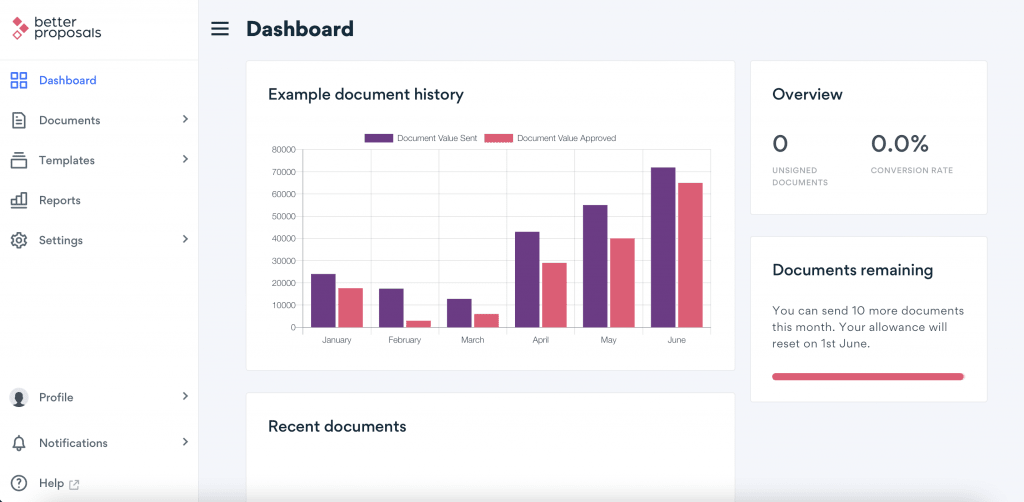 goLance: How do you successfully manage your remote team? Where and how do you find and hire new remote workers for your company?
Better Proposals: It's really a multi-channel approach with us. Since Better Proposals is a remote-only company, finding and retaining remote talent is integral to our business model. We post our "hiring now" forms across a range of social media pages and groups, but also use referrals and our own networking capabilities. Recently, we've become a goLance fan and have been using the platform for both one-time projects and long-term cooperation.
goLance: In your opinion, does the future of work belongs to Proposal AI's automatic suggestions? The list of possible integration is impressive too. Can you share a few relevant details related to it?
Better Proposals: Proposal AI is a relatively new concept that dives into real live data in a given industry and makes suggested changes to your proposal to get you the highest conversion rate possible.
For now, it's just a stage in our proposal editor that gives you targeted situations or even praises if you get something spot on.
I believe that with the expansion of available metadata, AI will continue to "take over" proposal automation with suggestions extending to more than word choice and proposal structure.
goLance: What kind of services does your company provide, and what types of industries do you cover with your services?
Better Proposals: Apart from proposals, we offer interactive, trackable templates for brochures, quotes, contracts, client sign-offs, and statements of work.
Our clients come from a variety of industries from web design and software development to property and event management. Our ideal customers and the ones who can benefit most from our services are companies who need reliable and easy-to-use sales software that they can scale up as their business grows.
goLance: What are the things that set your company apart from similar service providers? What are your competitive advantages and core values?
Better Proposals: This one is easy to answer because we've recently finished a big report on our top contenders in 2022 to see where we stand.
For one, each proposal template in our library has won business. I'm not sure how many of our competitors can say the same. Also, our proposal editor is really intuitive and easy to use from the start. And it's not just convenient but saves time as well.
Finally, we offer competitive pricing in three packages for both monthly and annual subscriptions, so we cover a wide range of potential clients and budgets.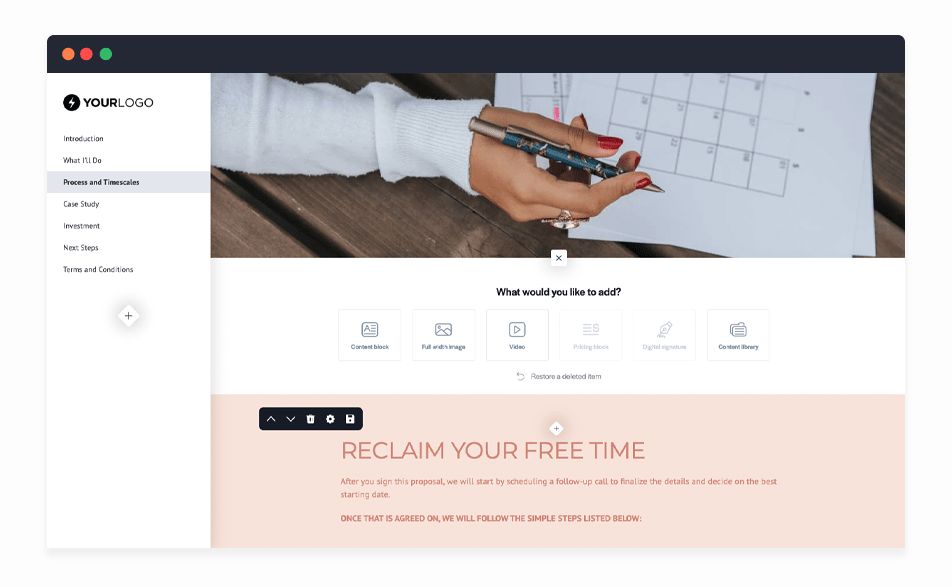 goLance: How did you find out about goLance, and what are your first impressions about our platform?
Better Proposals: I found out about goLance when our marketing team got in touch with you guys about publishing a guest post on your blog. I created a profile and started exploring the features.
Soon enough, it was clear that we could use your marketplace to hire new talent. Your 3-step job posting process follows the similar philosophy we used when creating our proposal editor. I love the feature that after posting a job, I can instantly see the list of freelancers that qualify. Saves a lot of time during the interview phase.
goLance: How do you compare goLance to other freelance platforms you used to or are still working on? How familiar are you with the goLance's no-cost-to-clients policy, one of the industry's lowest flat freelance service fees, PayDay Advance, and Variable Review Period features?
Better Proposals: I've only used UpWork so I can only compare goLance with that. As I can see, goLance has an edge over UpWork when it comes to clients' costs. What is more, I get cash back from goLance as soon as I pay my freelancers.
No-cost aside, goLance doesn't have tiered levels, so all clients get the same treatment no matter if they're hiring one person or hundreds of people. This is great news for startups that depend on freelancers to get the business airborne.
On the freelancer side, they have the PayDay Advance option which they can use to request money earlier for a small fee.
As for the Variable Review Period, I think this is a fantastic feature that helps build trust between clients and freelancers.
goLance: How do you build long-term relationships with your clients?
Better Proposals: In my opinion, everything we do for our clients impacts long-term relationships. The client's happiness starts at the first meeting. It's important that you are honest about what you can deliver and when. We believe in rapid-response follow-ups and getting in touch with them when they need us. It doesn't have to take a lot of time.
Our clients love our live chat box, as they typically get their problems solved in a few minutes. Finally, I think it's bad to withhold a suggestion just not to go against a client's opinion. We value our expertise and consider ourselves an industry leader. Of course, you need results to back you up.
Giving discounts and promotions is good, but long-term relationships depend on a smooth customer experience all the way.
goLance: What are your company's future plans?
Better Proposals: In the future, I'd like to expand our software to include more sales processes, from securing a led to closing a deal. This way we could offer our customers more than proposal creation.
goLance: Would you recommend our platform to your business partners and clients?
Better Proposals: Definitely. goLance has every necessary tool for agencies to find and hire freelancers as well as to manage the global workforce through automated reporting and billing.