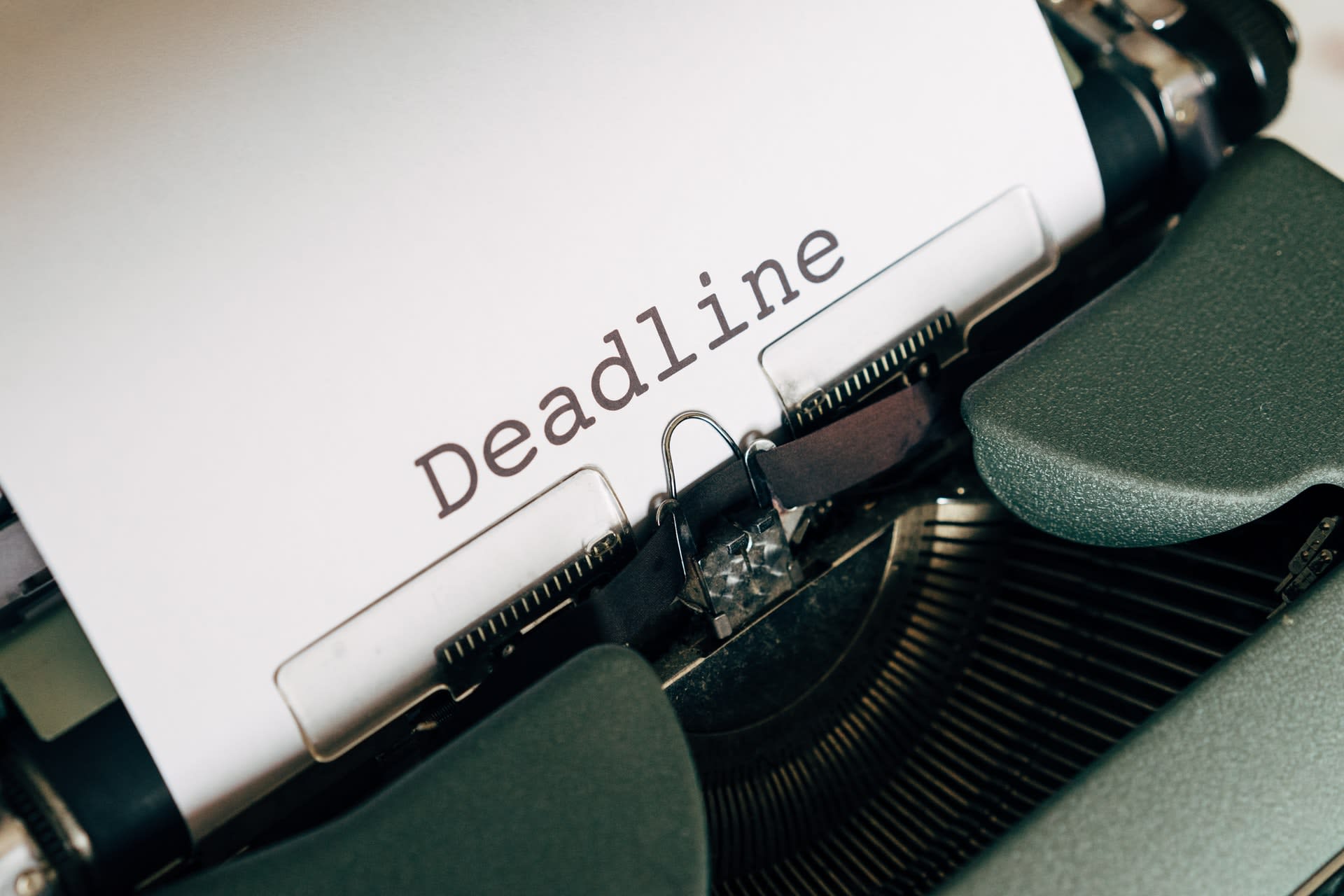 7 Ways To Effectively Meet Deadlines
No matter what kinds of goals you have, deadlines are very important to have, since they help you to keep track of what you're working on. However, just like with anything that you do, your deadlines have to be realistic and practice to ensure that you're successful in your endeavors. In other words, every deadline should be able to push you forward in your work to reach your goals. This allows you to stay motivated in what you do.
Why Deadlines Are Important
The importance of deadlines stem from the following aspects:
Deadlines help you prevent unnecessary delays and remember tasks, to ensure that you're on track.
Deadlines help you ensure a smoother workflow.
Deadlines help you set expectations for a project, thus cutting out any confusion.
Failure to meet a deadline can be detrimental to your work, and can spread to other people in your organization. This failure can result in the following:
Damage to your reputation
Damage to your company's reputation
More delays than normal
Serious financial implications
Don't let that be you!
Here are 7 ways to effectively meet deadlines:
1) Evaluate What The Job Requires
First, understand exactly what the task will need from you. Whether it's a complicated project, or just a simple one, you'll have to figure out what's needed, in order to set a reasonable deadline (or to fully understand your organization's set deadline). Ideally, someone who sets the deadline will have taken into account how complex or easy the work will be. But again, see what the job needs before fully agreeing to it.
2) Have The Right Tools
Do you have the right tools for the job?
If not, then take the time to collect the tools and resources that you need.
If so, then be sure to stick with them throughout the project.
When gathering resources, make sure you have the right people, tech support, training, equipment, and materials ready and available in time of the project.
3) Be Ready For Anything
Anything can happen, even when working on a project. And sometimes, things don't work out the way you want them to.
So, it's important to be ready for anything, in case any problems arise. Such scenarios might include:
Illness
Equipment failure
A lockdown or shutdown
An urgency that needs to be resolved
"Such events can affect and or delay your schedule. Whether you have someone else in your group cover for you, or if you take care of the problem right away, is up to you," says Daniel Oliver, a tech writer at Academicbrits and Originwritings.
4) Have A Detailed Plan
How will you go about meeting your deadlines?
The best way to figure this out is to have a detailed plan in place prior to working on your project. Your plan must have the following to be functional:
A comprehensive schedule to follow
A way to break tasks into milestones
Deadlines for each task
5) Prepare Yourself Mentally To Meet Deadlines
Perhaps the most important thing to remember is that you're an essential factor when working to meet deadlines. In other words, you must manage yourself well, in order to take on deadlines. Having said that, you'll need to have the following:
Self-discipline
Organizational skills
Good habits, AND
The right mindset
In addition, you must keep in mind these tips, so that you can better manage deadlines:
It's okay to say "No" to a deadline, if you feel that it'll be too much for you.
Instead of resenting deadlines, embrace them.
"Planning" and "Acting on it" are two different things. Once you have a plan set up, execute it.
Don't try to multitask. Instead, manage your time well, so that you can work effectively.
Address bad habits like procrastination, and eliminate them.
Finally, it's not worth making wild guesses to things that you might not understand, or how long a project might take. It's important to learn how projects will take. Practice doing this by creating mock deadlines, so that you can learn from them.
"As you make it your job to meet deadlines, be sure to start small before moving on to the bigger ones. Try establishing a daily routine at home, and then use your techniques in the workplace as you take on more important tasks," explains Katy Nelson, a tech writer at Nextcoursework and Britstudent.
6) Help Others Meet Deadlines
While this point mainly applies to managers, there's nothing wrong implementing this strategy yourself, if you're one of the team members. Sometimes, management needs all the help they can get, when ensuring that everyone is on tasks.
You can set an example for your fellow workers by motivating them, and meeting deadlines yourself. In this way, when your coworkers have someone to look up to, not only will you get respect from everyone in your team, but you'll also get recognition from management.
7) Minimize Consequences Of Missed Deadlines
Sometimes, you might run into a rut – where it might actually be impossible to meet a specific deadline. While missing a deadline can happen to anyone, don't let it be an ugly trend that gets worse and worse every time.
Therefore, it's important to communicate any problems and or delays that you might be facing to management. Management will – and should – understand what you're going through; and, they should be able to help you complete tasks in any other way that you all see fit.
But more importantly, you must remain calm at all times. Chances are, you'll have other people be assigned to help you if you're running behind schedule. And, you shouldn't be afraid to ask for help if you need it.
Finally, see to it that you'll prevent your mishap from happening again. Otherwise, you'll keep making the same mistake over and over, and the consequences can take a toll on you and the organization. Instead, take responsibility and learn from your mistakes.
Conclusion
As you can see, deadlines are in place to help projects run smoothly in production and beyond. And, they help everyone in the team to work on a shared goal.
So, as you keep these 7 tips in mind, it's important to come to deadlines with the right mindset and attitude, so that everyone in your team is focused and is able to get work done on time. Remember: Believe in yourself, work hard, and have a good time in your work!
About the Author:
Kendra Beckley is a writer and editor at Phdkingdom.com. As a business development manager, she helps companies enter a new market and build long-term relationships with partners.
Leave A Reply