3 Reasons Remote Work Leads to Happier Clients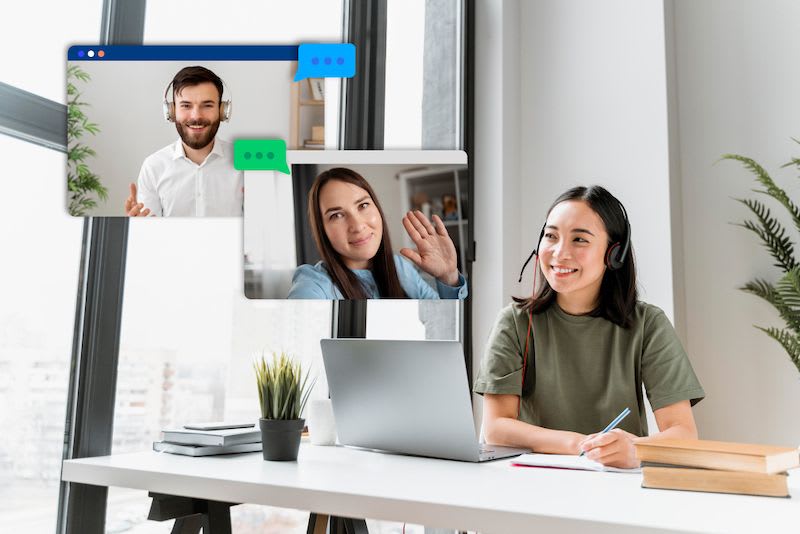 When it comes to motivating your employees, the absolute best thing that you can do for your company is to create a culture that engages your workforce. No matter what your organization does, everyone benefits when you foster a healthy culture that places great value on their employees.
When you poll working Americans today, one of the top things they look for in work culture is the ability to work remotely. The autonomy, work-life balance, and ability to be free of office politics all contribute to people ranking it as highly important when looking for a job. While it's more challenging than just sending everyone home with a laptop, fostering a healthy remote work culture will lead to not only happy employees but also happy clients. That is when you have the proper tools and systems in place.
A recent Gallup poll shows that a whopping 94% of Americans want the ability to work from home, whether full-time or hybrid. Nearly 30% of all work this year was done at home by remote workers. There is great potential for businesses to increase their efficiency and job satisfaction by offering remote work opportunities. In the current day and age, you will recruit the best talent if you hire remote employees because top-notch talent not only expects it, but they demand it.
How does fostering a culture of remote work opportunities translate to your client relationships? One of the most surprising results companies see from encouraging telework is that their employees' job satisfaction helps cultivate stronger client relationships. When clients see happy, engaged employees producing high-quality work, it will only strengthen those relationships. It communicates that you have not only done a great job with hiring remote employees but also developing valued and trusted workers.
Here are three reasons why encouraging remote work will lead to more satisfied clients:
1. Better Employees
Employees who feel they are a valued and trusted part of an organization will produce the best work. People have realized that remote working has the power to change their entire lives for the better. Eliminating stressful and time-consuming commutes, opening up choices for where they can live, and the ability to tackle laundry during a lunch break are just some of the reasons that people thrive when they work from home.
Remote work has changed lives so drastically that job seekers consider it one of the most critical factors in their job search. When employees feel that their employer values them enough to prioritize their quality of life, they are more inclined to use their time efficiently and produce high-quality work. The work-from-home lifestyle does just that.
Employees who can telework report higher job satisfaction than their office-based counterparts. They report feelings that they are a valued member of the team, more effective at performing their tasks, and add more value to their organization.
2. Better Teams
Better employees make better teams. Not only will your existing employees be more engaged, but remote work opens up your candidate pool considerably. The ability to find and hire the best talent, regardless of geographic location, only serves to make your team stronger. Not only are you able to search for top-notch employees, but you are also able to add some diversity to your team that you may not find in your local area. The ability to add new voices will allow your team to view things from a fresh perspective.
As telework technology advances, the potential to connect remotely only gets better. Tapping into the resources available to enhance telework capabilities and connectivity means that today's teams can function just as well as they did in the office, if not better. Team members who telework can also flip between work and home obligations. While nobody wants to drive back to work after their kid's soccer practice to wrap up some details from the day, when it is as easy as logging back on to a computer at your kitchen table, employees can pop back into work mode in the evenings to tackle loose ends.
3. Better Work
Studies show that people who telework work harder and longer than those who are office-based. On average, remote employees report 30 more productive minutes daily, adding up to two and a half hours a week or increased productivity. While many organizations resist remote work because they fear people won't be productive without in-person supervision, research shows the opposite. Gaining back hours of their day by staying home, they can put longer hours into productivity. And perhaps this also indicates that office distractions are more time-consuming than the distractions from home.
In 2020, Microsoft tracked 60,000 employees, and the results surprised everyone when they found that remote work increased weekly hours worked by 10%. It also indicates that home-based workers push work out faster than when they work out of an office. The ability to schedule meetings and eliminate pop-by interactions while working in an environment that is comfortable and conducive to work all add up to better output.
People love remote work so much that they report feeling more motivated to focus on their work and do a great job because it's a privilege they don't want taken away. It's important to people, and businesses that acknowledge this are poised to take advantage of the exceptional work produced by today's remote workers.
When you add all the pieces up, remote work directly correlates to happier clients. Better work, done faster, with more engaging interactions, are all things that will build stronger bonds with your existing clients and make new clients eager to work with you. When people see your employees proudly representing your organization because they feel like a valued and essential part of your team, they will only be more eager to work with you.